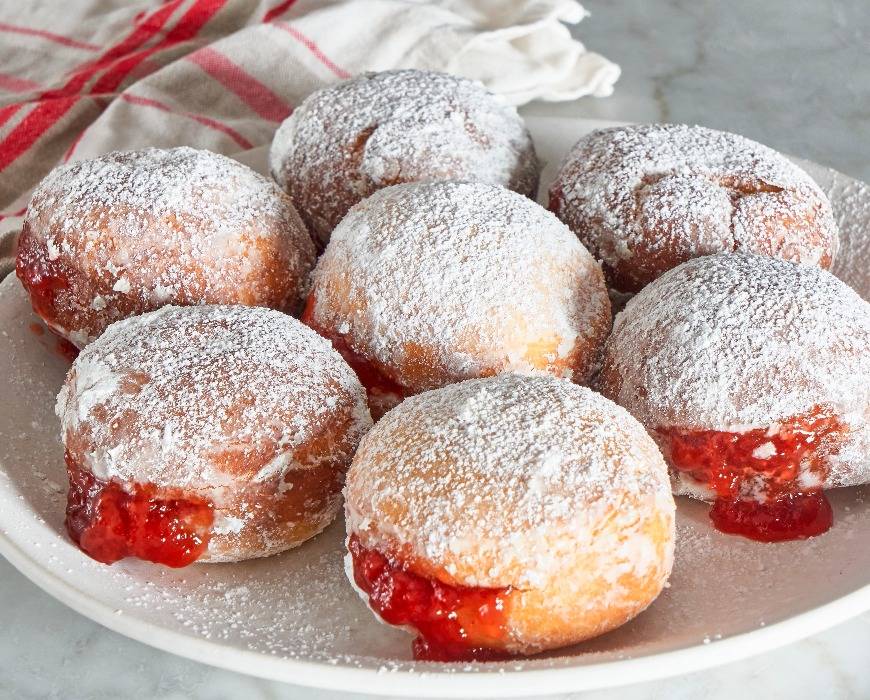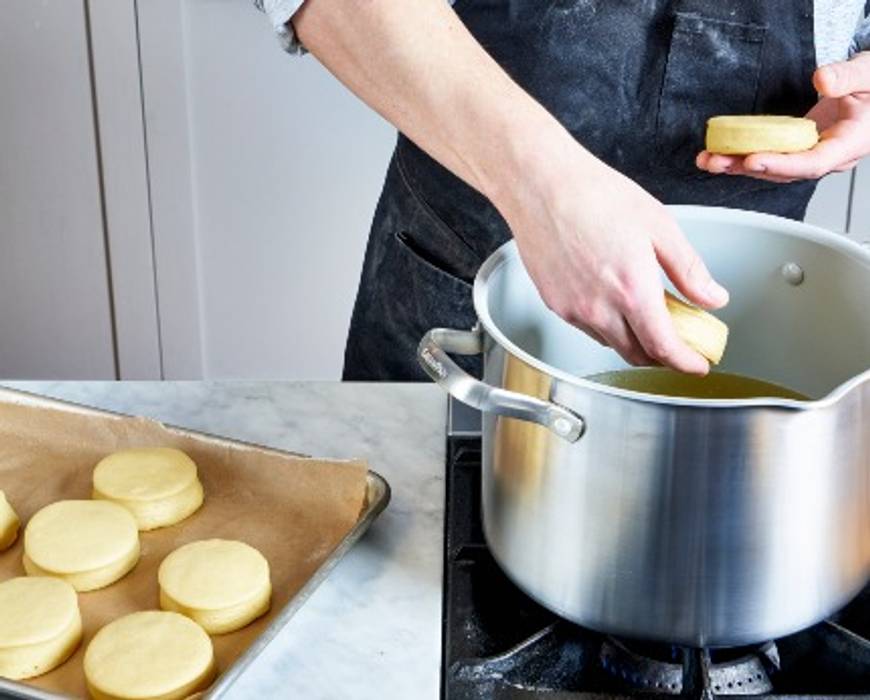 Yields: 8 to 10 doughnuts
Time: 30 minutes prep, 1 hour 30 minutes rising, 30 minutes cooking, 2 hours 30 minutes total
INGREDIENTS:
1/2 cup unsalted butter, melted
1 cup milk, warmed to 110 to 115°F
2 1/4 teaspoons (1 packet) active dry yeast
4 tablespoons sugar
4 cups all-purpose flour
1 teaspoon vanilla bean paste or extract
2 large eggs and 1 egg yolk
1 teaspoon salt
Canola oil for frying
1 1/2 cups (more or less) powdered sugar for coating
1 jar jelly or seedless jam for filling
PREPARATION INSTRUCTIONS:
Proof the yeast—Mix melted butter and warm milk in a small bowl or large measuring cup. Check temperature to ensure that it's around 110 to 115°F—you want it warm enough to activate yeast, but not kill it. Stir in sugar and yeast. Let sit until it begins to bubble, about 5 to 10 minutes.
Mix the dough—Sift flour into a large mixing bowl or the bowl of a stand mixer and pour in the yeast mixture. Add vanilla, eggs, egg yolk, and salt and mix to combine into a sticky dough.
Knead the dough—Knead by hand on a floured surface or use mixer with dough hook to form a smooth dough, about 5 to 10 minutes.
Proof the dough—Place dough in a bowl, cover with plastic wrap, and set in a warm place to rise until doubled in size, about 1 hour.
Shape the dough—Turn dough out onto a lightly floured surface and knead a few times. Roll into a rectangle about 1/2-inch thick. Cut out donuts using a 2- to 3-inch round cutter and transfer to a cookie sheet. Re-roll scraps and cut out more donuts—these may look a bit wonky, so fry them first as testers. Cover the donuts with a towel and let rise for 30 minutes.
Fry the donuts—Add 2 to 3 inches of oil to a stockpot or large saucepan and heat to 375°. Near the stove, set up a cookie sheet covered with paper towels, a bowl filled with the powdered sugar, and a cooling rack. Working in batches of 2 to 3 to avoid crowding, carefully lower donuts into oil. Cook for 2 to 3 minutes on each side or until golden brown.
Powder the donuts—Use a slotted spoon to transfer donuts to the paper towel-covered cookie sheet. After they've cooled slightly, roll donuts in powder sugar to coat completely and transfer to cooling rack.
Fill the donuts—Cut a deep slit into one side of each donut. Fit a pastry bag with a piping tip and fill with your favorite jelly or seedless jam. This process can be a bit tricky, but even if you make a mess, the donuts will still taste amazing.
TIPS:
Mix it Up! Our fluffy donuts taste great with a variety of fillings—try pastry cream, buttercream, chocolate ganache, Nutella, or mix peanut butter with jelly for the ultimate PB&J.
No Pastry Bag? Use a plastic zip-top bag with a small hole cut in the corner. The filling won't be as precise, but who could complain with a mouth full of donut deliciousness?
Featured Product
Venice Pro Ceramic Nonstick 10-Piece Cookware Set
Built for high performance, this bestselling collection features tri-ply stainless steel bodies with our Evershine™ finish to keep them looking new long after they're not. This high-powered collection is a bestseller for a reason.