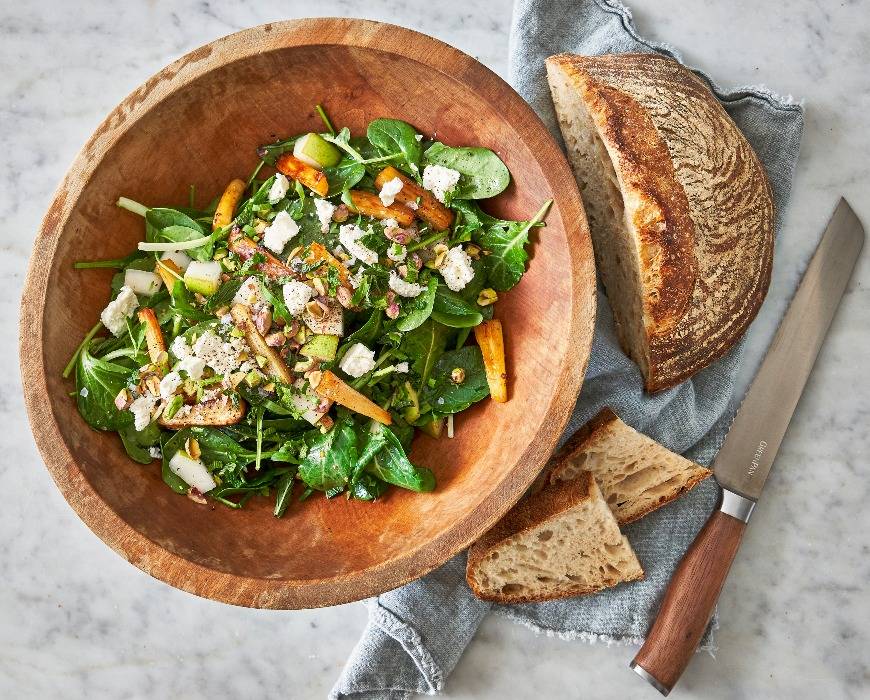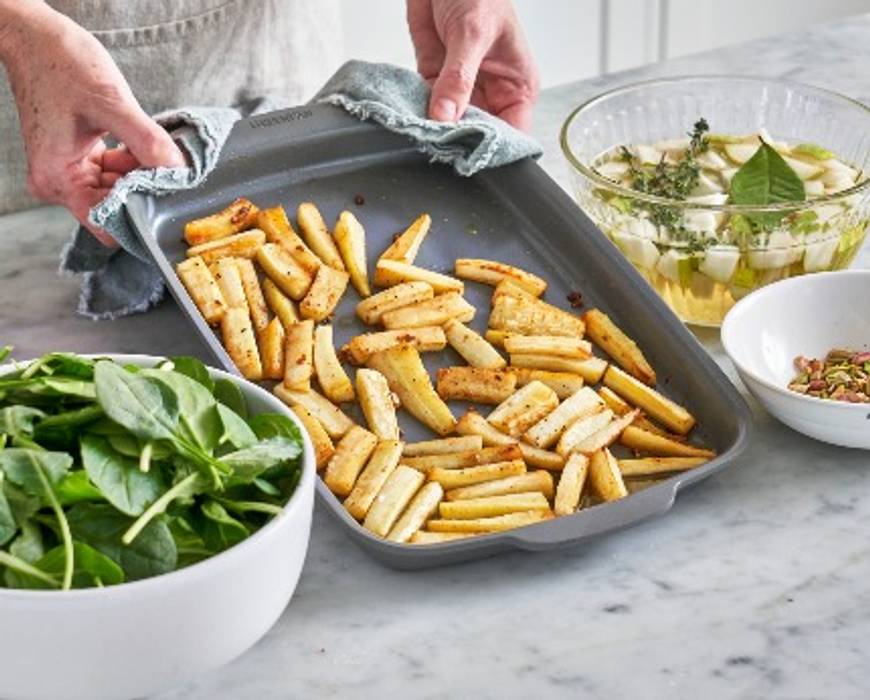 Pickled Pear Winter Salad
Yields: 4 servings
Time: 20 minutes prep, 40 minutes cooking
INGREDIENTS:
For the pickled pears:
1 cup white wine vinegar
3/4 cup water (or more to taste)
2 tablespoons sugar
1 teaspoon kosher salt
1 large or 2 small firm pears of choice (such as bartlett or Anjou)
3 to 4 sprigs fresh thyme
1 bay leaf

For the vinaigrette:
2 tablespoons sherry vinegar
1 tablespoon finely chopped shallot
2 teaspoons honey
1/4 teaspoon crushed red pepper flakes, more or less to taste
1/4 teaspoon kosher salt, more or less to taste
1/3 cup extra virgin olive oil, plus more to taste
For the salad:
2 medium parsnips, peeled
2 teaspoons extra virgin olive oil
1 teaspoon honey
1 garlic clove, finely minced
1/4 teaspoon ground coriander
1/8 teaspoon ground cinnamon
Kosher salt, to taste
Freshly ground black pepper, to taste
1 container organicgirl super spinach!
1/4 cup toasted pistachios, roughly chopped
2 ounces feta cheese, crumbled into small pieces
2 tablespoons freshly chopped mint, stems removed
2 tablespoons freshly chopped parsley, stems removed
PREPARATION INSTRUCTIONS:
For the pickled pears combine the vinegar, water, sugar, and salt in a medium GreenPan saucepan and place on the stovetop over medium-high heat. Bring to a simmer, stirring to dissolve the sugar and salt.  Once all the sugar and salt has been dissolved, reduce the heat to medium-low and keep warm while cutting the pear.


Using a GreenPan Titanium 7" Chef Knife cut the pear in half lengthwise, then cut each half lengthwise again to create four equal quarters. Carefully trim both ends of each and remove the core. Next, cut each piece into ½" dice.  Place the pear pieces in a heat proof bowl along with the thyme and bay leaf. Carefully pour the hot pickling liquid into the bowl (ensuring that all the pear pieces are fully submerged) and set the bowl aside to cool to room temperature. 


For the vinaigrette, whisk the sherry vinegar, shallot, honey, red pepper flake and salt in a medium bowl until fully combined. While whisking very quickly, slowly drizzle in the olive oil in a thin, steady stream – the faster you whisk the mixture and the slower the olive oil is added, the better the vinaigrette will be emulsified. Taste, adjust as desired, and set aside while building the salad. 


Preheat the oven to 425 F. Using a GreenPan Titanium 7" Chef Knife cut the peeled parsnips into 2 inch by 1/2 inch pieces, taking care to get them as uniform in size as possible so they will all roast evenly.  In a large mixing bowl combine the parsnips, olive oil, honey, garlic, coriander, cinnamon, salt and pepper, stirring until evenly combined.  Transfer to a GreenPan Premiere Ceramic Nonstick Sheet Pan and roast for 25 to 35 minutes, stirring them around halfway through the time, or until they are just roasted through and well caramelized with deep golden-brown color in spots.  Set aside and allow to cool to room temperature. 


Place the Organicgirl Super Spinach! in a large mixing or serving bowl and season with a small pinch of salt and pepper. Lightly pour as much of the vinaigrette as you'd like around the inside wall of the mixing bowl and use kitchen tongs to turn the greens – doing this instead of simply pouring the vinaigrette in the center of the greens will make sure they are all coated lightly and evenly.  Add in the pears (drained of any liquid), roasted parsnips, pistachios and feta, tossing once more very lightly. Taste and adjust one final time as desired with salt, pepper and dressing. Divide the salad among four plates, garnish with a bit of mint and parsley, and serve immediately. 
TIPS:
Homemade vinaigrette is one of the best things to have on hand for quick and easy meals!  Feel free to double the amount you are making for this salad and store the extra in an airtight container in the refrigerator for up to a week!
For an extra punch of color in this salad, try a mix of parsnips and heirloom carrots!  The pears in the recipe can also be replaced with firm, tart apples if you prefer!    
Featured Product
Premiere Titanium Cutlery 12-Piece Knife Block Set with Walnut Handles
Crafted from recycled steel and eco-friendly walnut handles to minimize its environmental impact, each blade of this set is cryogenically treated to remove residual stresses, hand sharpened and coated with titanium for long-lasting performance.