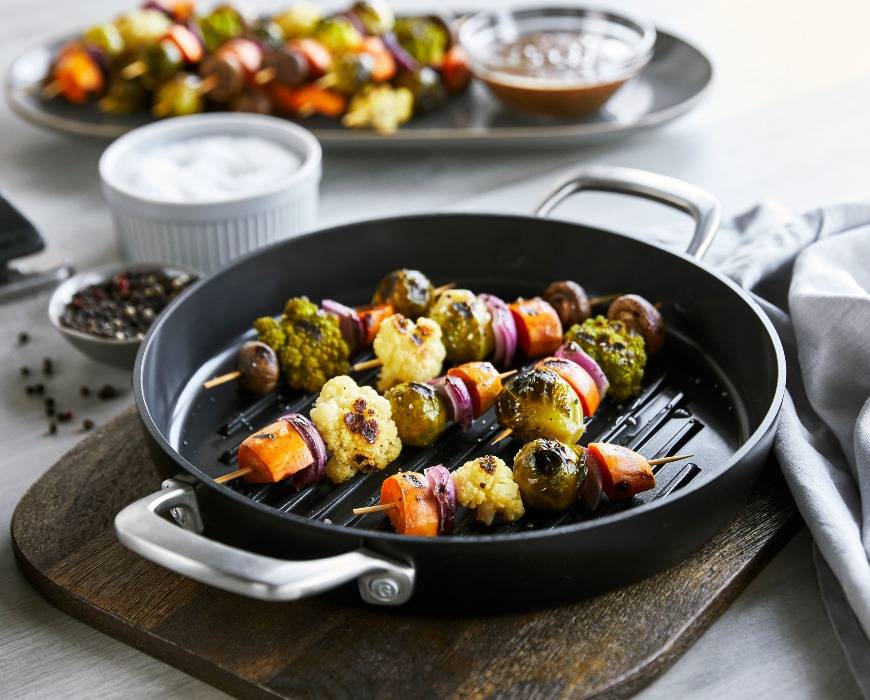 Winter Vegetable Kabobs with Sesame Tahini Dipping Sauce
Yields: 16 mini kabobs or 8 large kabobs
Time: 20 minutes prep, 20 minutes cooking, 40 minutes total
INGREDIENTS:
 For the sesame tahini dipping sauce
1/2 cup tahini
6 tablespoons water
4 tablespoons sesame oil
1 tablespoon grated fresh ginger
1 to 2 garlic cloves, minced
2 tablespoons soy sauce
1 tablespoon fresh lime juice
1 tablespoon rice wine vinegar
1 tablespoon maple syrup
For the kabobs
16 6-inch bamboo skewers
16 Brussels sprouts, ends trimmed
16 cauliflower or Romanesco florets
16 small cremini or white button mushrooms
1 large or 2 small carrots, cut into 16 1-inch slices
Medium red onion, cut into 1-inch dice
2 to 3 tablespoons canola or other neutral oil
Salt and freshly ground black pepper to taste
PREPARATION INSTRUCTIONS:
Prep the sprouts—Place Brussels sprouts in a bowl and microwave on high for 3 minutes. Set aside till cool enough to handle.
Make the dipping sauce—Grab a small bowl and add the tahini, water, and sesame oil. Now locate a whisk and stir like you mean it. Add in the rest of the dipping sauce ingredients and keep whisking till everything's evenly mixed. Does the mixture seem thick? Add a little water. You're looking for a dippable consistency. Sample the sauce and adjust seasonings to your taste. Set aside.
Assemble the kabobs—If you have kids around, they'll love this part. Distribute the vegetables (more or less) evenly across the 16 skewers. You can layer all the kabobs the same way or mix and match veggies as you wish. Lightly brush each kabob with canola oil.
Prepare to cook—Place grill pan over medium high heat. When a drop of water sizzles on pan, you're good to go.
Grill the kabobs—Working in batches to avoid crowding, place kabobs in grill pan and cook without disturbing for about 5 minutes. Flip kabobs and continue cooking for another 5 minutes or so or until both sides have grill marks and veggies are tender. Repeat with remaining kabobs.
Serve and enjoy—Arrange kabobs on a serving dish with a side of sesame tahini dipping sauce and dig in!
TIPS:
Chop, Chop! Make sure to cut all your veggies uniformly so they'll cook evenly. Raw and overcooked veggies on the same skewer will make everyone sad.
Avoid Overcrowding—Leave a little space around each vegetable on the skewer so air and heat can circulate to ensure even cooking.
Featured Product
GP5 Infinite8 Ceramic Nonstick 11" Round Grill Pan
Our Most Advanced Collection This 11" pan makes it simple to bring the grill indoors. We're talking cheese-stuffed burgers, veggie skewers, and blackened shrimp without worrying about the weather. The 5mm thick body and Infinite8 coating will deliver every time.