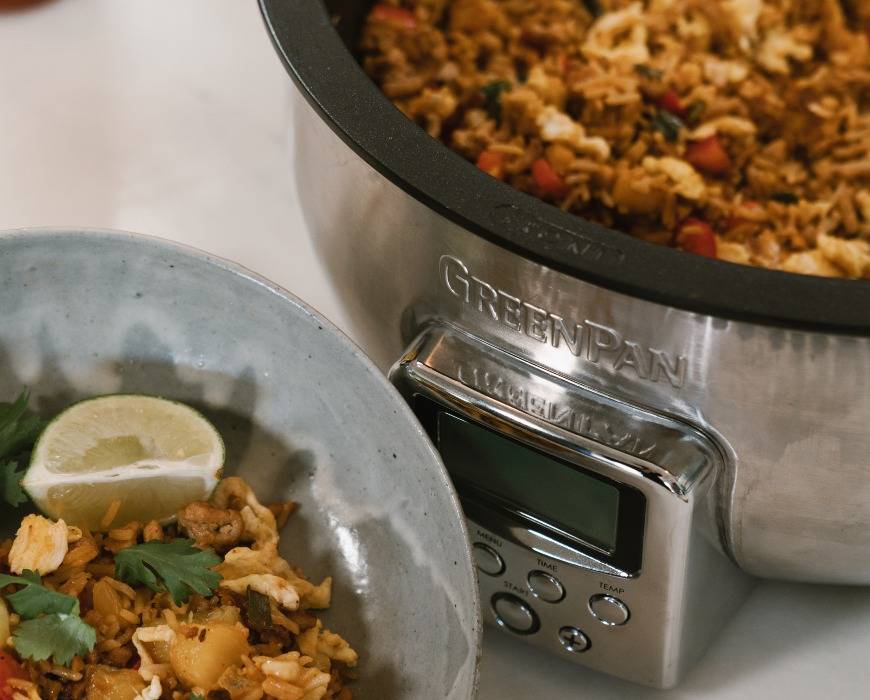 Pork and Pineapple Fried Rice
Yields: 2 to 4 servings
Time: 15 minutes prep, 15 minutes cooking, 30 minutes total
INGREDIENTS:
2 tablespoons canola or vegetable oil, divided, more as necessary
2 eggs, beaten with a teaspoon of soy sauce
8 ounces ground pork
1 1/2 cups fresh pineapple, cut in 1/4-inch dice
1 large red bell pepper, cut in 1/4 dice
4 scallions, thinly sliced
2 cloves garlic, minced
1-inch piece of fresh ginger, peeled and minced
1/2 cup raw unsalted peanuts, roughly chopped
2 cups cooked and chilled long grain rice
1 tablespoon soy sauce
1 teaspoon sriracha, or more to taste
1 teaspoon seasoned rice wine vinegar
kosher salt, to taste
handful of hand torn cilantro leaves, for garnish
lime wedges for garnish, if desired
PREPARATION INSTRUCTIONS:
Select the Stir Fry mode on the Essential Smart Skillet, set the temperature for 450°F and the timer for 15 minutes.


Pour half the oil into the wok and wait for it to get very hot, shimmering and smoking slightly, then add in the eggs and stir frequently with a wooden spoon until they are just set. This will take no more than 1 minute. Once cooked transfer the eggs to a large empty bowl and reserve.


Pour the remaining oil into the pan, again waiting for it to get very hot. Add in the pork, breaking it up into very small pieces with the wooden spoon. Cook, stirring occasionally, until deeply browned and crispy, about 4 to 5 minutes. Transfer the cooked pork to the same bowl as the scrambled egg, taking care to try and leave as much fat and oil in the Essential Smart Skillet as possible.


Allow the pan to come back to temperature, about 1 minute, then add in the pineapple and red pepper. Cook, continuing to stir regularly, until the pineapple and red pepper have both started to brown and any released pineapple juice has reduced fully, 3 to 4 minutes.


Add the scallions, garlic, and ginger, cooking 1 minute until very aromatic. Transfer everything to the same bowl with the eggs and pork.


If needed, add another tablespoon of oil. Once the pan is again very hot, add in the peanuts and the rice. Stir to combine and cook for about 3 minutes. Stirring consonantly until the peanuts and rice are both slightly toasted.


Add all the reserved ingredients in the large bowl back to the Essential Smart Skillet with the rice and peanuts. (If needed, break the eggs up into smaller pieces with the wooden spoon.) Add the soy sauce, sriracha, and rice wine vinegar, stirring until all the ingredients are equally distributed. Cook 1 to 2 minutes more, then turn off the heat. Try the fried rice and add salt to taste.


Serve the fried rice in bowls with the hand torn cilantro leaves. If desired, have lime wedges, soy sauce and sriracha on the side.
TIPS:
Pick a Perfect Pineapple – Look for a firm body that yields slightly when squeezed and a stem that gives off an aromatic scent.
Love Your Leftovers – Cooked white rice can easily be transformed into savory meals like this or sweet treats (hello, rice pudding!).
Featured Product
Elite 6-Quart Essential Smart Skillet | Premiere Stainless Steel
Whether you're searing a steak, perfecting a complex stew, or simply making rice, this family-sized 6-quart skillet gives you room for any meal. The high sides eliminate splatter and make it easy to toss your ingredients without worry.