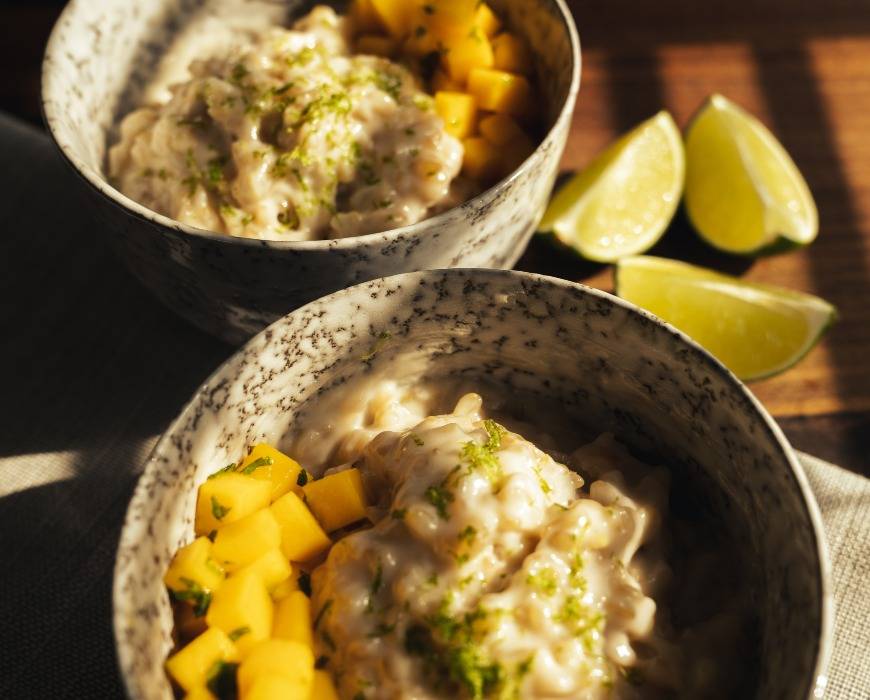 Mango and Lime Brown Rice Pudding
Yields: 4 to 6 servings
Time: 5 minutes prep, 1hr 45 minutes cooking, 1hr 50 minutes total
INGREDIENTS:
2 (13.5 ounce) cans light coconut milk
3 1/2 cups milk
3/4 cup short-grain brown rice
1/4 teaspoon fine salt
1/2 cup sugar
zest of 1 lime
1 ripe mango, diced
juice of 1 lime
1/4 cup mint, roughly chopped
PREPARATION INSTRUCTIONS:
Select the Brown Rice mode on the Essential Smart Skillet and set the time for 1 hour and 45 minutes.


Place the coconut milk, milk, brown rice, salt, and sugar in the pan. Cook, covered, for 45 minutes.


Remove the cover and continue to cook for the remaining 1 hour, stirring occasionally, until the milk and coconut milk has almost fully been absorbed. The consistency will be that of a very thick sauce. The rice will be done when it's mostly tender but still has a slight chew to it.


Stir the lime zest into the pudding.


Divide the rice pudding among 4-6 small serving or desert bowls and place plastic wrap directly against the rice. This will prevent a film from forming as it cools. Place the puddings in the refrigerator and allow them to cool for about an hour before serving.


Right before serving, toss the diced mango with the lime juice and chopped mint. Remove the plastic wrap from the top of the chilled puddings and divide the mango evenly among each one.
TIPS:
Can't Find Fresh Mango? – Sub in 2 cups of frozen mango chunks—thawed, of course.
Juicy Secret – To get the most juice out of limes or lemons, roll them on the countertop or heat in microwave for 30 seconds.
Featured Product
Premiere 6-Quart Essential Smart Skillet
Whether you're searing a steak, perfecting a complex stew, or simply making rice, this family-sized 6-quart skillet gives you room for any meal. The high sides eliminate splatter and make it easy to toss your ingredients without worry.