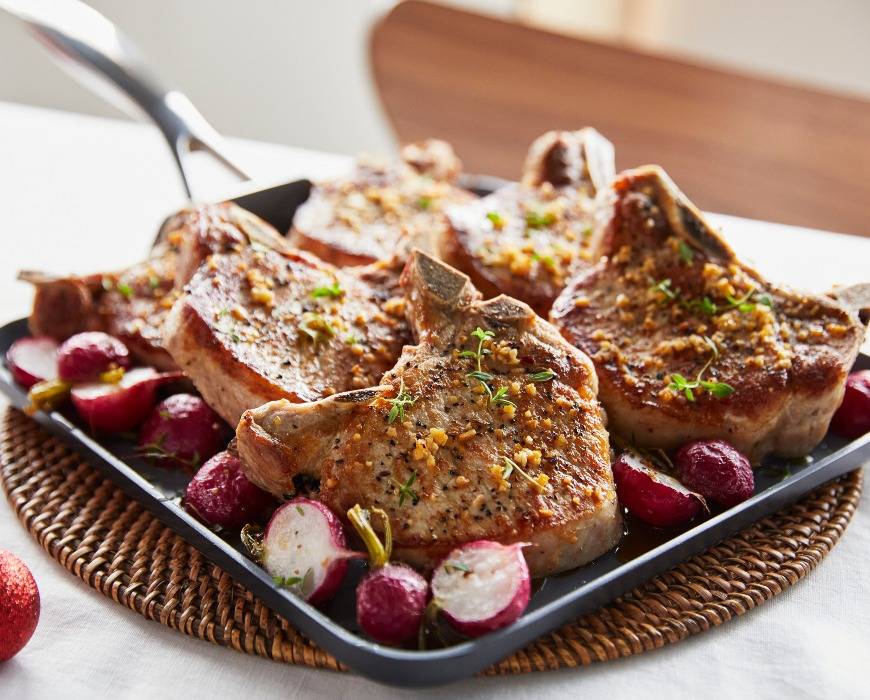 Pork Chops with Roasted Radishes
Yields: 4 servings
Time: 15 minutes prep, 40 minutes cooking, 55 minutes total
INGREDIENTS:
For the radishes
1 1/2 pounds radishes, trimmed and cut in half
2 tablespoons olive oil
Salt and freshly ground black pepper
For the pork chops
4 bone-in pork chops
Salt and freshly ground black pepper
For the pan sauce
1 tablespoon olive oil
2 cloves garlic, chopped
3/4 cup chicken stock
1/2 cup dry white wine
3 tablespoons butter, divided into 3 pieces
1 teaspoon fresh chopped thyme, plus extra for garnish
Salt and freshly ground black pepper
PREPARATION INSTRUCTIONS:
Prepare to cook—Preheat oven to 400°F.


Prep the radishes—Add radishes to a large, rimmed baking sheet and drizzle with 2 tablespoons olive oil. Toss with hands to coat everything evenly. Season with salt and freshly ground black pepper to taste.


Roast the radishes—Transfer radishes to preheated oven and roast till tender—about 30 minutes. Give the pan a good shake (or flip radishes with a spatula) about half way through so they'll cook evenly.


Meanwhile, prep the chops—Pat pork chops dry with a paper towel and season generously with salt and pepper.


Cook the chops—Heat 1 tablespoon oil in griddle pan or large skillet over medium heat until shimmering. Place chops in pan and cook without disturbing for about 5 minutes. Flip and continue cooking until an instant-read thermometer reaches 140°F—another 4 or 5 minutes. Transfer to a serving platter and tent loosely with foil. Don't wash the griddle yet!


Make the pan sauce—Scrape any browned bits from the griddle into a small skillet along with about 1 tablespoon of oil/fat. Place skillet over medium heat and add garlic. Sauté garlic, stirring constantly, for about 1 minute. Add wine and simmer until it starts to look a little syrupy—about 3 or 4 minutes. Pour in stock and continue simmering until sauce thickens and reduces to about 1/2 cup—3 to 4 minutes. Remove skillet from heat and whisk in butter, 1 tablespoon at a time, until sauce is thick and glistening. Whisk in thyme. Taste and season with salt and pepper as needed.


Garnish and serve—Divide chops and radishes between four individual plates. Sprinkle with chopped thyme and drizzle pan sauce over chops or serve on the side.
TIPS:
Bump Up the Flavor—Brine!
In a large baking dish, dissolve 1/4 cup of kosher salt in 4 cups water. Stir in any aromatics you have around: bay leaf, garlic, peppercorns, lemon peel, etc. Add pork chops and let sit from 30 minutes to 2 hours.
Chill Out
Cold chops plus hot pan equals unevenly cooked meat. Avoid this sad situation by taking chops out of the fridge about 15 to 20 minutes before you turn on the burner.