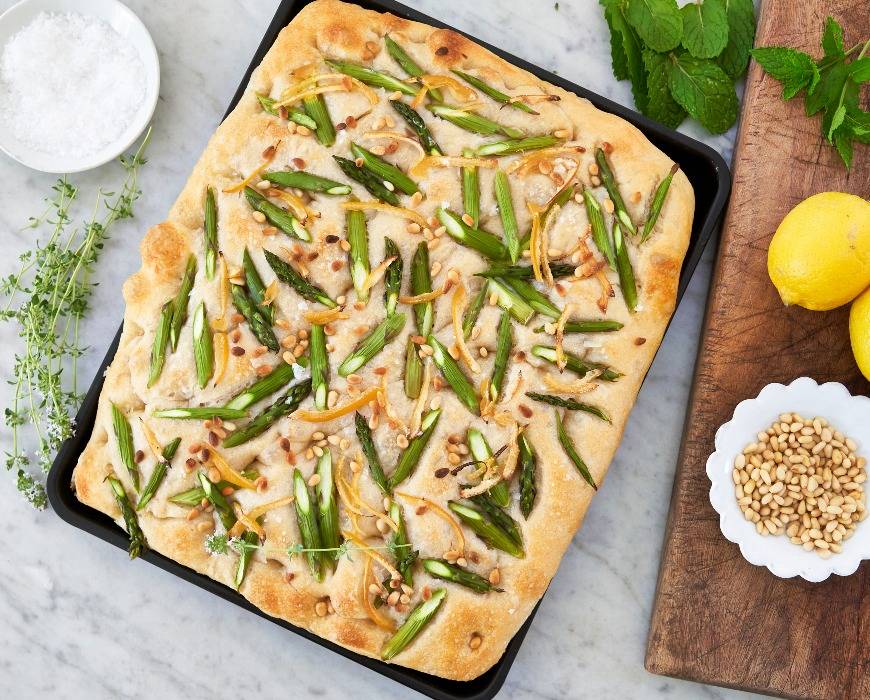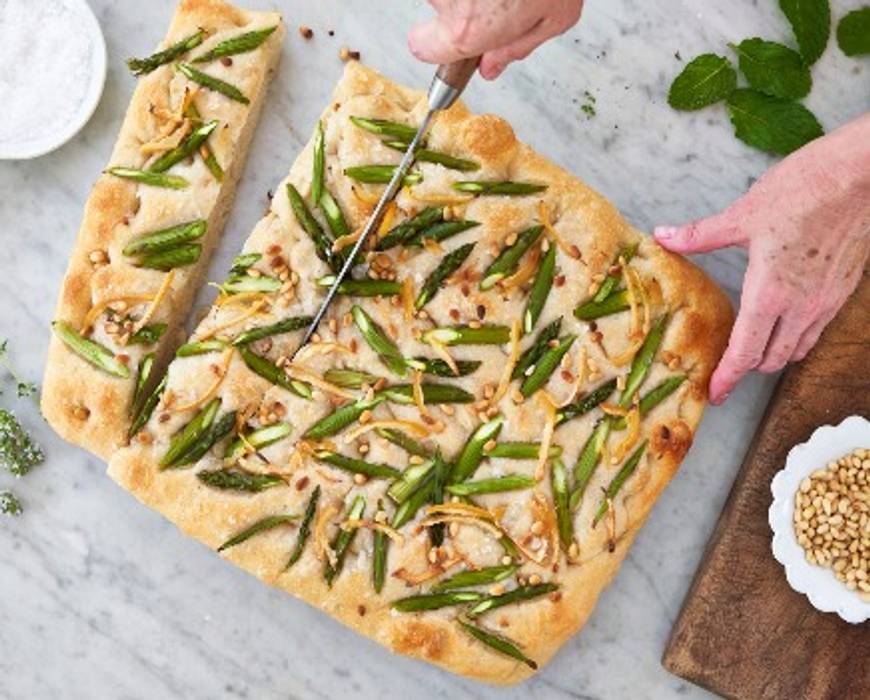 Preserved Lemon and Asparagus Focaccia
Yields: one 11" x 14" loaf   
Time: 20 minutes prep, 1 hour proofing, 20 to 25 minutes cooking 
INGREDIENTS:
For the dough:  
5 tablespoons extra-virgin olive oil, divided

 

1 1/2 cups warm water, (95-100 F)

 

1 1/4 teaspoons kosher salt

 

1/2 teaspoon granulated sugar

 

3 1/2 to 4 cups all-purpose flour

 

1 tablespoon instant yeast

 
For topping: 
2 tablespoons extra-virgin olive oil, for drizzling

 

3 to 4 asparagus spears, tough bottoms removed, bias cut in 2" pieces 

 

1 small preserved lemon, rinsed, seeds and pulp removed, cut in thin strips 

 

1/4 cup pine nuts, untoasted 

 

Flaky sea salt

 
PREPARATION INSTRUCTIONS:
In the bowl of a stand mixer fit with a dough hook combine 3 tablespoons of the olive oil along with the water, salt, sugar, 3 1/2 cups flour, and yeast.  Mix on medium speed until a rough, shaggy dough comes together, about 1 to 2 minutes.  Turn off the mixer and allow the dough to rest for 10 minutes, then turn the mixer back on to medium high speed and knead for 4 minutes or until the dough is smooth and elastic.  The dough should be soft and tacky, slightly sticking to the side of the bowl while kneading – adjust with a bit more water or flour if needed to achieve the desired consistency.  



Drizzle the remaining 2 tablespoon of olive oil from the dough ingredients onto the Air Fry Oven Baking Pan and use a pastry brush or hands to evenly coat the sides and bottom.  Transfer the dough to the prepared pan and gently stretch and spread it to cover the pan, taking care to make it as even in thickness as possible.  Lightly cover the dough with a kitchen towel or plastic wrap and let it rise at room temperature for about 60 minutes, until almost doubled in size and very airy.  



Select the Bake mode and preheat the Premiere Countertop Air Fry Oven at 425 F, with the oven rack set in the first position. 



Using your fingers, gently press and indent the surface of the dough all over to create lots of peaks, valleys, and bubbles.  Evenly distribute the asparagus across the dough and gently press them down into the surface, followed by the preserved lemon strips and pine nuts.  Drizzle on the olive oil and transfer to the preheated oven.  Bake for 20 to 25 minutes until nicely golden brown on the top and edges, with a bit of color on all the toppings as well.  

 



Remove the finished focaccia from the oven and transfer to a wire cooling rack.  Sprinkle on some flakey sea salt to finish and serve, cut into squares, warm or at room temperature.   
TIPS: 
If you don't have a stand mixer, this dough easily comes together by hand!  Simply mix the dough in a large mixing bowl, then knead by hand on a lightly floured countertop for about 8 minutes.   
This dough also makes a great deep dish or Detroit style pizza!  Make the dough as is, then top with pizza sauce, cheese and toppings of your choice.  
Featured Product
Premiere Convection Air Fry Oven Featuring PFAS-Free Nonstick
Our best air fry oven features the most presets and functions we've ever created—this is one of the most versatile tools in any kitchen. It's a powerful air fryer, consummate baker, and a handy broiler all in one. This is...