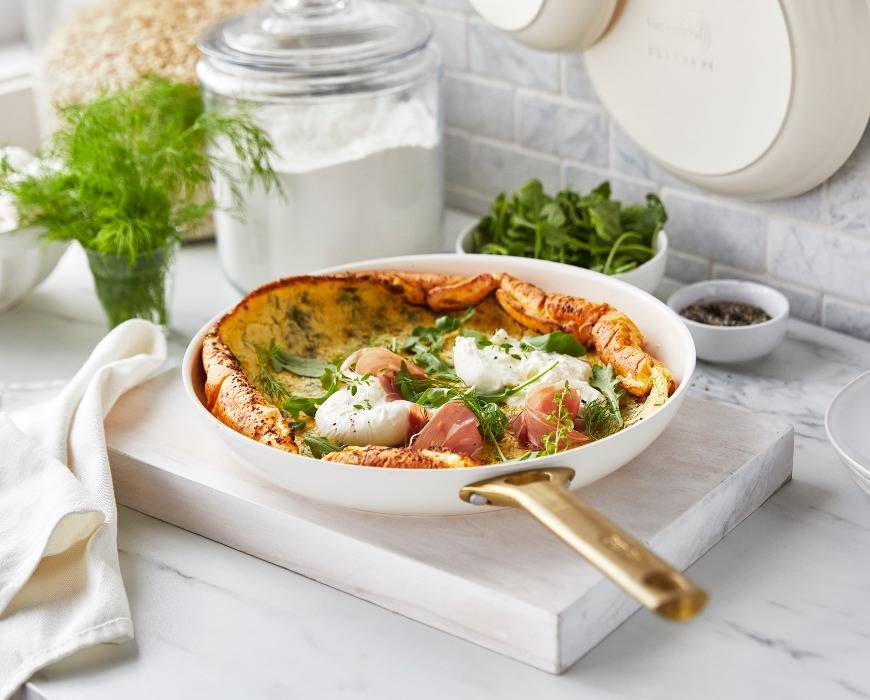 Parmesan Herb Dutch Baby with Prosciutto and Burrata
Yields: 6 servings
Time: 10 minutes prep, 20 minutes baking, 30 minutes total
INGREDIENTS:
2 tablespoons butter
4 large eggs, at room temperature
2/3 cups milk, at room temperature
2/3 cup all-purpose flour
1/2 teaspoon salt
2 tablespoons butter, melted
3 tablespoons freshly grated Parmesan cheese
1 tablespoon chopped fresh basil
1 tablespoon chopped fresh dill, plus a few dill sprigs for serving
1 tablespoon fresh thyme leaves, plus more for serving
1 cup baby arugula
Juice of half a lemon
Salt to taste
Pat of butter
8 ounces fresh burrata cheese, at room temperature
2 ounces sliced prosciutto, torn into pieces
Freshly ground black pepper
PREPARATION INSTRUCTIONS:
Prepare to bake—Preheat oven to 450°F and place top rack in lower third of oven. Add 2 tablespoons butter to a 10" nonstick oven-safe skillet and place in oven for about 5 minutes.


Mix the batter—In a medium bowl, add eggs, milk, flour, salt, and melted butter. Whisk vigorously till everything's evenly combined with no lumps of flour.


Mix the herbs—Place Parmesan, basil, dill, and thyme in a small bowl and toss or stir to combine.


Assemble the pancake—Carefully remove the skillet from oven—remember the handle will be HOT. Pour the batter in center of skillet and swirl to spread evenly, if needed. Sprinkle the herb mixture evenly over the top of pancake.


Bake the pancake—Carefully transfer skillet to oven and bake till pancake is puffed up and beautifully brown all over, about 20 to 25 minutes. Tempting as it may be, refrain from opening the oven in the first 15 minutes of baking or you'll likely have a sad, deflated pancake.


Prep the arugula—In the last few minutes of bake time, add arugula to a medium bowl, sprinkle with lemon juice and salt and toss to coat evenly.


Garnish and serve—Remove pancake from oven and add a pat of butter to the top, spreading it over pancake as it melts. Tear burrata and place on top of pancake along with prosciutto, arugula, and a few sprigs of thyme and dill. Carefully transfer to a cutting board, then slice, serve, and enjoy!

TIPS:
Mix it Up—Our savory Dutch baby is endlessly versatile, so make it your own. Trade Parmesan for asiago, thyme for rosemary, burrata for goat cheese, or prosciutto for salami.
Preheating Precaution—Keep an eye (or ear) on the skillet as it preheats. Pull out the pan just as butter begins to bubble and sizzle, or you'll likely hear the smoke alarm soon.
Featured Product
Reserve Ceramic Nonstick 8", 10" and 12" Frypan Set | Cream with Gold-Tone Handles
Featuring a deep, captivating finish, this frypan trio is more than good looks: the duoforged hard anodized construction makes it extra tough and scratch-resistant. The meal possibilities are endless—flavorful frittatas, seared salmon, and so much more.