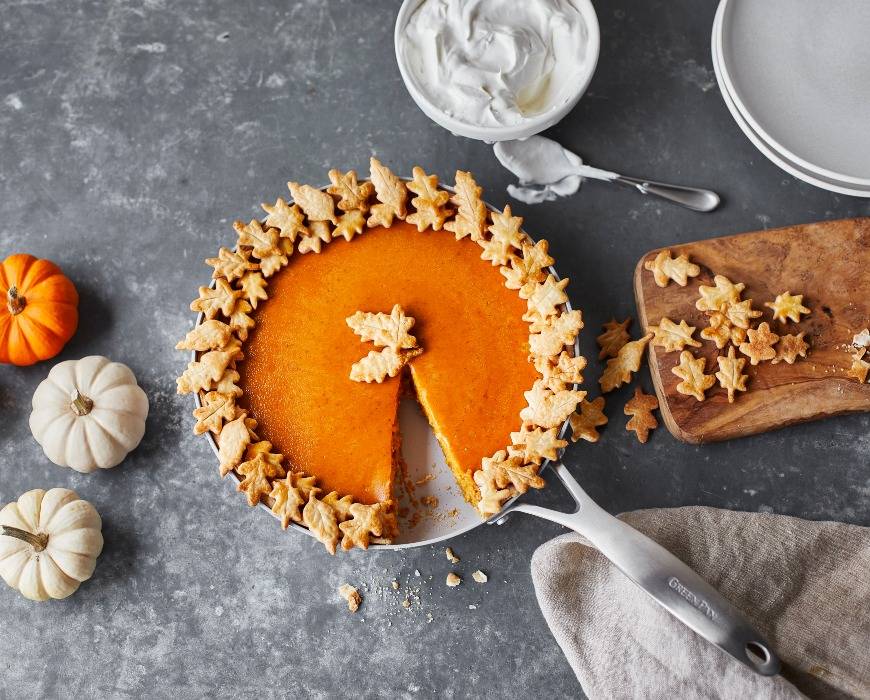 Pumpkin Pie with Fall Leaves Crust 
Yields: 6 to 8 servings
Time: 30 minutes prep, 1 hour baking, 1 hour 30 minutes total 
INGREDIENTS:
2 9-inch pie crusts, homemade or the refrigerated pre-rolled kind
1 can pumpkin puree (15 ounces)
3 large eggs
1 1/4 cups brown sugar, packed
1 cup heavy cream
1/4 cup milk
1 tablespoon cornstarch
1 teaspoon ground cinnamon
1 teaspoon pumpkin pie spice
1 teaspoon vanilla extract
1/2 teaspoon salt
For the egg wash:
1 large egg beaten with 1 tablespoon milk
PREPARATION INSTRUCTIONS:
Prepare the crust—Preheat oven to 375 degrees F. Line pie dish with one 12-inch round of dough. Fold under excess dough. Use a fork to gently prick holes in bottom of crust. Roll out remaining dough and cut out leaf shapes with decorative piecrust cutters or a sharp paring knife. Brush edges of pie shell with egg wash and press cut-outs around the edges of crust. Brush decorative leaves with egg wash.
Blind bake the crust—Line pie crust with parchment paper, fill with pie weights, and bake crust in preheated oven for 10 to 15 minutes.
Meanwhile, make the filling—While crust is baking, whisk together pumpkin puree, eggs, and brown sugar in a medium bowl. Add in cream, milk, cornstarch, cinnamon, pumpkin pie spice, vanilla extract, and salt and whisk until thoroughly combined.
Bake the pie—Pour filling into warm crust. Return to oven and bake for 25 minutes. Cover edges of crust with aluminum foil to prevent burning and continue baking until center center is almost set, another 25 to 35 minutes.
Cool and serve—Transfer to a wire rack and cool completely before serving.
Featured Product
Venice Pro Ceramic Nonstick 11" Frypan
Crafted from ultra-tough, multilayer stainless steel, this 11" pan is ideal for a wide variety of tasks—from sautés to bakes and fluffy scrambled eggs to fall-apart tender salmon. Finished with our healthy ceramic nonstick coating, cleanup is effortless.