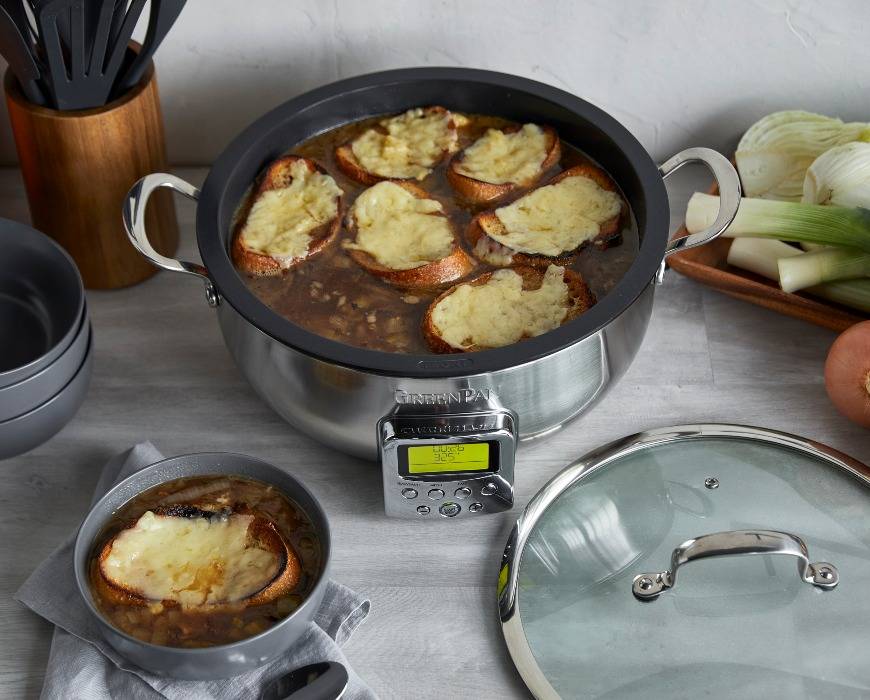 Yields: 4 to 6 servings
Time: 15 minutes prep, 1hr 20 minutes cooking, 1hr 35 minutes total
INGREDIENTS:
6 tablespoons unsalted butter
3 pounds yellow onions, halved and thinly sliced
2 pounds fennel, tops and cores removed, thinly sliced
3 tablespoons pastis, or another anise flavored liquor
1/2 cup cognac or brandy
1/2 cup white wine
8 cups low-sodium beef stock
3 bay leaves
1 tablespoon kosher salt
1 1/2 teaspoons freshly ground black pepper
1 small sourdough boule, sliced 1/2-inch thick and toasted
4 to 6 ounces Gruyère cheese, grated
PREPARATION INSTRUCTIONS:
Select the Soup mode on the Essential Smart Skillet, set the temperature to 220°F and the timer for 1 hour and 20 minutes.
Melt the butter in the pan and add the onions and fennel. Cook, stirring every few minutes with a wooden spoon until the onions and fennel start to caramelize. This should be a slow process, up to 40 minutes, to ensure the sugars in the onions are caramelizing rather than simply being browned on the outside. If after 40 minutes the onions aren't a deep caramel brown, use the Sear/Sauté mode to cook them on higher heat for another 5 minutes, then switch back to the Soup mode.
Since the amount of time it may take to caramelize the onion and fennel varies, reset the timer on Soup mode to 40 minutes to finish cooking the soup.
Add the pastis and cognac, scraping up the brown bits in the pan, and simmer uncovered for 5 minutes. Next add in the white wine and simmer uncovered for another 10-15 minutes.
Once all the alcohols have reduced down considerably, add in the beef stock, bay leaves, salt and pepper. Taste and adjust salt and pepper as necessary.
Cook, uncovered, for another 20 minutes to allow all the flavors to blend together. Remove the bay leaves, and adjust the seasoning one more time with salt and pepper, if needed.
To serve, place an oven rack about 5 to 6 inches below the broiler, set on low. Ladle the soup into heat safe bowls, ensuring there is a good amount of onions and fennel as well as broth. Place a piece of the toasted bread on top and cover with an even layer of gruyere - you should barely be able to see the bread underneath it. Broil for about 4 minutes or until the cheese has fully melted, and is brown and bubbling on top. (If a broiler is unavailable, place toasted bread on a foil or parchment lined baking tray, cover in the cheese, and bake in a 400° F oven until the cheese is brown and bubbling. Then use a spatula to transfer to the top of the soup.)
TIPS:
Don't Rush – Caramelized onions and fennel are the stars of this soup, so cook them low and slow to ensure that they're beautifully browned.
Say Cheese – For most dishes, we mix and match cheeses with abandon, but this soup simply demands Gruyère. Use Swiss if you must, but back away from the cheddar (shudder!).
Featured Product
Elite 6-Quart Essential Smart Skillet | Premiere Stainless Steel
Whether you're searing a steak, perfecting a complex stew, or simply making rice, this family-sized 6-quart skillet gives you room for any meal. The high sides eliminate splatter and make it easy to toss your ingredients without worry.