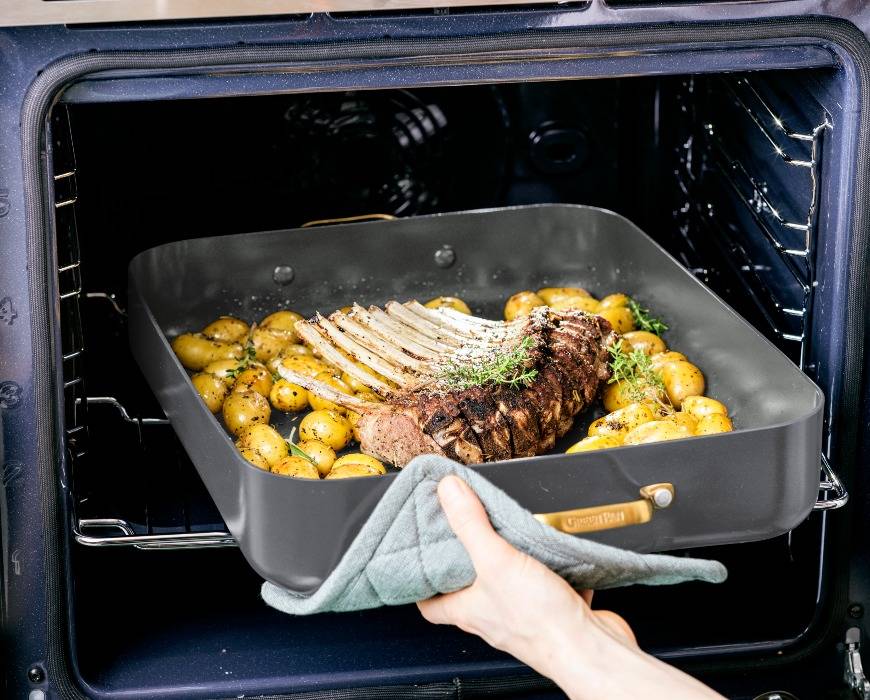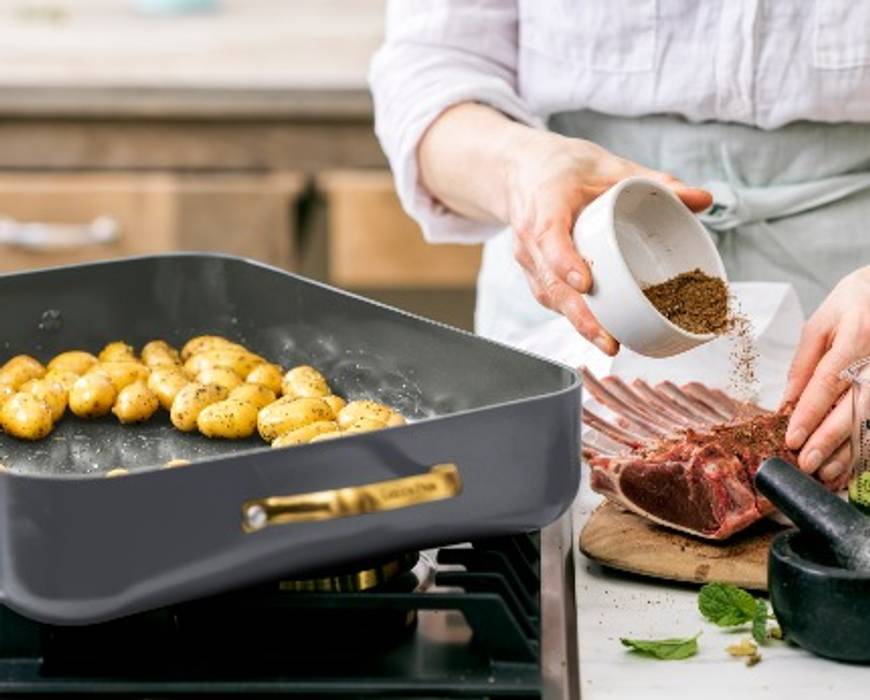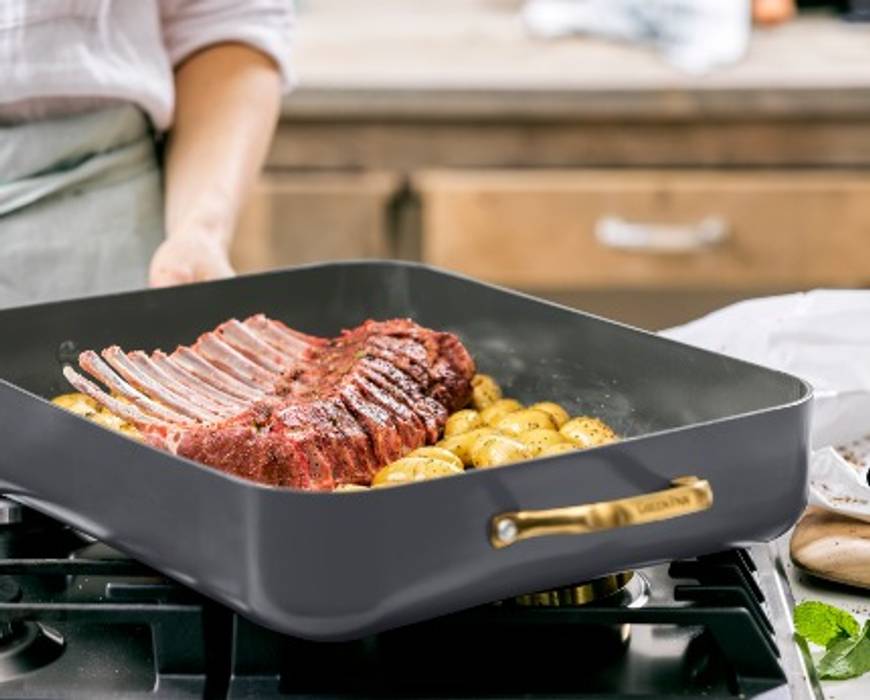 Rack of Lamb with Roasted Potatoes and Mint Sauce
Yields: 4 servings
Time: 20 minutes prep, 25 minutes cooking, 45 minutes total, plus resting time
INGREDIENTS:
1 rack of lamb, 1 1/2 to 2 pounds
For the spice rub:
1 tablespoon dark brown sugar, firmly packed
1/4 teaspoon freshly ground black pepper
1 1/2 teaspoons ground cardamom
1/2 teaspoon ground cinnamon
For the potatoes:
2 tablespoons olive oil
2 cloves garlic, minced
2 to 3 teaspoons Italian seasoning
1/2 teaspoon crushed red pepper flakes (optional)
1/2 teaspoon salt
5 pounds Yukon gold potatoes, cleaned but not peeled

For the mint sauce:
1/2 cup packed fresh mint leaves
2 tablespoons powdered sugar
1/3 cup apple cider vinegar or rice wine vinegar

PREPARATION INSTRUCTIONS:
1. Prep the lamb—Preheat oven to 475° F. In a small bowl, stir together spice rub ingredients. Rub spice mixture all over the rack of lamb. Cover lamb and let stand at room temperature for 30 minutes.
2. Meanwhile, prep the potatoes—Place potatoes in roasting pan, drizzle with olive oil, and sprinkle with minced garlic, Italian seasoning, red pepper flakes, and salt. Toss to ensure that potatoes are evenly coated with oil and spices. Bake in preheated oven for 10 minutes, then add rack of lamb to pan.
3. Roast the lamb—After lamb has roasted for 10 minutes, reduce oven temperature to 375° F and continue cooking until thermometer inserted in center of meat reads 120°F, about 10 to 15 minutes. Transfer lamb to cutting board and cover with foil for 10 minutes.
4. Finish potatoes—If potatoes aren't quite done, return to oven and continue roasting until beautifully browned and tender when pierced with a fork, another 5 to 10 minutes.
5. Meanwhile, make the mint sauce—Combine mint, powdered sugar, and vinegar using a blender or small food processor. Transfer sauce to a small bowl and set aside.
6. Slice, garnish and serve—Cut lamb into individual chops. Arrange on plates with potatoes and drizzle meat with mint sauce.
TIPS:
Ensure even roasting by bringing lamb to room temperature before cooking—30 minutes should do the trick, but you can leave it out for up to 2 hours.
Rest lamb after cooking so moisture can redistribute. Slice too soon and all the liquid will escape leaving you with a bone-dry chop.
Featured Product
Reserve Ceramic Nonstick Roaster with Rack | Charcoal with Gold-Tone Handles
From family-sized lasagna to classic roasts and mouthwatering roasted veggies, this roaster brings stovetop ease to your oven. Crafted from hard anodized aluminum, this high-performance roaster delivers with classic contrast.