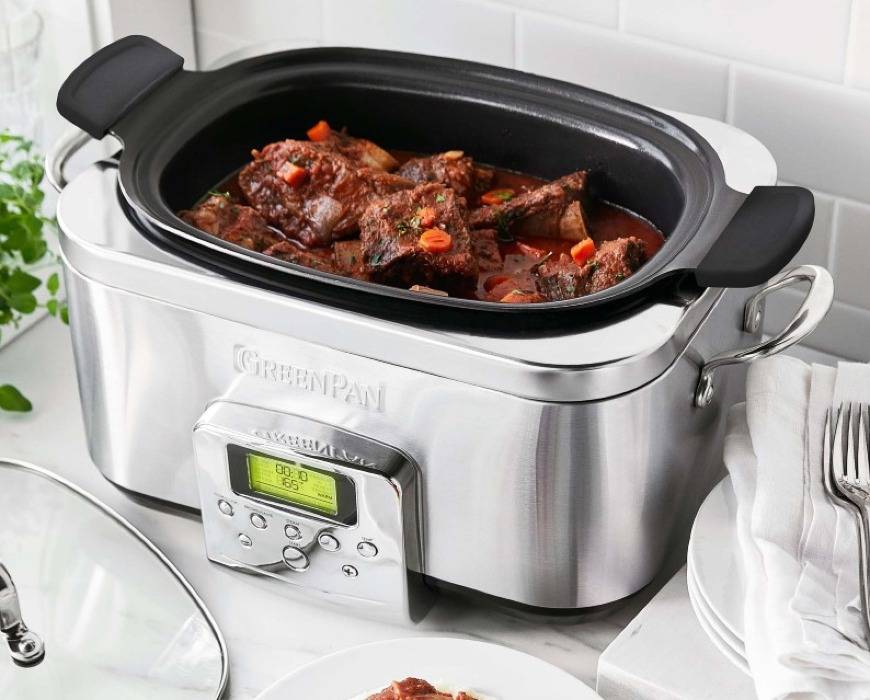 Red Wine Braised Short Ribs
Yields: 6 servings
Time: 30 minutes prep, 7hr cooking, 7hr 30 minutes total
INGREDIENTS:
2 tablespoons vegetable oil
4 to 5 pounds bone-in short ribs, at least 1 1/2 inches thick
2 tablespoons kosher salt
1 tablespoon freshly ground black pepper
6 cloves garlic, smashed and peeled
1 medium onion, medium dice
3 ribs celery, medium dice
2 carrots, peeled and medium diced
3 tablespoons tomato paste
2 cups dry red wine
2 tablespoons red wine vinegar
3 cups low-sodium beef stock
4 sprigs fresh thyme
2 bay leaves
1 cup parsley, coarsely chopped
PREPARATION INSTRUCTIONS:
Select the Brown/Sauté mode on the Premiere Slow Cooker, set the temperature to 400°F and the timer to 20 minutes. Pour in the oil and allow it to come to temperature. Season the short ribs with the salt and pepper. Once the oil has started shimmering, sear the short ribs in batches until well browned on all sides. Transfer all of the seared short ribs to a large plate or baking sheet while you sauté the vegetables.
Place the garlic, onion, celery, carrots, and tomato paste in the Premiere Slow Cooker and cook, stirring occasionally with a wooden spoon, until the garlic is aromatic and the tomato paste has turned a darker shade of red. Pour in the red wine, red wine vinegar, and beef stock, stirring until everything is evenly combined and releasing any browned bits from the bottom of the pan with the wooden spoon.
Return the seared short ribs to the Premiere Slow Cooker, along with the thyme and bay leaves.
Select the Low Heat Slow Cook mode and set the timer for 7 hours. Cook, covered, for 6 to 7 hours or until the short ribs are tender and easily pull away from the bone.
Transfer the ribs and vegetables to a large serving platter, discarding the thyme and bay leaves, and tent with aluminum foil to keep warm.
Using a ladle, skim as much fat as possible from the top of the cooking liquid. Season the liquid with salt and pepper, to taste. Uncover the short ribs and vegetables and spoon a generous amount of the cooking liquid over the top. Top the platter with freshly chopped parsley just before serving.
TIPS:
Wine Selection
Merlot to Pinot Noir, Cabernet Sauvignon to Shiraz, you can't go wrong by cooking with a dry red wine you'd enjoy drinking.
Patience Pays Off
Slow cooking with low heat is key to delivering melt-in-your-mouth short ribs. Avoid the temptation to rush the process.
Featured Product
Elite 6-Quart Slow Cooker | Premiere Stainless Steel
With our advanced slow cooker, you can sear meat and veggies in the pot, then go low and slow to finish the job. Take your time while cooking, then clean up quickly with Thermolon™ Volt, a healthy, PFAS-free ceramic nonstick...