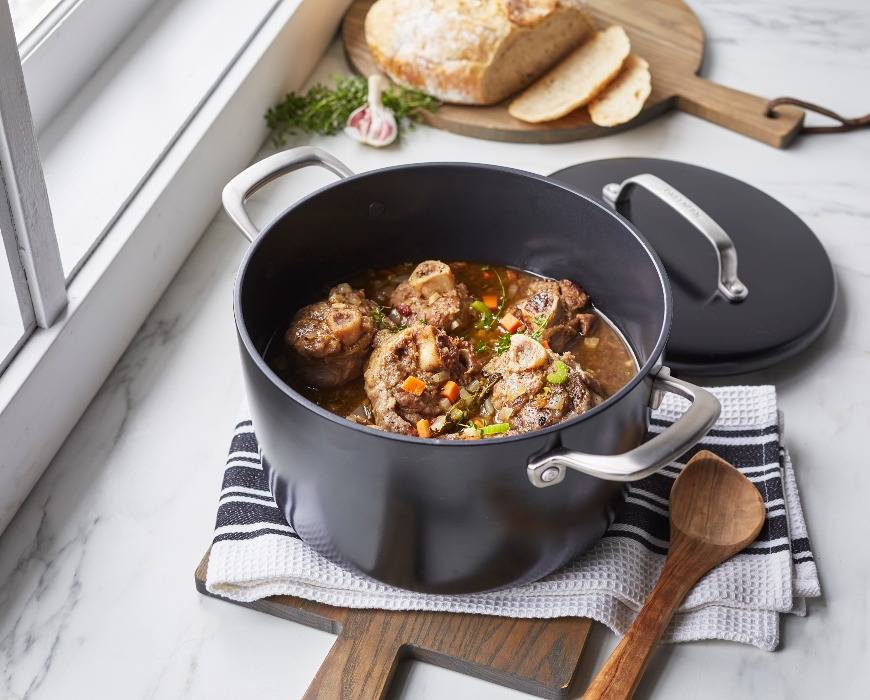 Osso Buco (Braised Veal Shanks)
Yields: 6 servings
Time: 15 minutes prep, 3 hours 30 minutes cooking, 3 hours 45 minutes total
INGREDIENTS:
6 veal shank pieces, each about 1 1/2 inches thick
Salt and freshly ground black pepper
1 cup all-purpose flour
1/4 cup olive oil, plus more if needed
1 tablespoon butter
2 medium carrots, diced
1 yellow onion, diced
1 celery rib, sliced thin
3 garlic clove, minced
1 (14-ounce) can diced tomatoes
1 cup dry red wine
1 cup low-sodium chicken stock, plus more if needed
3 fresh thyme leaves
1 bay leaf
PREPARATION INSTRUCTIONS:
Prepare to cook—Preheat oven to 325°F.
Prep the veal—Generously season veal shanks with salt and pepper on all sides.
Brown the shanks—Place oil in a Dutch oven over medium-high heat. Place flour in a shallow bowl. When oil is shimmering, dredge a shank in flour, covering all sides. Shake off excess flour and add shank to Dutch oven. Repeat with 2 more shanks. Cook veal, turning occasionally, until lightly browned all over—about 4 minutes per side. If meat is browning too quickly, lower heat. Transfer browned meat to a plate. Add more oil to pot, if needed, and repeat with the remaining shanks.
Sauté the aromatics—Add butter to Dutch oven and stir in carrots, onion, and celery. Sauté, stirring occasionally, until vegetables are softened and just starting to brown—about 6 minutes. Add in garlic and cook, stirring constantly, for another minute or so.
Start the braise—Add tomatoes, wine, and stock to pot and stir to combine. Arrange shanks in a single layer in pot. Top with thyme and bay leaf, then heat till simmering.
Braise the shanks—Cover pot and transfer to preheated oven. Cook till veal is tender when pierced with a fork, about 3 hours. Check occasionally to assess liquid level. If pot gets too dry, add more chicken stock or water as needed.
Finish and serve—Carefully transfer shanks to individual plates and spoon braising sauce over them. Enjoy!
TIPS:
Top it Off—A homemade gremolata garnish adds brightness and cuts through the richness of osso buco. Simply stir together 1/2 cup minced parsley, 2 minced garlic cloves, and the zest of 1 lemon.
Wine Selection—We've found that red wines like Pinot Noir, Merlot, or Chianti add extra depth to osso buco, but some chefs prefer the fruitiness of dry white wines. Whichever you select, avoid cooking with any wine you wouldn't enjoy drinking.
Featured Product
GP5 Infinite8 Ceramic Nonstick 8-Quart Stockpot with Lid
Our Most Advanced Collection Ideal for seafood boils, family-sized pastas, and expertly crafted stews, this pot delivers effortless nonstick ease. This stockpot's body is 5mm thick and the low dome lid is made from stainless steel for easy transitions from...