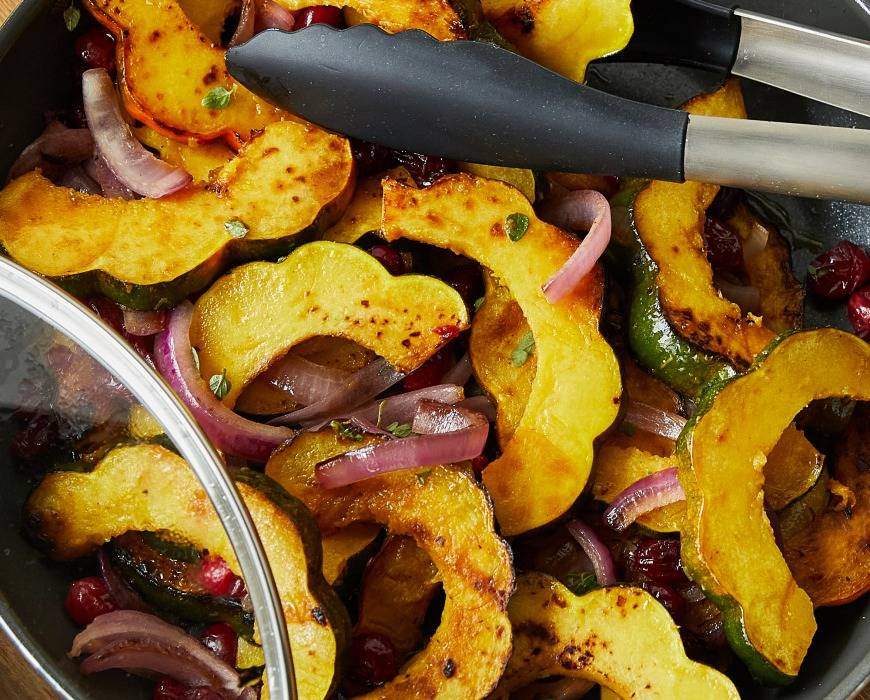 Roasted Acorn Squash with Cranberries and Red Onions
Yield: 4 to 6 servings  
Time: 10 minutes prep, 35 minutes cooking, 45 minutes total 
INGREDIENTS:  
2 pounds acorn squash, seeded and sliced into 1/2-inch pieces 

 

4 tablespoons olive oil, divided 

 

Sea salt and freshly ground black pepper to taste 

 

1 small red onion, thinly sliced 

 

1 cup whole fresh cranberries (or frozen) 

 
PREPARATION INSTRUCTIONS: 
Prepare to roast—Preheat oven to 375 degrees F. 
Roast the squash—In a medium bowl, add squash and 3 tablespoons olive oil. Sprinkle generously with salt and pepper and toss to coat evenly. Spread in a single layer on a nonstick baking sheet. Transfer to oven and roast for about 20 minutes or until squash is golden brown and tender when pierced with a fork. 
Sauté the onions—Heat remaining teaspoon of olive oil to a large skillet over medium heat until oil is shimmering. Add red onion and sauté until translucent and tender, about 5 minutes. Add in cranberries and continue cooking until they start to burst, about 6 to 8 minutes. 
Finish and serve—Add roasted squash to skillet, stirring to combine evenly. Taste and adjust seasonings as needed. Serve warm. 
TIPS: 
How to Cut Acorn Squash - To create a stable base, slice 1/4 inch off each end of the squash. Stand it on a cut end and chop in half. Remove seeds with a large spoon, then cut into slices.  
Featured Product
Valencia Pro Ceramic Nonstick 10" Frypan
This 10" frypan is ready for searing steaks, sautéing veggies, whipping up omelettes, and so much more. Extra tough and endlessly versatile, this pan is crafted from hard anodized aluminum for maximum strength and scratch resistance.