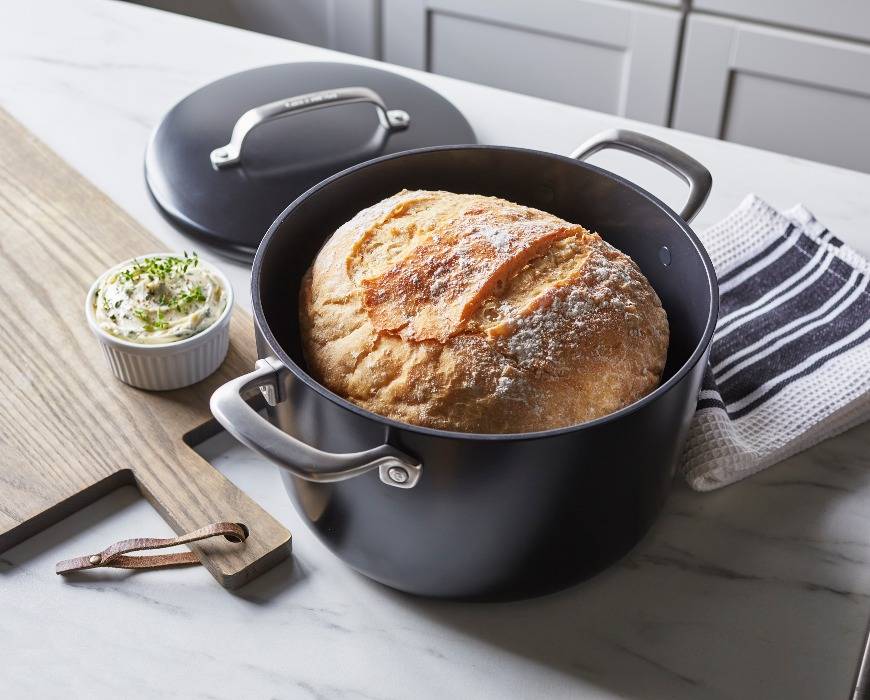 Yields: 1 loaf
Time: 10 minutes prep, 2 hours rising, 40 minutes cooking, 2 hours 50 minutes total
INGREDIENTS:
3 cups all-purpose flour
1 packet (or 2 teaspoons) active dry yeast
1 teaspoon salt
1 1/2 cups warm water—about 110°F
PREPARATION INSTRUCTIONS:
Mix the dough—In a large bowl, whisk together flour, yeast, and salt. Stir in hot water till all flour is incorporated. Dough will be very sticky.
Proof the dough—Cover bowl with plastic wrap and let sit in a warm place till doubled in size with bubbles over the surface—2 to 3 hours.
Shape the dough—Use a floured spatula to turn dough out onto a well-floured surface and sprinkle flour on top. Fold dough over with a bench scraper about 10 to 12 times until it forms a rough ball. Transfer dough to a bowl lined with parchment paper and cover with a kitchen towel. Let dough rest for about 30 minutes.
Prepare to bake—Place a covered Dutch oven on the middle shelf of oven and preheat to 450°F.
Bake the bread—When oven is heated to 450°, take out the Dutch oven. Remove lid—don't forget to wear oven mitts—and transfer parchment paper and dough into the Dutch oven. Cover and bake for 30 minutes. Remove lid and parchment paper and return to oven for another 10 to 15 minutes. Transfer to a cooling rack and let bread cool completely before slicing.
TIPS:
DIY Proofing Box—Place bowl of dough on the center rack of your (turned-off!) oven with a baking pan in the bottom. Add a few cups of boiling water to pan and close the oven door.
Easy Test for Doneness—Give the underside of the loaf a thump. If it sounds hollow, you're good to go.
Featured Product
GP5 Infinite8 Ceramic Nonstick 8-Quart Stockpot with Lid
Our Most Advanced Collection Ideal for seafood boils, family-sized pastas, and expertly crafted stews, this pot delivers effortless nonstick ease. This stockpot's body is 5mm thick and the low dome lid is made from stainless steel for easy transitions from...