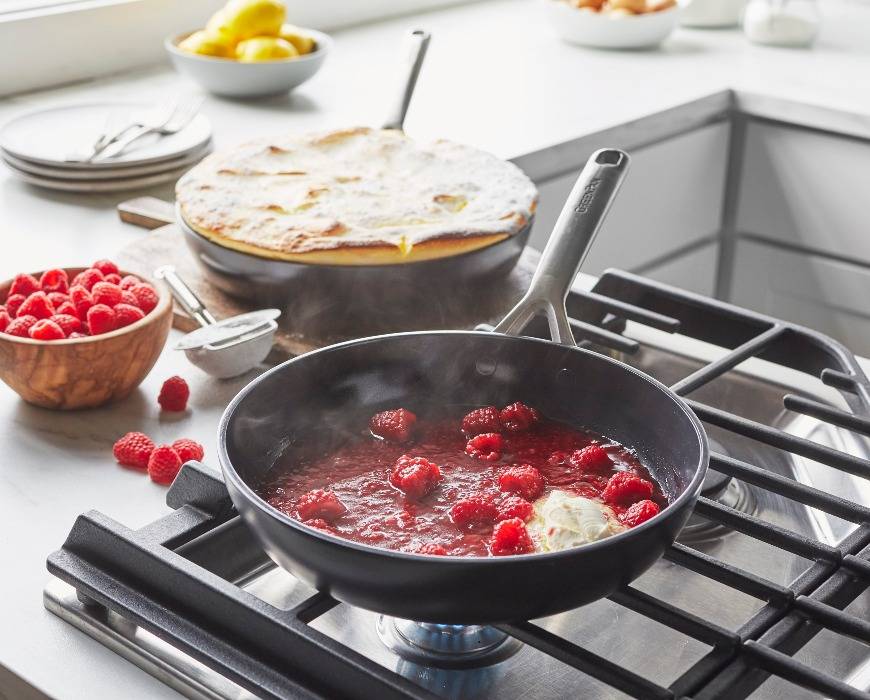 Raspberry Mascarpone Compote
Yields: ~1 cup
Time: 5 minutes prep, 15 minutes cooking, 20 minutes total
INGREDIENTS:
2 1/2 cups fresh raspberries, divided
1/4 cup brown sugar
2 to 3 tablespoons water
1 tablespoon fresh lemon juice
1/4 cup mascarpone cheese
1 teaspoon lemon zest
PREPARATION INSTRUCTIONS:
Mix the compote—In a small skillet, stir together 2 cups raspberries with brown sugar, water, and lemon juice. Bring to a boil over medium heat, then stir constantly for a couple of minutes until raspberries break down.
Simmer the compote—Reduce heat to bring compote to a low simmer (small bubbles). Cook, stirring occasionally, until all raspberries are broken down and compote thickens, about 10 minutes.
Finish and serve—Stir in 1/2 cup fresh raspberries, along with mascarpone and lemon zest. Mix till just combined. Serve warm or cold.
TIPS:
Taste Test—Sample raspberries before adding sugar. You may want to use more or less, depending on their level of sweetness.
Be Prepared—Freeze lemon juice in ice trays and stash zest in a plastic freezer bag so you'll always have a burst of citrus flavor when you need it.
Featured Product
GP5 Infinite8 Ceramic Nonstick 10" Frypan
Our Most Advanced Collection This 10" frypan is the first pan you'll reach for when cooking any meal of the day. That's because no matter what you're making, you can use less oil and get more contact with this pan's...