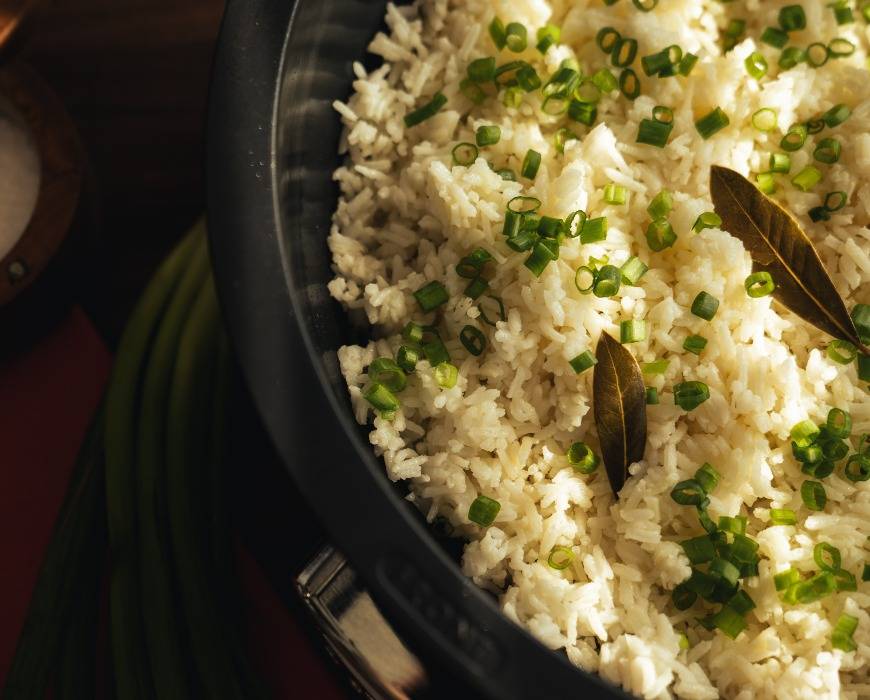 Scallion and Bay Leaf Rice
Yields: 6 to 8 servings
Time: 5 minutes prep, 50 minutes cooking, 55 minutes total
INGREDIENTS:
2 cups basmati or other long-grain rice
2 tablespoons olive oil
2 bay leaves
2 teaspoons kosher salt
2 cups water
1 bunch scallions, thinly sliced
PREPARATION INSTRUCTIONS:
Rinse the rice in a fine mesh strainer to remove any starch coating the grains. Drain the rise and set aside.


Select the Sear/Sauté mode on the Essential Smart Skillet and set the temperature at 325°F. Pour the olive oil into the pan and add the bay leaves, slowly toasting them until fragrant, about 5 minutes.


Switch the Essential Smart Skillet to the White Rice mode and set the time for 45 minutes. Add the rinsed rice along with the salt and the water. Cover and cook the rice for the duration of the timer.


After the rice is done, remove the cover, fluff the rice with a fork and discard the bay leaves. Stir sliced scallions into the rice or serve on top as a garnish.
TIPS:
Goodbye, Gummy Rice – A good rinse under cold water removes the excess starch that causes rice to clump together.
Keep Scallions Fresh – Wrap the bunch in a slightly damp (not wet!) paper towel and place in a storage bag in the fridge.
Featured Product
Elite 6-Quart Essential Smart Skillet | Premiere Stainless Steel
Whether you're searing a steak, perfecting a complex stew, or simply making rice, this family-sized 6-quart skillet gives you room for any meal. The high sides eliminate splatter and make it easy to toss your ingredients without worry.