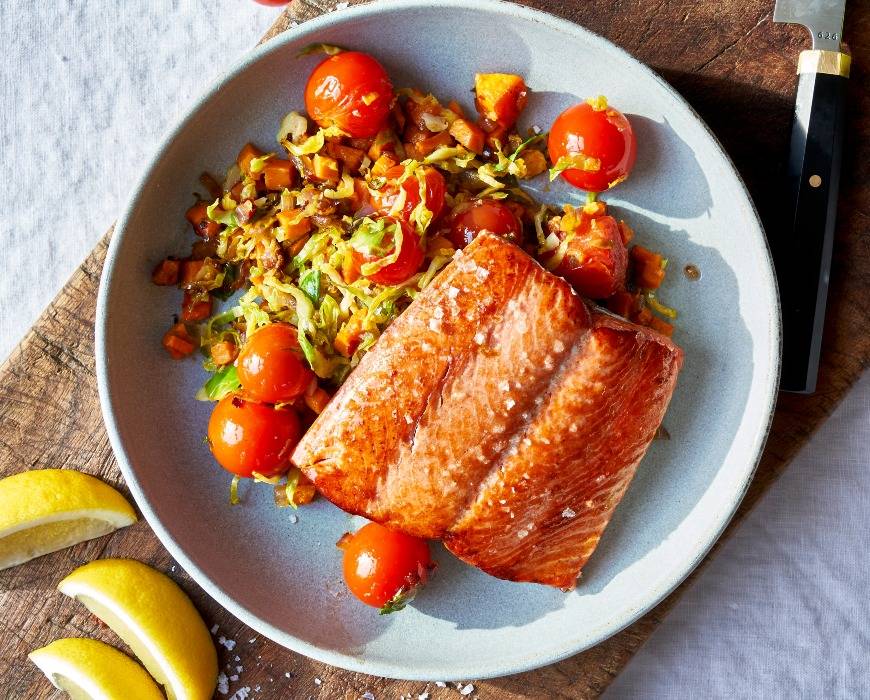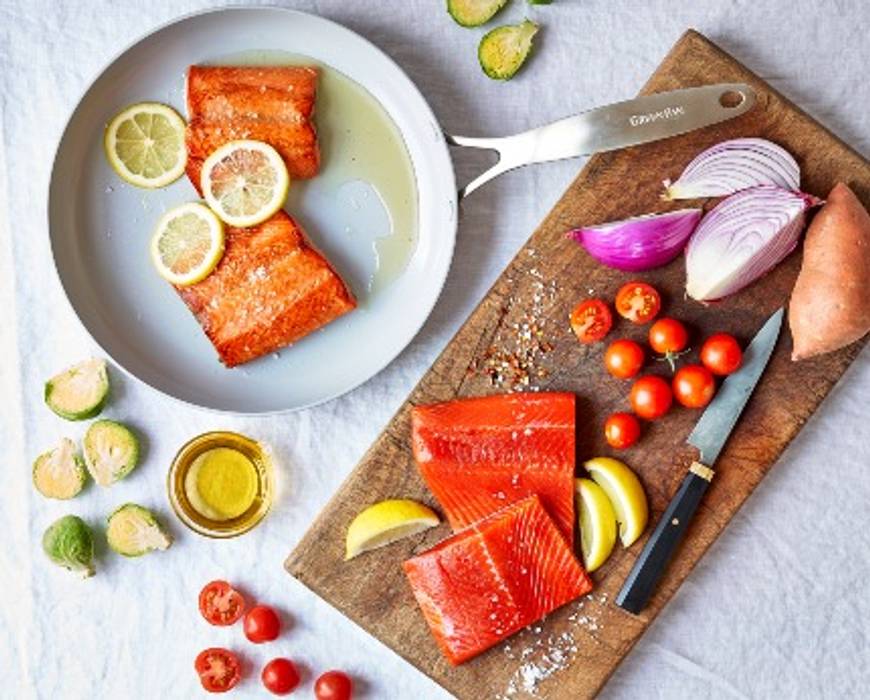 Seared Skillet Salmon with Roasted Vegetables
Yields: 4 servings
Time: 10 minutes prep, 15 minutes cooking, 25 minutes total
INGREDIENTS:
1 medium sweet potato, cut into small dice
½ red onion, cut into small dice
1 cup cherry tomatoes
2 cups Brussels sprouts, shaved
1 tsp salt, divided
Fresh ground pepper
½ tsp chili flakes
¼ tsp smoked paprika
4 6-oz Salmon fillets
½ lemon


PREPARATION INSTRUCTIONS:
In a large bowl, add sweet potato, red onion, cherry tomatoes, Brussels sprouts, and 1 tablespoon avocado oil. Gently toss the vegetables with ½ tsp of salt, fresh ground pepper, chili flakes, and smoked paprika.
Heat a 12" GreenPan on medium heat and add the veggies once the pan is hot. Sauté for 10 min stirring every couple minutes. Once the veggies are ready, place them in a bowl and cover them while you cook your salmon.
Rinse and pat dry the salmon fillets. Season with salt and fresh ground pepper.
Place your now empty GreenPan over medium-high heat and add 1 tsp of Chosen Foods Avocado Oil. Once the oil is hot, add the salmon fillets on the hot pan and cook for about 3-4 min on the presentation side (top side) first. Flip the fillets carefully and cook for another 3 minutes.*
Plate your dish by adding a bed of pan roasted vegetables and top them off with your perfectly cooked salmon. Top each plate with a squeeze of fresh lemon juice enjoy!
Featured Product
Venice Pro Ceramic Nonstick 10-Piece Cookware Set
Built for high performance, this bestselling collection features tri-ply stainless steel bodies with our Evershine™ finish to keep them looking new long after they're not. This high-powered collection is a bestseller for a reason.