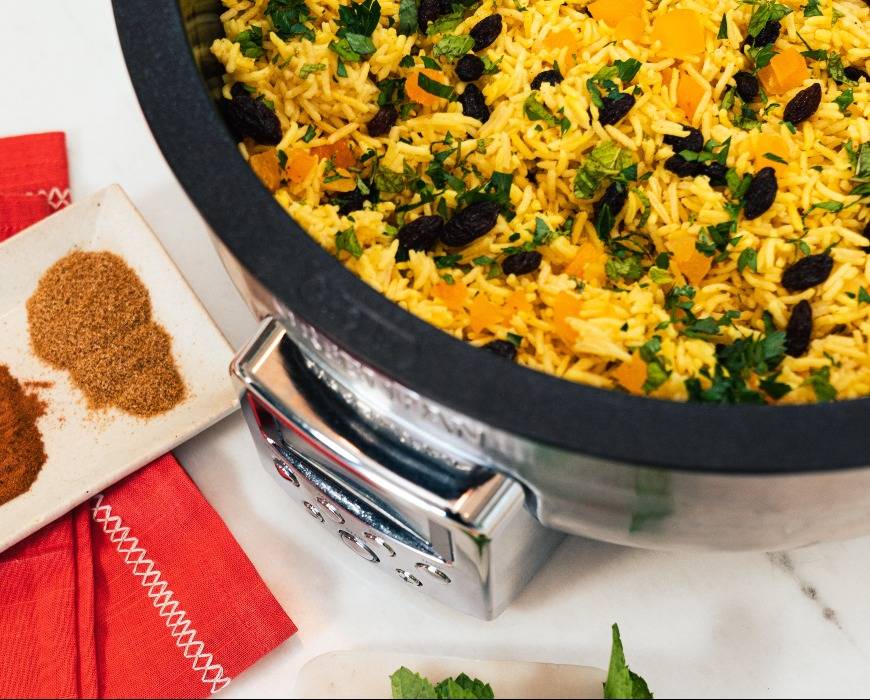 Yields: 6 to 8 servings
Time: 10 minutes prep, 50 minutes cooking, 60 minutes total
INGREDIENTS:
2 cups basmati rice
3 tablespoons unsalted butter
1/2 cup finely chopped yellow onions, from one small onion
1/2 teaspoon ground cumin
1/2 teaspoon ground turmeric
1/4 teaspoon ground cinnamon
2 cloves garlic, minced
2 1/4 cups water
2 teaspoons kosher salt
1/2 teaspoon Aleppo pepper or red chili flakes, if desired
1/3 cup dried fruit, such as raisins or finely chopped dried apricots
1/4 cup sliced almonds, toasted
1/4 cup of parsley and mint, roughly chopped
PREPARATION INSTRUCTIONS:
Rinse the rice in a fine mesh strainer to remove any starch coating the grains. Drain the rise and set aside.
Select the Sear/Sauté mode on the Essential Smart Skillet and set the temperature at 325°F. Melt the butter and add the onions, cooking until softened and translucent. Add the cumin, turmeric, cinnamon, and garlic, and cook another minute until very fragrant. Then add the rinsed rice to the pot and cook for 3 minutes more.
Switch the Essential Smart Skillet to the White Rice mode and set the time for 45 minutes. Add the water and the salt. Cover and cook the rice for the duration of the timer.
After the rice is done, remove the cover, fluff the rice with a fork, and stir in the dried fruits along with any pepper or chili.
Top the rice with the toasted almonds and chopped herbs just before serving.
TIPS:
Get Toasty – Place almonds in a skillet over medium-high heat, stirring frequently, until they're golden brown and your kitchen smells amazing.
Spice It Up – Past-prime spices add little flavor to food. If a spice is no longer fragrant, it's time to toss!
Featured Product
Elite 6-Quart Essential Smart Skillet | Premiere Stainless Steel
Whether you're searing a steak, perfecting a complex stew, or simply making rice, this family-sized 6-quart skillet gives you room for any meal. The high sides eliminate splatter and make it easy to toss your ingredients without worry.