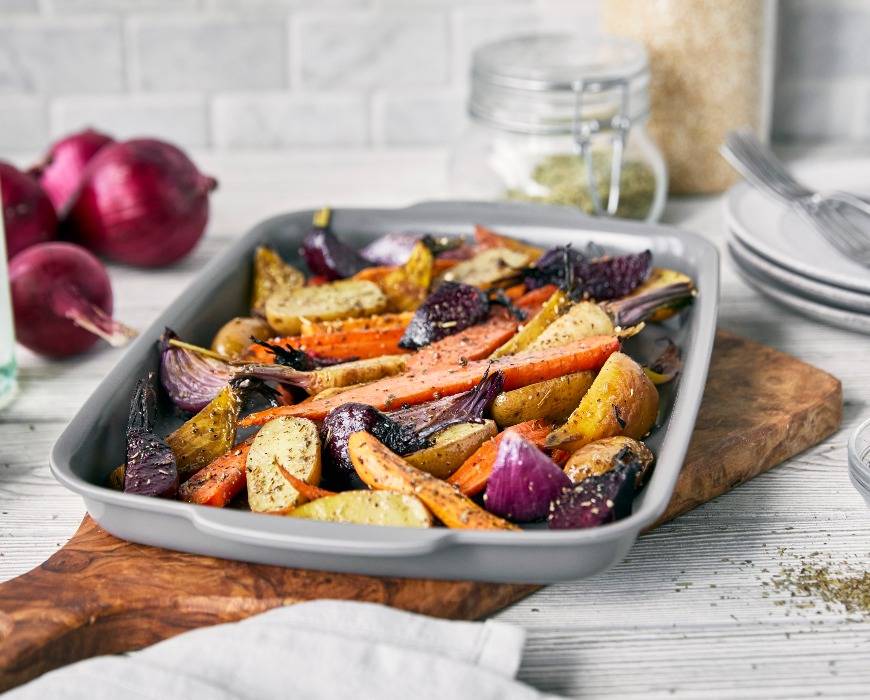 Sheet-Pan Roasted Root Veggies
Yields: 4 to 6 servings
Time: 15 minutes prep, 35 minutes cooking, 50 minutes total
INGREDIENTS:
2 tablespoons chopped fresh rosemary
3 tablespoons olive oil
1 1/2 tablespoons balsamic or apple cider vinegar
Salt and freshly ground black pepper to taste
4 small carrots, halved lengthwise
3 small parsnips, peeled and halved lengthwise
3 to 4 Yukon Gold potatoes, quartered
2 to 3 shallots, quartered
PREPARATION INSTRUCTIONS:
Prepare to roast—Preheat oven to 425°F.
Make the dressing—In a small bowl, stir together rosemary, olive oil, vinegar, a pinch of salt and a little freshly ground black pepper. Set aside while prepping vegetables.
Prep the veggies—Spread vegetable pieces on a baking sheet and drizzle with dressing. Toss to coat evenly.
Roast the veggies—Roast for 35 to 40 minutes, stirring every 10 minutes or so, until vegetables are nicely browned and tender when pierced with a fork. Serve immediately.
TIPS:
Incredibly Versatile—Any combo of root veggies works great with our recipe!
Try swapping parsnips for turnips, carrots for butternut squash, or Yukon Golds for sweet potatoes.
Some Like it Hot—Spice up your root veggies by trading fresh rosemary for 2 tablespoons harissa, a Tunisian hot chili pepper paste blended with herbs and spices.
Featured Product
Premiere Ovenware Ceramic Nonstick 13" x 9" Quarter Sheet Pan
Crafted from ultra-tough cast aluminum, this pan is our go-to for sides, veggies, and hundreds of other smaller things. The rolled edges make it extra sturdy and warp-resistant to prevent food from cooking unevenly.