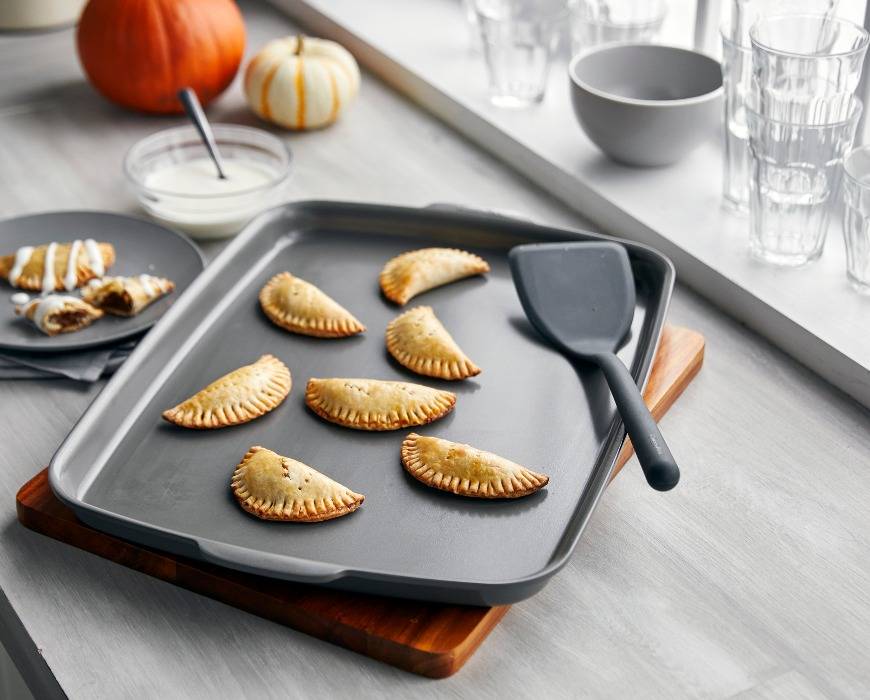 Yields: 24 small empanadas or 12 large empanadas
Time: 30 minutes prep, 30 minutes rising, 30 minutes cooking/baking, 1 hour 30 minutes total
INGREDIENTS:
For the empanada dough
4 cups all-purpose flour
1 1/2 teaspoons salt
3 tablespoons granulated sugar
3/4 cup lard or vegetable shortening, chilled
2 tablespoons cold butter
2 large egg yolks
3/4 to 1 cup water
For the pumpkin spice filling
1 (15 ounce) can pumpkin purée
2/3 cup dark brown sugar
1/2 teaspoons ground cinnamon
1/2 teaspoon ground nutmeg
1/2 teaspoon ground ginger or clove
1/2 teaspoon kosher salt
For the egg wash
PREPARATION INSTRUCTIONS:
Mix the empanada dough—Sift flour into a large bowl, then stir in salt and sugar. Add lard or shortening and cut into dry ingredients using a pastry blender or your fingertips until mixture looks like course crumbs. In a small bowl, whisk egg yolks with 3/4 cup water. Stir egg/water into dry ingredients, a little at a time, until the mixture starts to come together.
Knead the dough—Turn dough out onto a lightly floured surface and knead until all flour is incorporated, adding more of the egg-water mixture as needed. Once you have a shaggy dough, form it into a disk, wrap in plastic, and refrigerate for about an hour.
Meanwhile, make the filling—Add pumpkin, brown sugar, cinnamon, nutmeg, ginger, and salt to a saucepan over medium-low heat. Cover and cook, stirring occasionally, until sugar melts. Uncover and simmer, lowering heat if needed, until mixture is very thick—about 15 minutes. Transfer filling to a bowl and cool to room temperature.
Prepare to bake—Preheat oven to 425°
Prep the dough—Place dough on a lightly floured surface and roll into a long, thin log. Cut dough into 24 equal portions and shape each portion into a ball. In a small bowl, stir together 1 egg and 1 tablespoon water for the egg wash.
Fill the empanadas—Place one dough ball on a lightly floured surface and roll into a 4-inch circle. Prick dough with a fork and brush edges of circle lightly with egg wash. Spoon 2 to 3 teaspoons of filling into center of dough circle. Fold in half and press edges closed with a fork—or crimp if you want to get fancy. Transfer to a nonstick baking sheet and repeat with remaining dough and filling.
Bake the empanadas—Prick tops of empanadas once or twice with a fork. Transfer to preheated oven and bake for 15 minutes. Remove from oven and brush lightly with remaining egg wash. Return to oven and continue baking until empanadas are beautifully golden, 2 to 3 minutes more.
TIPS:
DIY pumpkin spice—In a small bowl, whisk together 3 tablespoons cinnamon, 2 teaspoons nutmeg, 2 teaspoons ginger, 1 1/2 teaspoons ground cloves, and 1 1/2 teaspoons allspice. Store in an airtight jar, and you're set for fall baking.
Tasty variation—Our scrumptious pumpkin filling makes great hand pies, too! Just trade empanada dough for homemade pie dough. Short on time? Simply cut dough rounds from those pre-rolled, refrigerated store-bought crusts.