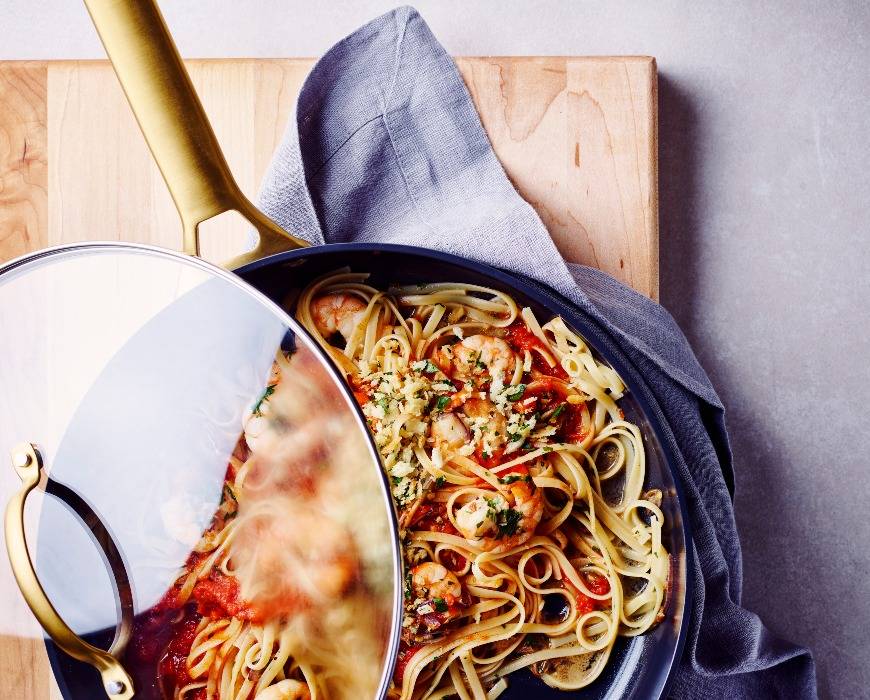 Shrimp and Linguine Fra Diavolo
Yields: 6 servings
Time: 15 minutes prep, 15 minutes cooking, 30 minutes total

INGREDIENTS:
For the topping
1 tablespoon butter, melted
1/3 cup Panko bread crumbs
2 tablespoons chopped fresh parsley
1/4 teaspoon salt
Pinch of black pepper
For the pasta
1 1/4 pounds large shrimp (about 16 to 20), peeled and deveined
Salt and freshly ground black pepper
1 pound dry linguine or fettuccine
2 tablespoons butter
2 tablespoons olive oil
1 large red onion, sliced thin
2 tablespoons minced garlic (about 6 cloves)
1/4 teaspoon crushed red pepper flakes
2/3 cup dry white wine
24 ounces Arrabbiata sauce (from a jar is fine)
6 tablespoons chopped fresh parsley, divided
PREPARATION INSTRUCTIONS:
Prepare to cook—Fill a large pot with about 4 quarts of water, add a generous amount of salt (1 to 2 tablespoons), and bring to a boil over medium-high heat.
Make the topping—In a small bowl, mix the melted butter, bread crumbs, parsley, salt, and pepper till evenly combined. Set aside.
Prep the shrimp—Place shrimp on a plate and pat dry with paper towels. Season on both sides with salt and freshly ground black pepper.
Cook the pasta—Cook linguine to al dente according to package directions. Reserve 1 cup of pasta water, then drain and set aside.
Meanwhile, sauté the aromatics—Heat butter and olive oil in a large skillet over medium heat. When butter is melted and bubbling, add onions and sauté until they begin to soften—about 4 minutes. Add garlic and red pepper flakes and sauté for 1 minute, stirring constantly to avoid burning the garlic.
Cook the shrimp—Add the shrimp in a single layer and sauté till they're turning pink but not cooked through, about 1 minute per side. Pour in the wine and simmer for about 3 minutes.
Start the sauce—Pour in the arrabiata sauce and stir to combine evenly. Bring to a simmer, then stir in parsley, along with 1 teaspoon salt and 1/2 teaspoon freshly ground black pepper.
Finish and serve—Add cooked linguine with about 1/2 cup of reserved pasta water to sauce and toss to coat. Add additional pasta water to thin sauce, if needed. Transfer to a large pasta bowl or individual bowls and top with seasoned bread crumbs.
TIPS:
Wine Selection: Chardonnay or sauvignon blanc to pinot grigio—you can't go wrong cooking with a dry white wine you'd enjoy drinking.
Forgot to Thaw Shrimp? Room temperature thawing is a recipe for disaster! Just submerge them in a large bowl of cold water for about 15 minutes and they'll be good to go.
Featured Product
Reserve Ceramic Nonstick 4.5-Quart Sauté Pan with Lid
World-class tech meets minimalist style in this 4.5-quart sauté pan from GreenPan Reserve. But it's more than good looks: this pan's duoforged hard anodized aluminum construction makes it extra tough and scratch-resistant while promoting even heat distribution.