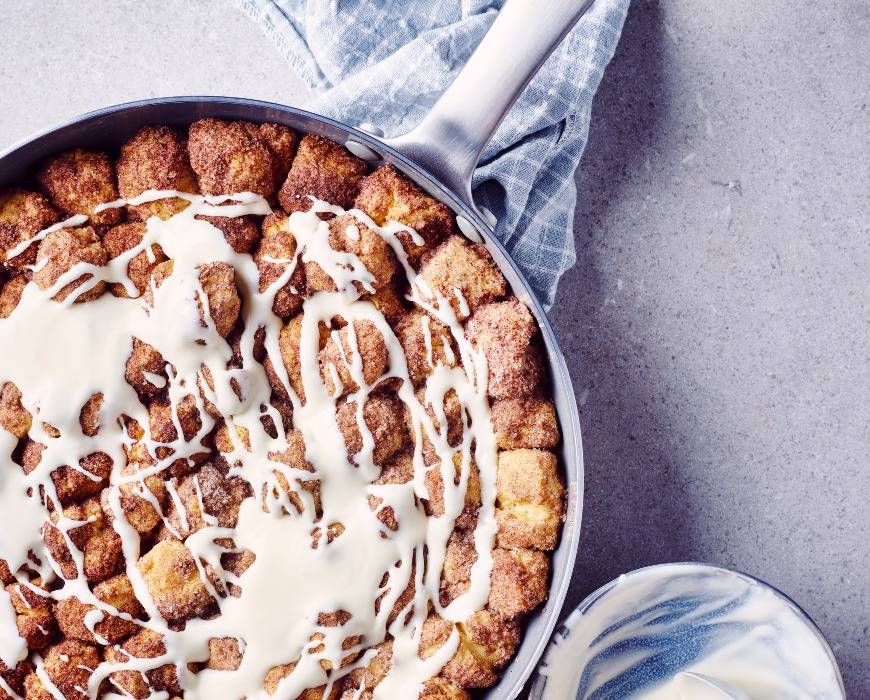 Yields: 6 servings
Time: 10 minutes prep, 30 minutes cooking, 40 minutes total

INGREDIENTS:
For the monkey bread
2 (16-oz) cans biscuit dough
1/2 cup butter, melted
1/2 cup granulated sugar
1/2 cup brown sugar
1 tablespoon ground cinnamon
1 teaspoon pumpkin pie spice
For the glaze
1/2 cup powdered sugar, sifted
1 tablespoon butter, melted
1 tablespoon warm milk or hot water
1/2 teaspoon vanilla extract
PREPARATION INSTRUCTIONS:
Prepare to bake—Preheat oven to 375° F. Generously grease a large skillet with butter.
Shape the monkey bread—Open canned biscuits and cut each one into quarters. Roll biscuits into balls and dip in melted butter.
Coat the biscuit dough—Combine granulated sugar, brown sugar, cinnamon, and pumpkin pie spice in a large plastic zip-top bag. Drop a bunch of the dough balls into bag, then seal and shake until well coated. Place coated balls side by side in skillet and repeat until all the dough is coated. Sprinkle the top of dough evenly with remaining sugar.
Bake the monkey bread—Bake in preheated oven until bread is golden brown and cooked through, about 30 minutes.
Meanwhile, make the glaze—In a small bowl, stir together powdered sugar, butter, milk, and vanilla until smooth. Drizzle over monkey bread before serving.
TIPS:
Browning Too Quickly? Cover the skillet with aluminum foil to ensure that the centers bake completely.
Skip a Step—We love the extra depth of flavor the melted butter, warm milk, and vanilla give this glaze, but if you're in a rush, just stir together 1/2 cup powdered sugar with 1 T cream or milk.
Featured Product
Chatham Stainless 11" Frypan with Lid
Designed for daily life, we call our 11" pans the "goldilocks size" because it's just right for everything. It's not so big that it will crowd your stove, but it still has plenty of room for big cuts of meat,...