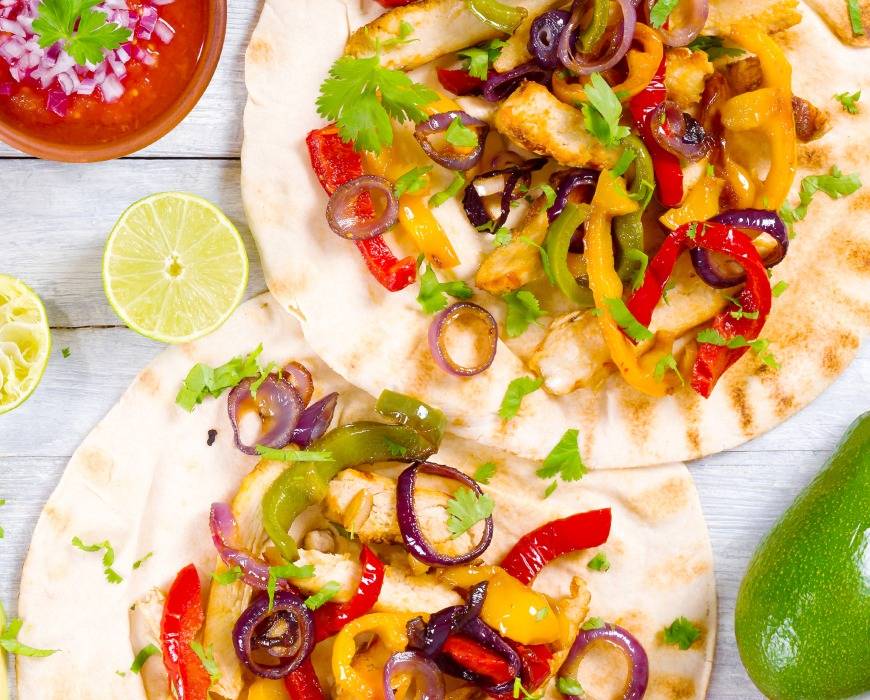 Yields: 4 servings
Time: 20 minutes prep, 10 minutes cooking, 30 minutes total
INGREDIENTS:
For the chicken
1 pound boneless, skinless chicken breasts, cut into thin slices
1 tablespoon olive oil
1 pack fajita seasoning (1.27 ounces)
For the veggies
2 tablespoons olive oil, divided
1 white onion, thinly sliced
2 red or yellow bell peppers, thinly sliced
1 teaspoon chili powder
Salt and freshly ground black pepper to taste
Juice of half a lime
For serving
Warm flour tortillas, for serving
PREPARATION INSTRUCTIONS:
Marinate the chicken—Add chicken, olive oil, and fajita seasoning to a large bowl or zip-top plastic bag. Toss or shake to ensure that all chicken is evenly coated. Refrigerate for 15 minutes.
Sauté the veggies—Heat olive oil in a large skillet over high heat. When a drop of water sizzles, in pan, it's good to go. Add peppers, onions, and chili powder, along with a little salt and pepper. Sauté until veggies have softened slightly, about 4 minutes. Remove veggies from pan and set aside.
Cook the fajitas—Reduce heat to medium-high. Heat another tablespoon of olive oil in skillet. When hot, add chicken mixture and sauté until chicken is golden brown and cooked through, about 5 to 6 minutes. Return veggies to skillet, stir to combine, then squeeze lime juice over the top. Cook for another minute and serve sizzling hot with warm flour tortillas.
TIPS:
Mix it Up - These fajitas also work great with steak or shrimp—use a combo of meats for a fun surf and turf (or turf and turf) variation. 
Make it Easier - Our GreenPan Ceramic Nonstick Frypans handle everything from sautéing veggies to browning meats and clean up in minutes, no soaking required.
Featured Product
Venice Pro Ceramic Nonstick 10" Frypan
Crafted from ultra-tough, multilayer stainless steel, this 10" pan will be your everyday go-to—from sautés to bakes, fluffy scrambled eggs to fall-apart tender salmon, it will make everything simple.