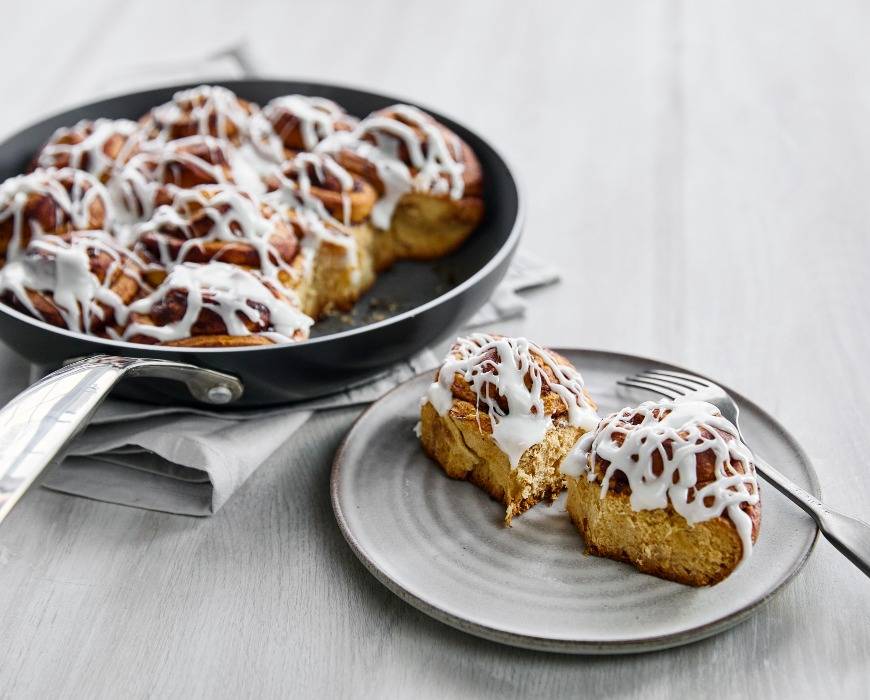 Yields: 12 cinnamon rolls
Time: 30 minutes prep, 2 hours rising, 30 minutes baking, 3 hours total
INGREDIENTS:
For the cinnamon rolls 
3/4 cup whole milk, heated to about 110°F

 

1 packet rapid-rise yeast (2 1/4 teaspoons)

 

3 large eggs, room temperature

 

4 cups all-purpose flour, plus more if needed

 

1/2 cup cornstarch

 

1/2 cup granulated sugar

 

1 1/2 teaspoons kosher salt

 

12 tablespoons unsalted butter, softened and cut into 12 pieces

 
For the filling 
1/2 cup unsalted butter, softened to spreadable consistency

 

1 cup brown sugar

 

2 tablespoons ground cinnamon

 

1/4 teaspoon salt

 
For the glaze 
1 cup powdered sugar

 

1 tablespoon butter melted and cooled

 

2 tablespoons milk or cream

 

1 teaspoon vanilla

 

Pinch of salt

 
PREPARATION INSTRUCTIONS:
Proof the yeast—In a small bowl or large measuring cup, stir milk and yeast together. Set aside until bubbly—about 10 minutes.
Start mixing the dough—In a the bowl of a stand mixer, stir together flour, cornstarch, sugar, and salt, then attach bowl to mixer and fit with dough hook. Whisk eggs into milk mixture. Start mixer on a low speed and pour milk mixture in a steady stream, mixing until dough comes together—a minute or two.
Finish mixing the dough—Increase to a medium speed and add in butter pieces, 1 or 2 at a time, until fully incorporated. Keep mixing until dough is cohesive, smooth, and coming away from the sides of the bowl—about 10 minutes. (If dough is still wet and sticky, add more flour, a tablespoon at a time, until it releases from bowl). Turn dough out onto a lightly floured surface and knead to form a smooth ball.
Proof the dough—Place dough in a medium greased bowl and cover with plastic wrap or kitchen towel. Place bowl in a warm spot and let rise until doubled in size, 1 to 2 hours.
Fill and shape the cinnamon rolls —Turn dough out onto a lightly floured surface. Roll dough into an 18" square. In a small bowl, mix together filling ingredients to form a paste. Spread filling evenly over dough. Roll dough tightly to form a log and pinch seam together to seal. Cut dough into 12 equal pieces—a serrated knife makes this easier.
Proof the cinnamon rolls —Arrange pieces, cut side up, in a generously buttered nonstick, oven-safe skillet. Cover skillet with a kitchen towel and let rolls rise until doubled in size—about 1 hour.
Bake the cinnamon rolls —Preheat oven to 350°F. Remove towel and transfer skillet to center rack of oven. Bake until filling is melted and bubbly and rolls are a deep golden brown—about 30 to 35 minutes. Transfer skillet to wire rack to cool.
Glaze the cinnamon rolls —While rolls are cooling, stir together glaze ingredients in a small bowl. Drizzle glaze over warm rolls and enjoy!
TIPS:
Make it Ahead—After placing rolls in skillet, cover with plastic wrap and let rise in the refrigerator overnight. Bake them up fresh in the morning. Yum! 
On a Roll—As you roll out dough, periodically pull out corners and push in sides to encourage the square shape. It'll never be perfect, but that's ok! 
Featured Product
Valencia Pro Ceramic Nonstick 10" Frypan
This 10" frypan is ready for searing steaks, sautéing veggies, whipping up omelettes, and so much more. Extra tough and endlessly versatile, this pan is crafted from hard anodized aluminum for maximum strength and scratch resistance.