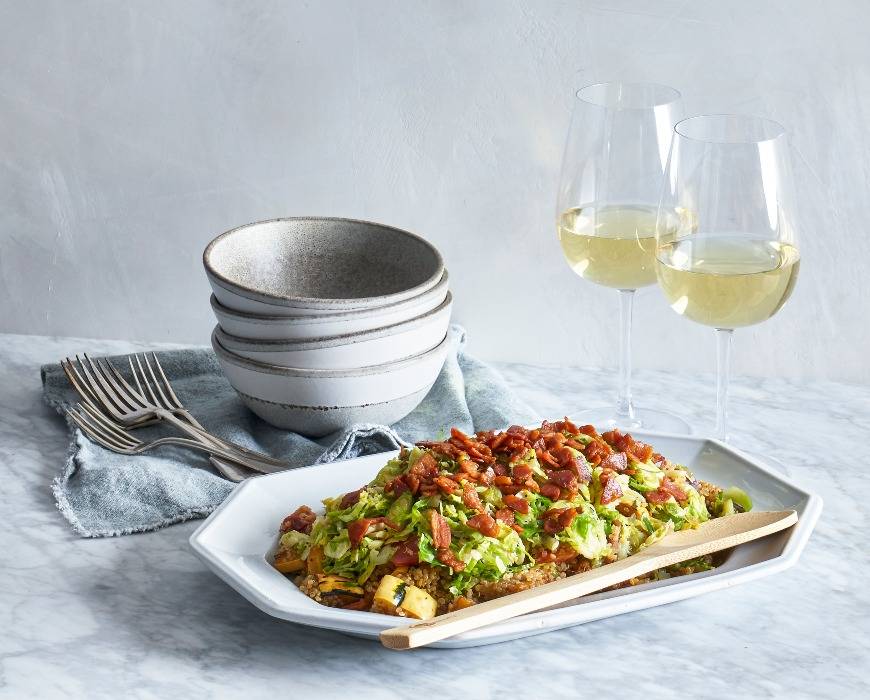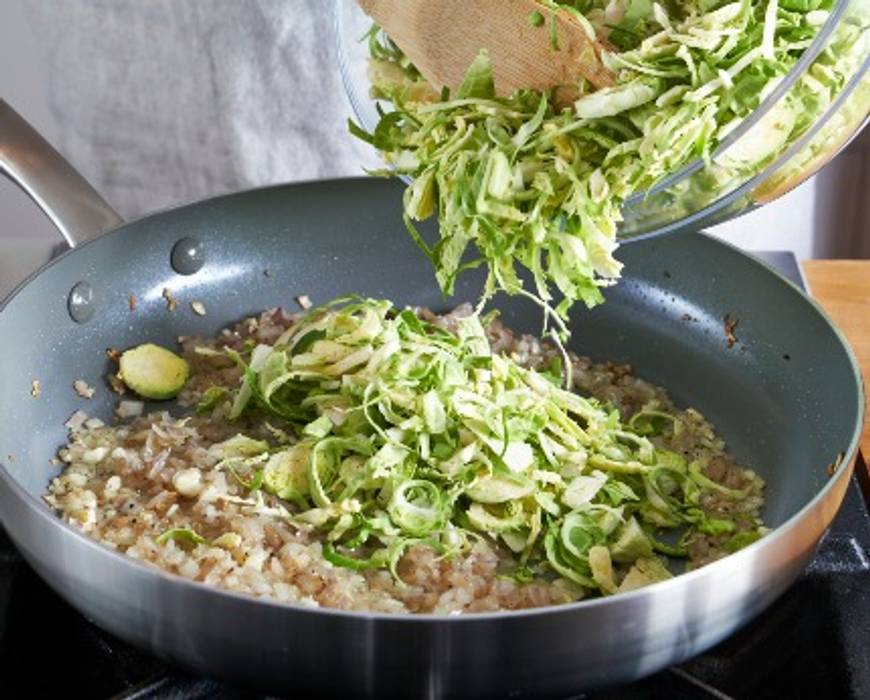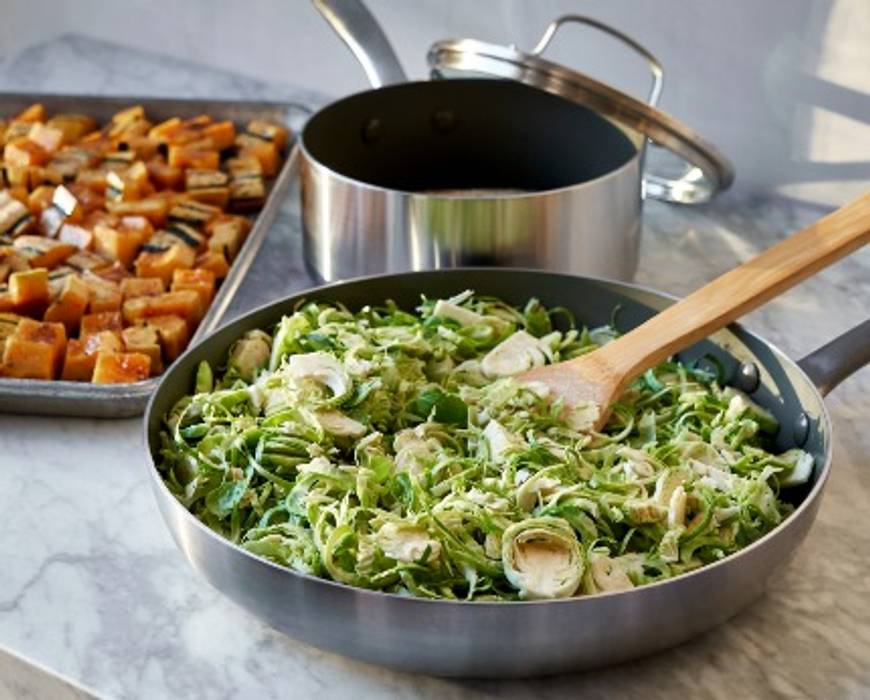 Blood Orange Brussels Sprouts Quinoa Salad
Yields: 6 servings
Time: 15 minutes prep, 45 minutes cooking, 1 hour total
INGREDIENTS:
3 cups chicken or vegetable broth
1 1/2 cups quinoa
2 delicata squash, seeds removed and cut into 1-inch cubes
6 tablespoons olive oil, divided
4 teaspoons ground cinnamon, divided
Salt and freshly ground black pepper to taste
4 blood oranges, peels removed and cut into 1-inch cubes
4 shallots, thinly sliced
3 garlic cloves, minced
20 Brussels sprouts, thinly sliced or shaved
4 ounces diced pancetta
PREPARATION INSTRUCTIONS:
Prepare to cook—Heat oven to 400°F.
Make the quinoa—Bring chicken broth to a boil in a medium saucepan over medium-high heat. Stir in quinoa, reduce heat to low, cover, and cook until tender—about 15 to 20 minutes. Remove from heat and set aside.
Meanwhile, roast the squash—On a rimmed nonstick baking sheet, toss squash with 3 tablespoons olive oil, 2 teaspoons cinnamon, and a generous sprinkling of salt and freshly ground black pepper. Spread into an even layer and bake until golden brown and tender, about 20 to 25 minutes. Remove from oven and place in a large bowl. Add quinoa and blood oranges and toss to combine.
Sauté the sprouts—Heat 3 tablespoons olive oil in a large skillet over medium-high heat. Add shallots and sauté, stirring occasionally, for about 5 minutes. Add Brussels sprouts, garlic, and 2 teaspoons cinnamon and continue sautéing until sprouts are softened—about 10 minutes. Season with salt and pepper to taste.
Cook the pancetta—Place pancetta in a small skillet over medium heat and cook, stirring occasionally, until browned and crisp—about 5 minutes. Remove from skillet with a slotted spoon and transfer to a plate lined with paper towels to soak up excess fat.
Assemble and serve—Layer quinoa mixture on a large serving platter, add the Brussels sprouts, and garnish with crispy pancetta. Enjoy!
TIPS:
Pick the Best Sprouts—Look for bright green sprouts with tight, compact leaves. Any with brown spots or yellow leaves are past their prime.
Mix it Up—Can't find delicata? Our recipe also works great with acorn or butternut squash. And feel free to sub in navel or Mandarin for the blood oranges.
Perfect Pairing—featuring the bold, juicy flavors of green apple and bright lemon with hints of lime, ONE HOPE Sonoma Coast Reserve Chardonnay beautifully complements our quinoa salad.
Featured Product
Chatham Stainless 12-Piece Cookware Set
This metal utensil safe set features a diamond-enhanced ceramic nonstick coating that delivers ultra-fast performance and effortless nonstick release. And it has everything you need to make everything from elegant experiments to tried-and-true classics.