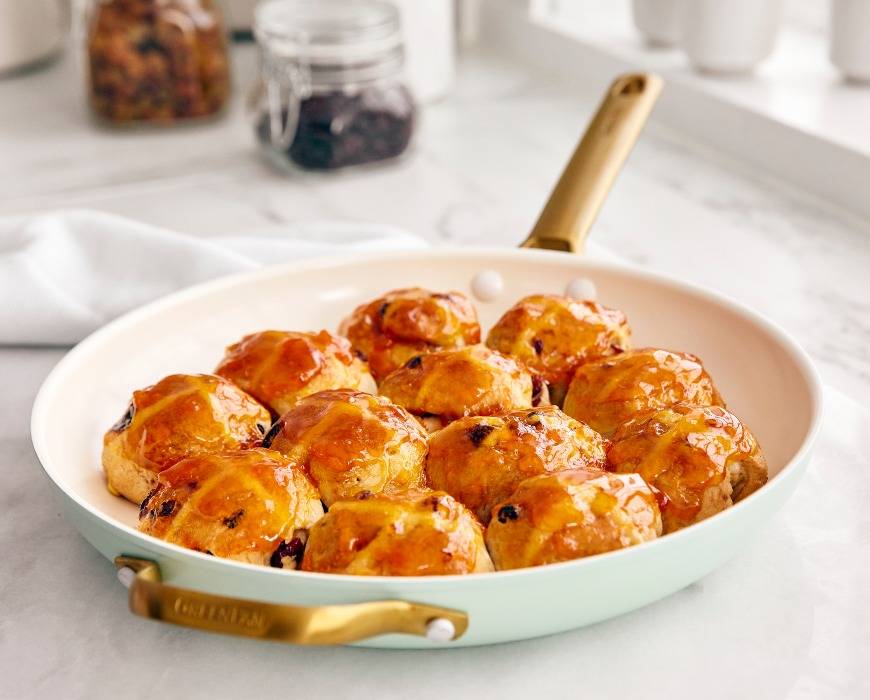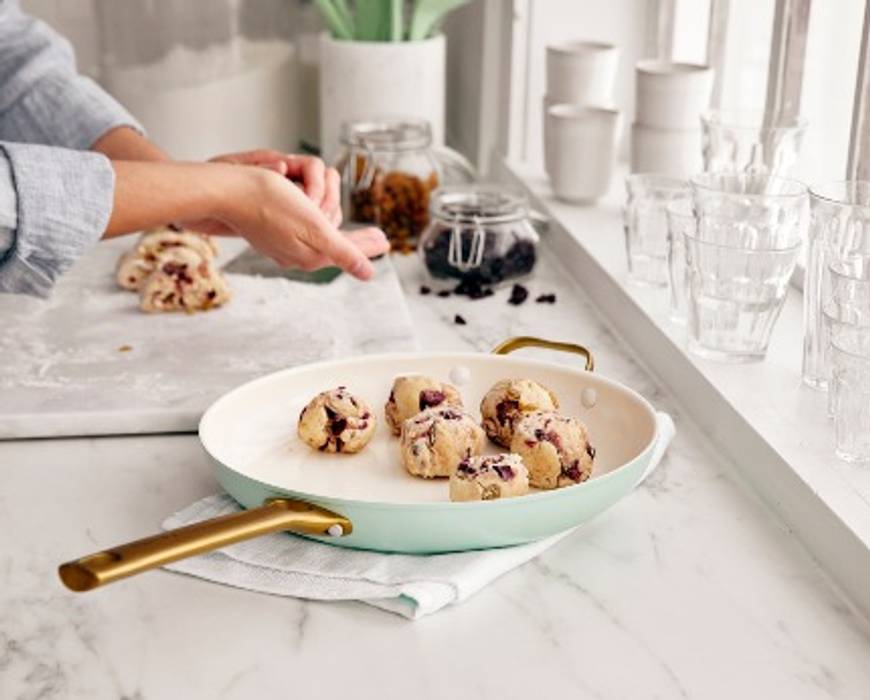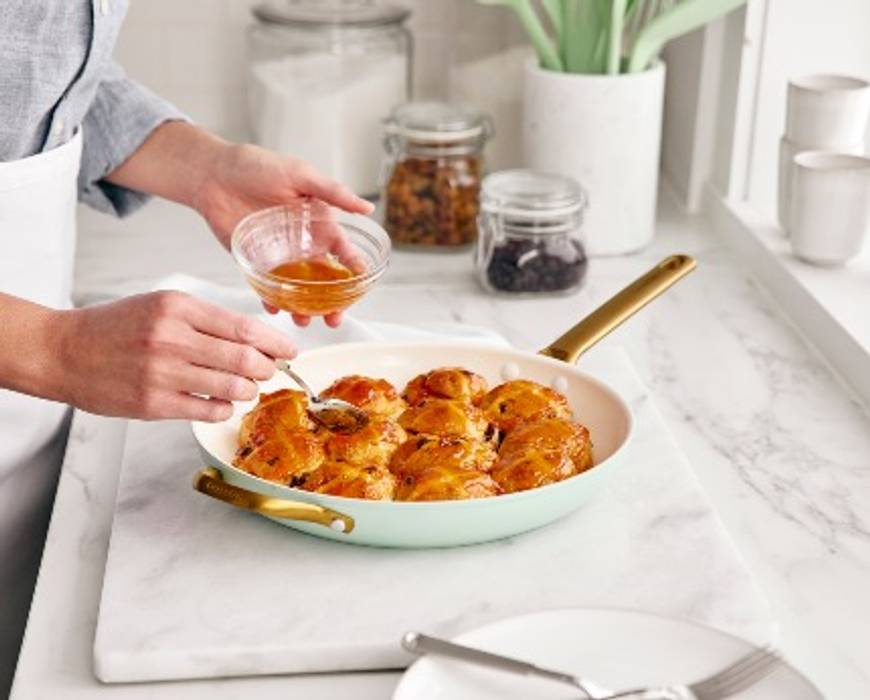 Yields: 11 buns
Time: 25 minutes prep, 25 minutes cooking, 3hr 50 minutes total
INGREDIENTS:
For the buns:
3 tablespoons unsalted butter
1 cup milk
3 1/2 cups bread flour or all-purpose flour
1 package instant dry yeast (2 1/4 teaspoons)
1/4 cup granulated sugar
1 teaspoon salt
1 large egg, beaten
1 tablespoon canola or other neutral oil, for greasing bowl
1 teaspoon ground cinnamon
1/2 teaspoon ground nutmeg
1/2 teaspoon ground ginger
1 cup dried fruit (raisins, currants, cranberries or a mix)

For the flour cross:
1/2 cup all-purpose flour
6 to 8 tablespoons water

For the glaze:
3 tablespoons apricot jam
PREPARATION INSTRUCTIONS:
Heat the milk—Heat butter and milk in a small saucepan over medium high heat until milk boils and butter is melted. Watch carefully to avoid boil overs. Remove from heat and set aside until just warm to the touch (about 110°).


Mix the dough—In a large mixing bowl, add flour, yeast, salt, and sugar, then whisk until everything's evenly combined. Make a well in the center of flour mixture and add the milk mixture, along with the beaten egg. Stir together with a wooden spoon to form a rough dough. Turn dough out (along with any floury bits in the bowl) onto a lightly floured surface. Knead until dough is smooth—about 5 to 10 minutes. Dough will be very sticky, so we like to work it with a bench scraper instead of by hand.


Proof the dough—Grease a large mixing bowl with a neutral oil. Shape dough into a ball and transfer to greased bowl, turning to coat all the dough with oil. Cover with a kitchen towel or plastic wrap and let sit in a warm place until doubled in size—about 1 hour.


Add the mix-ins—Add cinnamon, nutmeg, ginger, and dried fruit to the dough. Mix with hands until everything is evenly distributed. Cover dough and set in a warm place for 1 hour.


Shape the buns—Turn dough out onto a lightly floured surface. Divide into 11 equal pieces and roll into balls. Arrange dough in a large skillet, leaving a bit of room between the dough balls. When all dough is in skillet, cover and let rest for 1 hour.


Prepare to bake—Preheat oven to 350°F.


Add the cross—In a small bowl, mix 1/2 cup flour with enough water to form a smooth, thick paste—about 6 to 8 tablespoons. Transfer paste to a piping bag (or a plastic sandwich bag with the corner snipped off). Pipe a cross on the top of each bun.


Bake the buns—Transfer skillet to preheated oven and bake buns until beautifully golden brown on top—about 20 to 25 minutes. Remove from oven and set aside to cool slightly.


Glaze the buns—Heat about 3 tablespoons apricot jam and brush over the tops of buns. Serve warm or at room temperature.
TIPS:
Plump Your Fruit – Dried fruits can soak up moisture, leading to dry baked goods. Try placing them in a bowl, cover with boiling water, and rest for about 15 minutes. Drain well before using. For added flavor, you could soak in rum (or orange juice) for half an hour.
Ice, Ice Baby – Want an easy icing to pipe across (cooled!) buns? Mix 1 cup powdered sugar, 1/2 teaspoon vanilla extract, a pinch of salt, and enough milk to make a thick, pipeable icing.
Featured Product
Reserve Ceramic Nonstick 12" Frypan with Helper Handle and Lid | Julep
Featuring a mint julep-inspired exterior, this frypan and lid combo looks as good as it cooks. The duoforged hard anodized body makes it extra tough, which is great because you'll want to use it for everything.