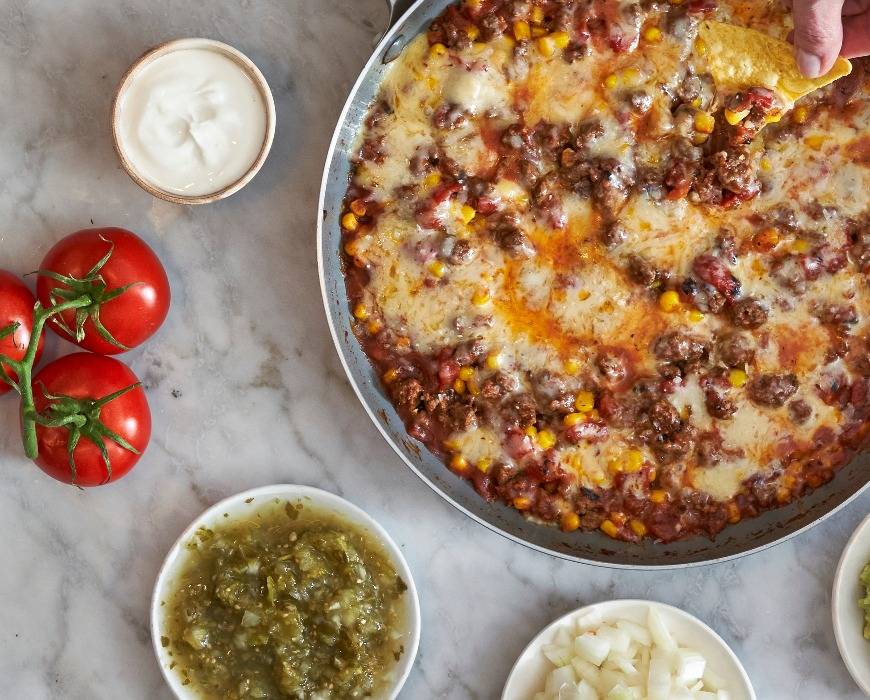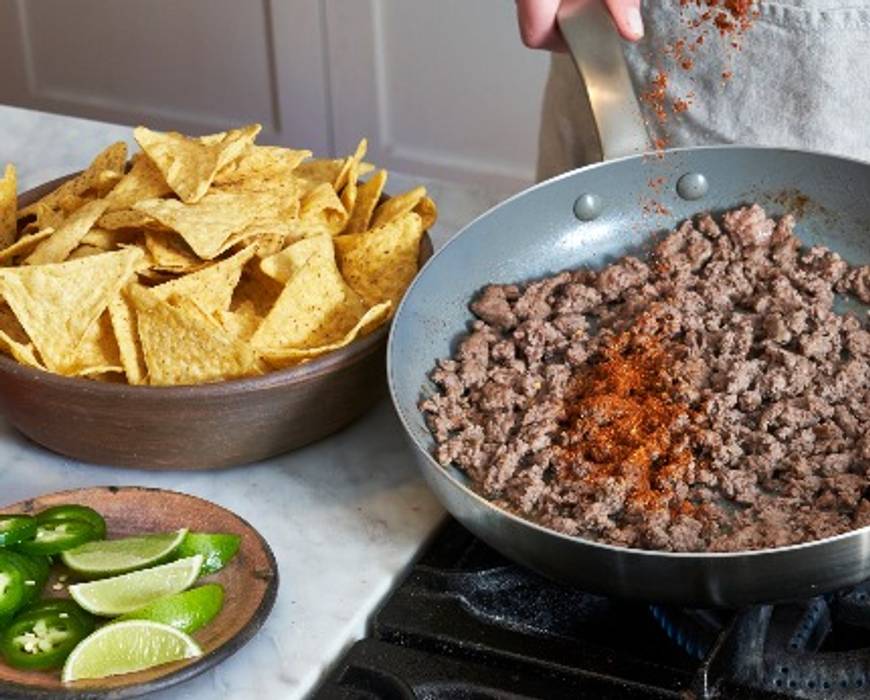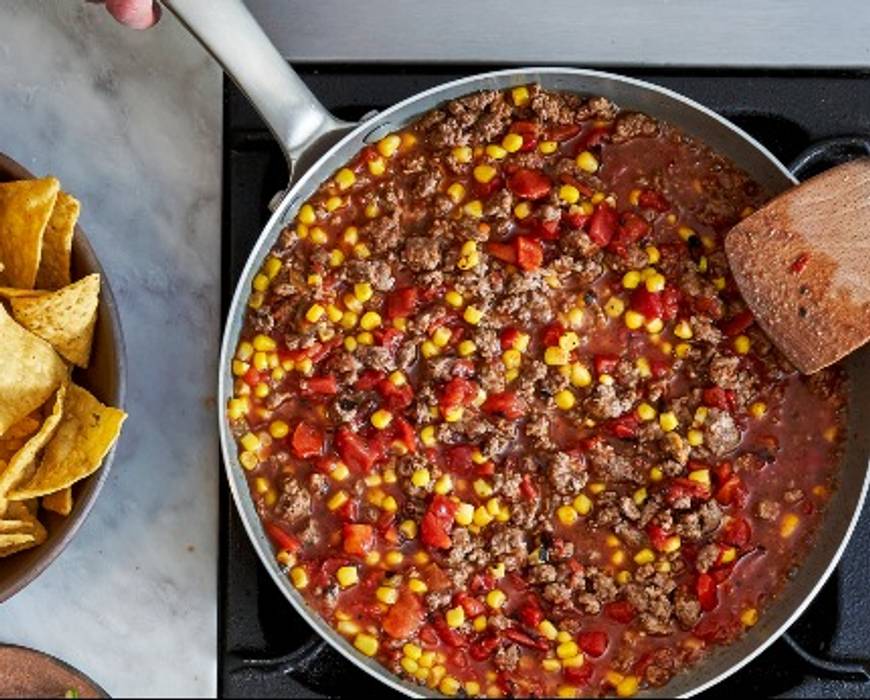 Yields: 6 servings
Time: 15 minutes prep, 20 minutes cooking, 35 minutes total
INGREDIENTS:
1 pound ground beef
1 pack taco seasoning
1 can diced tomatoes (14 1/2 ounces)
1 cup canned or frozen corn (thawed)
1/2 cup water
1 1/2 cups shredded pepper jack cheese or Mexican cheese blend
1 bag tortilla chips (16 ounces)
Topping Options:
Canned black beans, drained
Diced fresh tomatoes
Diced onion
Sliced black olives
Jalapeños
Fresh cilantro
Salsa
Guacamole
Sour cream
PREPARATION INSTRUCTIONS:
Brown the beef—In a large skillet over medium heat, cook beef until evenly browned—about 8 minutes. Drain excess fat. 
Season the meat—Stir in taco seasoning, diced tomatoes, corn, and water. Bring to a boil, then reduce heat to low and simmer, stirring occasionally, until liquid is absorbed, about 5 to 8 minutes.
Prep the toppings—While meat simmers, set up a toppings bar on a countertop, table, or buffet.
Melt the cheese—Sprinkle cheese evenly over the top of seasoned meat. Cover skillet and let stand for about 5 minutes or until cheese is melted.
Serve and enjoy—Invite guests to put tortilla chips on individual plates and spoon beef mixture over chips. Then add any (or all!) toppings from the toppings bar and dig in!
TIPS:
Grate Idea—Pre-shredded cheeses won't melt as smoothly, so take a couple of minutes for DIY grating. You can shred a whole block at once and save extras in the fridge so it's ready to go when you need it.
Love Your Leftovers—Keep your guacamole festively green by covering the surface with about 1/2-inch of water. Add an airtight lid and refrigerate, then pour off water before using.
Featured Product
Chatham Ceramic Nonstick 11" Frypan
Designed to be an everyday go-to, this 11" frypan features our signature healthy ceramic nonstick coating for effortless cleanup. Plus, the ultra-tough hard anodized aluminum body won't warp no matter how many meals it turns out.