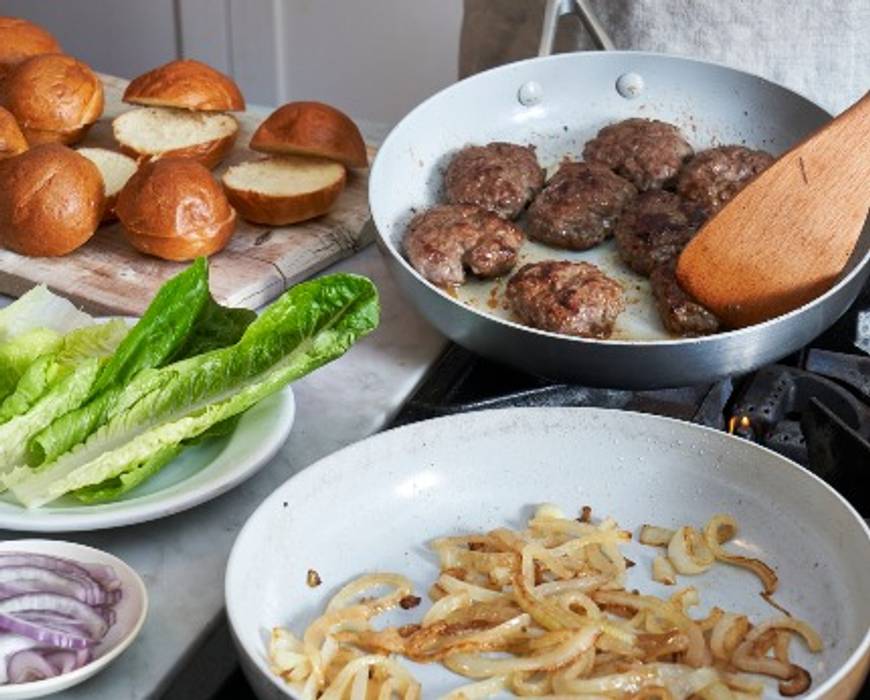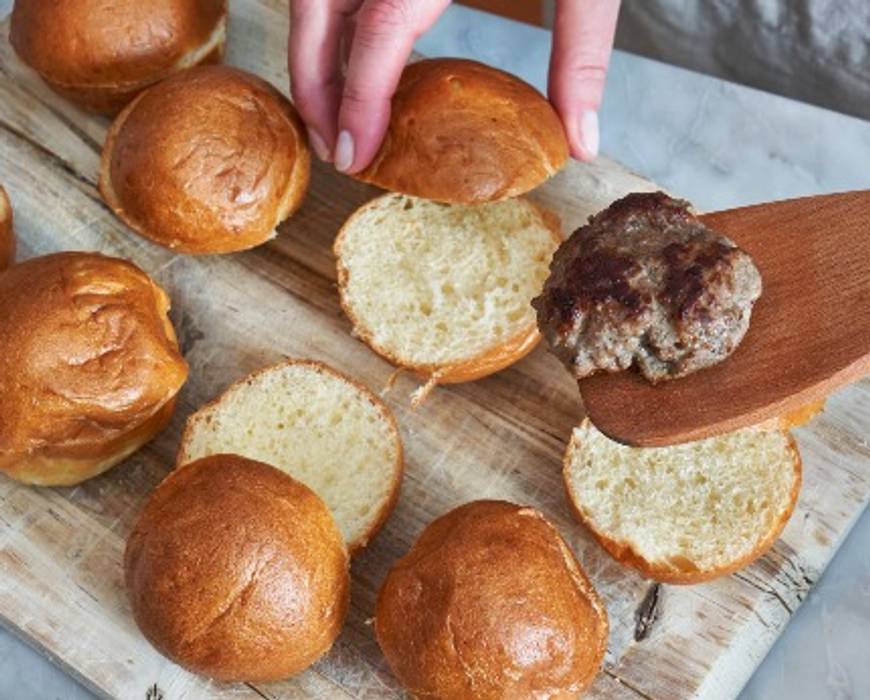 Yields: 12 sliders
Time: 15 minutes prep, 15 minutes cooking, 30 minutes total
INGREDIENTS:
For the burger sauce
1/2 cup mayonnaise
2 tablespoons hot sauce
2 tablespoons ketchup or chili sauce
1 teaspoon Worcestershire sauce
1 teaspoon yellow or Dijon mustard
1/2 teaspoon garlic powder
For the sliders
1 1/2 pounds ground beef
1 tablespoon Worcestershire sauce
1 teaspoon garlic powder
1 1/2 teaspoon salt
1 teaspoon freshly ground pepper
12 slider buns
For toppings
Burger sauce
Crispy bacon
Sliced cheese (Cheddar, Swiss, American, or Colby)
Dill pickles
Sliced red onions
Caramelized onions
Romaine or bibb lettuce cut into smaller pieces
Ketchup
Mustard
Mayo
PREPARATION INSTRUCTIONS:
Make the sauce—In a small bowl, stir together mayonnaise, hot sauce, ketchup, Worcestershire sauce, mustard, and garlic powder. Stash bowl in fridge until ready to serve.
Mix the burgers—In a large bowl, add ground beef, Worcestershire sauce, garlic powder, salt, and pepper. Mix by hand just until everything is evenly incorporated. Don't overmix or burgers will be tough.
Shape the sliders—Divide meat into 12 portions and form each into a small, round patty. Press a small dent in the middle of each with your thumb.
Cook the sliders—Heat a large, nonstick skillet over medium-high heat. Working in batches, place patties dimple side up in skillet. Cook until the underside is nicely browned—about 3 minutes. Flip and cook until the other side is browned but middle is still slightly pink, another 3 minutes or so. Transfer to a platter, tent with foil, and let rest for a few minutes before serving.
Prep the toppings bar—While the burgers are cooking and cooling, set out buns and toppings on a countertop, table, or buffet so guests can serve themselves. Don't forget plenty of napkins!
TIPS:
Make an Impression—Burgers shrink while cooking, so we recommend making dimples in patties with your thumb to help them retain their shape. Plus, it's fun to do!
Goodbye, Soggy Buns! Give burgers a little time on the sidelines after cooking so the juices can redistribute throughout the patty.
Featured Product
Venice Pro Ceramic Nonstick 10" Frypan
Crafted from ultra-tough, multilayer stainless steel, this 10" pan will be your everyday go-to—from sautés to bakes, fluffy scrambled eggs to fall-apart tender salmon, it will make everything simple.