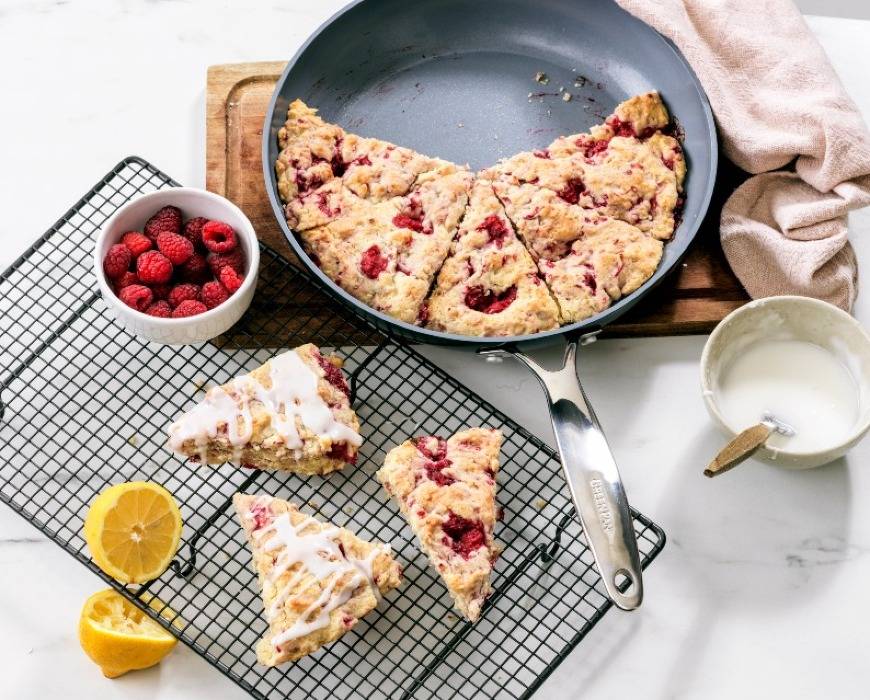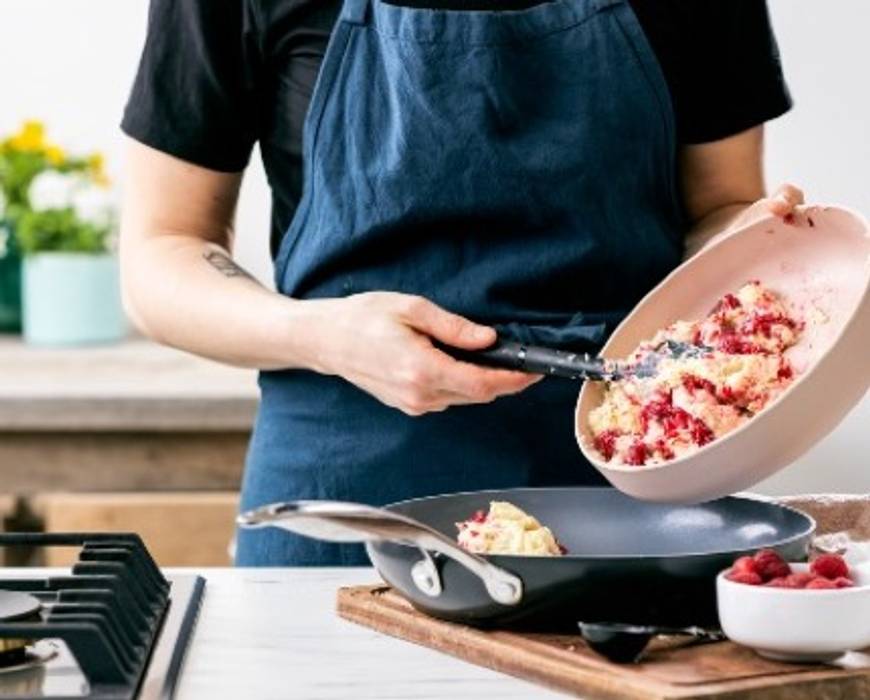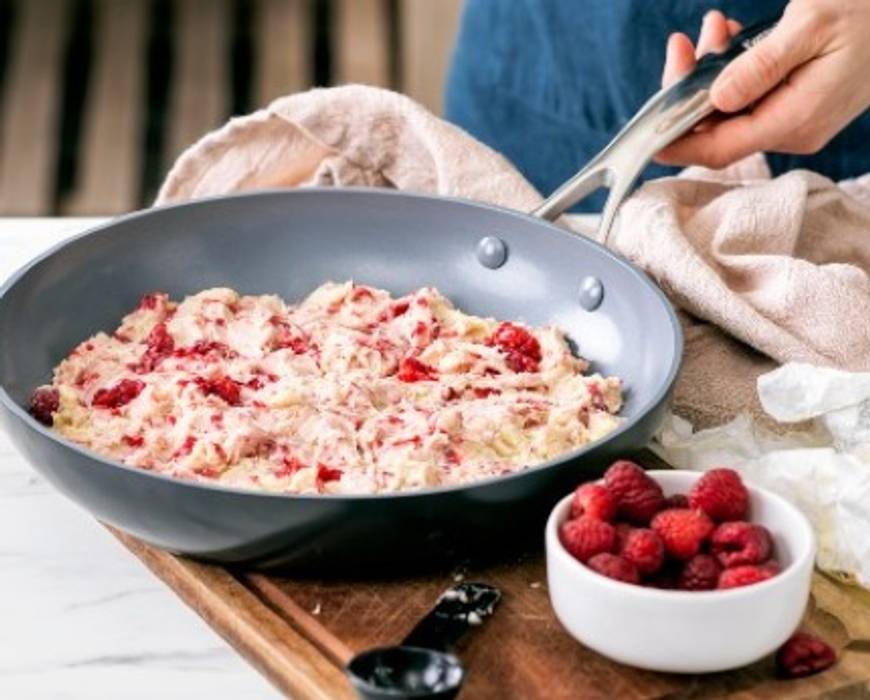 Skillet Raspberry Scones with Lemon Glaze
Yields: 8 scones
Time: 20 minutes prep, 25 minutes cooking, 45 minutes total
INGREDIENTS:
For the scones
3 cups all-purpose flour
1/3 cup granulated sugar
1 tablespoon baking powder
1 teaspoon kosher salt
1 1/2 sticks cold unsalted butter, cut into pieces
3/4 cup milk
1 teaspoon vanilla extract
1 cup frozen raspberries
1 to 2 tablespoons milk
Coarse sugar

For the glaze
1 cup powdered sugar
1 tablespoon lemon juice
1/2 teaspoon vanilla extract
PREPARATION INSTRUCTIONS:
Prepare to bake—Preheat oven to 375°F.
Mix the scones—Whisk together flour, sugar, baking powder, and salt in a large bowl. Using your fingers or a pastry blender, work butter into dry ingredients to form a shaggy mixture with pea-size butter pieces. Add milk and vanilla to butter/flour mix and stir with spatula until most of the mixture is moistened.
Add berries and knead—Use hands to fold berries into scone mix. Gently but firmly knead mixture until all flour is incorporated and dough holds together.
Shape the scones—Press mixture evenly into a medium nonstick, oven-proof skillet. Use a bench scraper, knife, or pizza cutter to slice scones into 8 wedges. Brush tops of scones with milk and sprinkle with coarse sugar.
Bake the scones—Bake in preheated oven until scones are golden brown on top and cooked through, about 20 to 30 minutes.
Meanwhile, make the glaze—In a small bowl, stir together powdered sugar, lemon juice, and vanilla extract until smooth. If glaze seems too thick, stir in a little milk.
Glaze and serve—Transfer warm scones to a cooling rack over parchment or wax paper. Drizzle with glaze while still warm and serve when glaze has set.
TIPS:
Grate Idea – Keeping butter cold is key to making tender, flaky scones—try using a box grater to quickly break down butter and simply stir it in to flour mixture.
Pick Your Favorite Berry – Our scone recipe tastes great with everything from blueberries to blackberries.
Featured Product
Valencia Pro Ceramic Nonstick 11" Frypan
Built for daily demands, this 11" frypan is our goldilocks size—not too big, not too small, and perfect for just about any meal. Plus, it's crafted from hard anodized aluminum for maximum strength and scratch resistance.