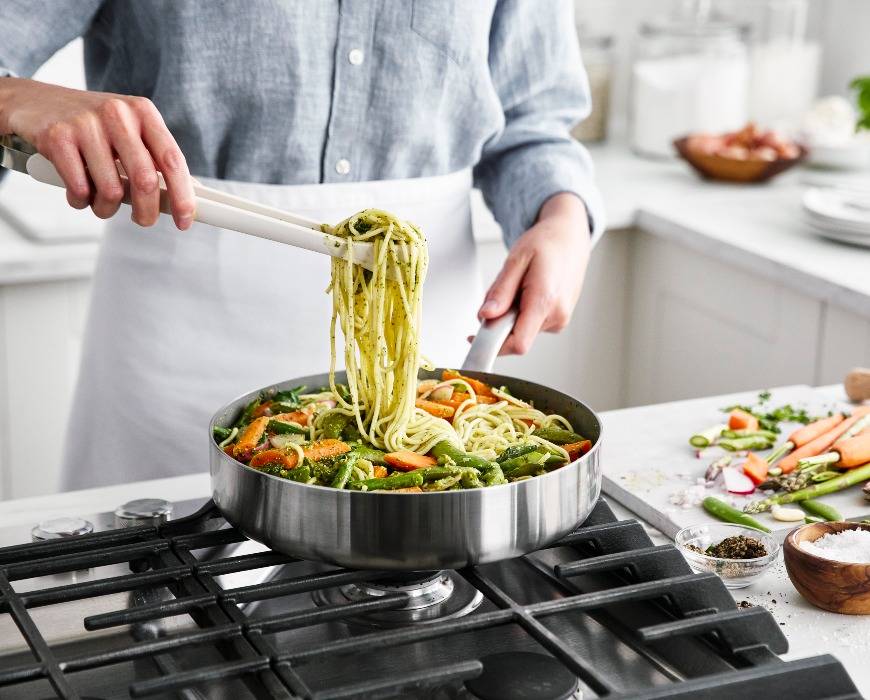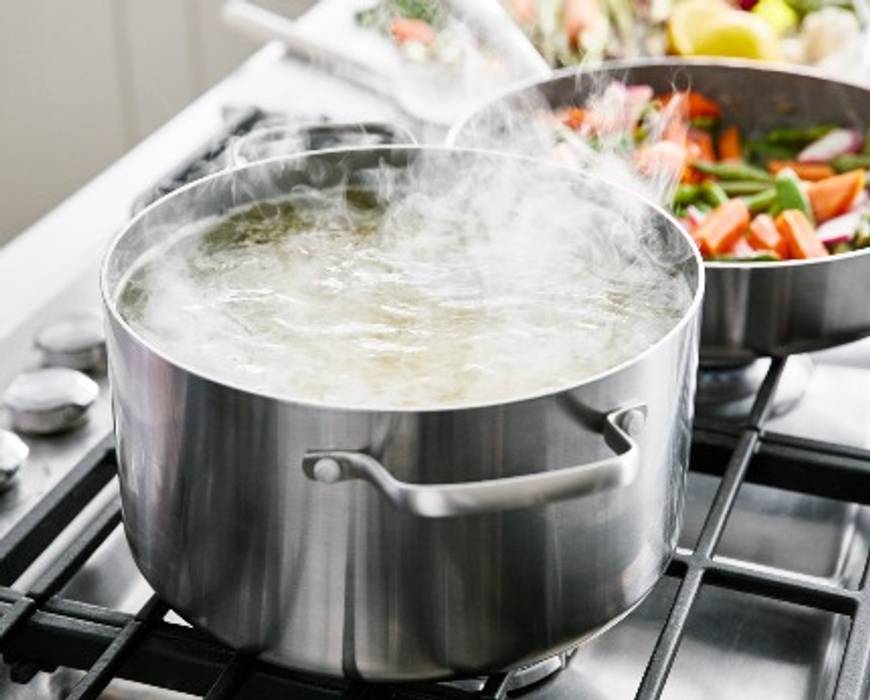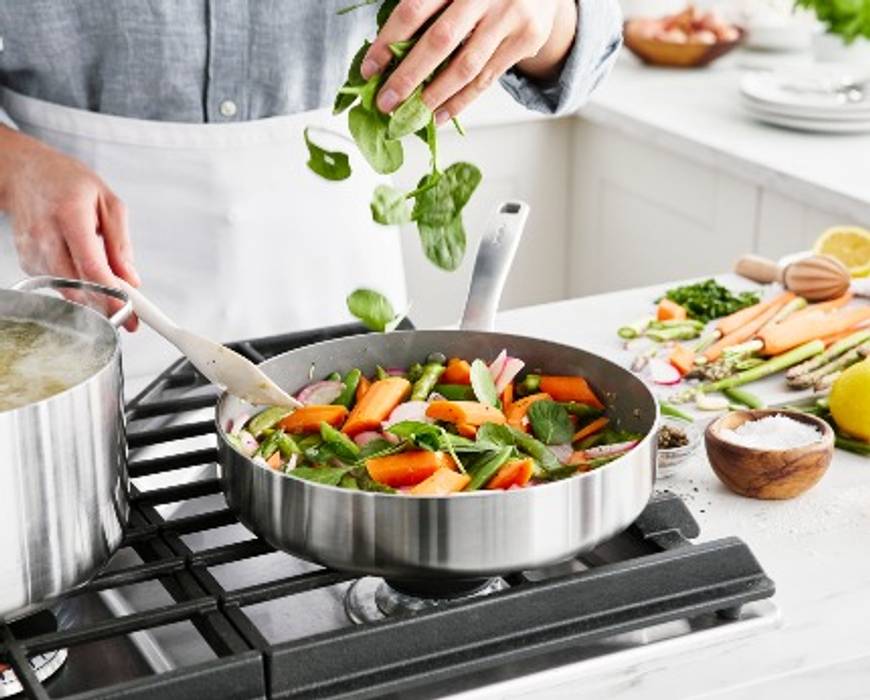 Pasta Primavera with Lemon Pesto
Yields: 6 servings
Time: 20 minutes prep, 20 minutes cooking, 40 minutes total
INGREDIENTS:
For the lemon pesto
1 cup fresh basil leaves
2 tablespoons fresh lemon juice
1 teaspoon lemon zest
2 cloves garlic
1/4 cup grated Parmesan cheese
1/3 cup pine nuts, almonds, or hazelnuts
1/4 cup olive oil
Salt and pepper to taste

For the pasta primavera
12 ounces dry spaghetti noodles
2 tablespoons olive oil
1 medium shallot, diced
3 medium carrots, halved and cut into 2-inch pieces
1 pound asparagus spears, trimmed and cut into 2-inch pieces
1 red bell pepper, cut into 2-inch slices
1 cup sugar snap peas
2 cups brocoli florets
3 cloves garlic, minced
1 cup vegetable broth
2 tablespoons fresh lemon juice
2 tablespoons minced fresh basil
Salt to taste

For the garnish
Freshly grated Parmesan
2 tablespoons chopped Italian parsley
Freshly ground black pepper
PREPARATION INSTRUCTIONS:
Cook the spaghetti—Bring a pot of well-salted water to boil and cook spaghetti to al dente according to package directions. Drain and set aside, reserving 1/2 cup pasta water.
Meanwhile, make the pesto—Add basil, lemon juice, zest, garlic, Parmesan, and nuts to a blender or food processor. Drizzle oil through the top while blending on high speed. Mix until pesto is smooth, scraping down sides if needed. Add salt and pepper to taste and set aside.
Sauté the vegetables—Heat oil in a large skillet over medium high heat. When oil shimmers, add shallot, carrots, asparagus, bell pepper, snap peas, and broccoli. Sauté, stirring frequently, until vegetables just begin to soften—about 3 to 4 minutes.
Simmer the vegetables—Reduce heat to medium and stir in garlic. Sauté, stirring constantly to avoid burning garlic, for about 1 minute. Pour in vegetable broth and simmer until vegetables are tender but still have bite—5 to 10 minutes. Err on the side of undercooking so the veggies don't turn to mush.
Finish the pasta—Stir in pesto, along with lemon juice, fresh basil, and cooked spaghetti. Cook for a few minutes until pasta and pesto are heated through. If sauce seems too thick, thin it with a bit of the reserved pasta water. Season with salt and pepper to taste.
Garnish and serve—Divide pasta between individual bowls and top with a generous sprinkling of Parmesan, chopped parsley, and a bit of freshly ground black pepper.
TIPS:
Pick Your Favorite Veggies—Create your own signature primavera with everything from cherry tomatoes and spring peas to baby spinach, summer squash, or zucchini. It's all good!
Missing the Meat? Feel free to "beef up" our primavera by subbing in chicken stock for vegetable and adding some cooked chicken or shrimp.
Featured Product
Chatham Stainless 12-Piece Cookware Set
This metal utensil safe set features a diamond-enhanced ceramic nonstick coating that delivers ultra-fast performance and effortless nonstick release. And it has everything you need to make everything from elegant experiments to tried-and-true classics.