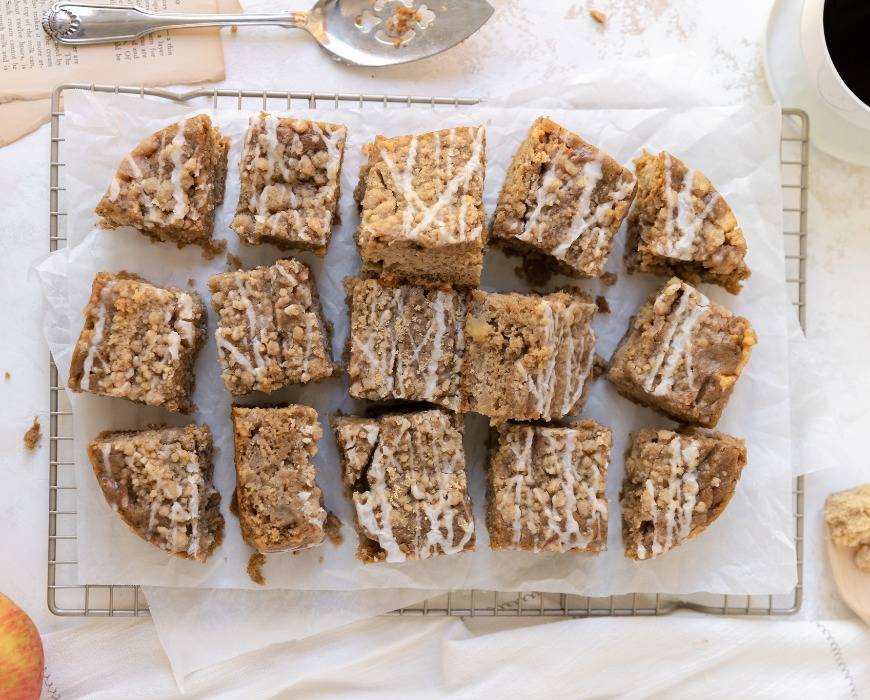 Slow Cooker Apple Spice Coffee Cake
Yields: 6-8 servings
INGREDIENTS:
Streusel Topping:
1/4 cup brown sugar
1/3 cup sugar
1/2 cup flour
1/4 tsp cinnamon
4 Tbsp melted butter
Coffee Cake:
2 cup flour
2 tsp cinnamon
1 tsp nutmeg
1 tsp ginger
1/2 tsp cloves
2 tsp baking powder
1/4 tsp baking soda
1/2 tsp salt
1 cup brown sugar
1/2 cup vegetable oil
2 eggs
1 cup sour cream
2 tsp vanilla extract
2 apples, chopped
2 Tbsp brown sugar (for coating apples)
1/4 tsp cinnamon (for coating apples)
Glaze drizzle:
1 cup powdered sugar
2 Tbsp milk
PREPARATION INSTRUCTIONS:
Streusel Topping:
In a medium bowl, combine the flour, brown sugar, sugar, and cinnamon. Drizzle the melted butter over the mixture and stir to combine until the mixture resembles coarse crumbs. Set aside.
Coffee Cake:
In a medium bowl, whisk together the flour, cinnamon, nutmeg, ginger, cloves, baking powder, baking soda, and salt. Set aside.


In a large bowl, add the brown sugar, oil, and eggs. Stir or whisk to combine. Then, add the sour cream and vanilla extract and mix until incorporated.


Add the dry ingredients (the flour mixture) into the wet ingredients and stir until combined.


Place the chopped apples, additional brown sugar, and cinnamon in a medium bowl. Lightly stir until the apples are coated in the mixture.
Assemble and cook:
Lightly butter the inside of the Slow Cooker insert.


Spread about half of the coffee cake batter into the Slow Cooker insert. Then, layer the chopped apples on top. Spread the remainder of the coffee cake batter on top of the chopped apples. Sprinkle the streusel topping on top of the batter.


Select the High Temperature Slow Cook Mode on the Slow Cooker and set the timer for 3 hours.


Cover and cook for 3 hours or until a toothpick inserted in the middle comes out with a few moist crumbs and the edges of the cake are pulling away from the sides of the Slow Cooker slightly.


When the timer is finished, remove the insert of the Slow Cooker and allow the cake to cool for at least 30 minutes.


Use a silicone spatula to lightly loosen the cake from the sides of the Slow Cooker. Place the included steaming rack (upside down) against the top of the cake. Holding the steaming rack firmly in place, quickly flip the Slow Cooker insert upside down and gently remove the cake. Transfer to a serving platter.
Drizzle with glaze:
Combine the powdered sugar and milk until smooth. Drizzle over the top of the coffee cake.
Recipe credit belongs to Danielle Rodgers, @frenchvanillabaker.
Featured Product
Elite 6-Quart Slow Cooker | Cloud Cream
With our advanced slow cooker, you can sear meat and veggies in the pot, then go low and slow to finish the job. Take your time while cooking, then clean up quickly with Thermolon™ Volt, a healthy, PFAS-free ceramic nonstick...