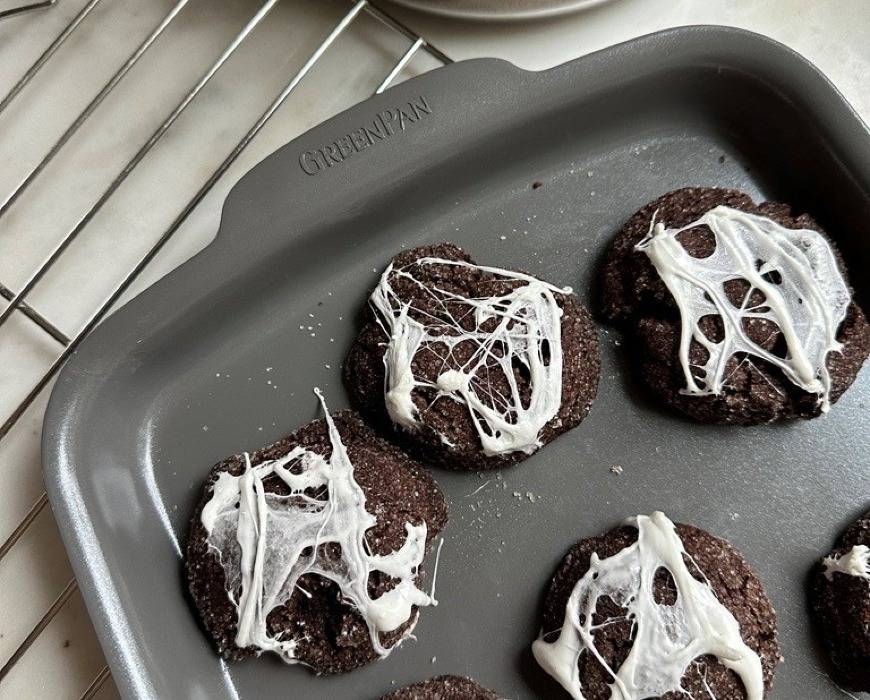 Halloween Spiderweb Cookies
Yields: ~ 24 cookies  
Time: 15 minutes prep, 9 to 11 minutes cooking 
INGREDIENTS:
1 cup unsalted butter, softened, cut in ¼" cubes 

 

1 1/4 cups dark brown sugar

 

1/2 cup granulated sugar

 

1 large egg, room temperature 

 

1 teaspoon vanilla extract

 

1 3/4 cups all-purpose flour 

 

1/2 cup dark cocoa powder 

 

1 tablespoon dry milk powder (optional) 

 

1/2 teaspoon baking soda

 

1/4 teaspoon baking powder 

 

1/2 teaspoon fine kosher salt

 
Extra granulated sugar, for rolling

 

2 cups marshmallows, more as needed

 
PREPARATION INSTRUCTIONS:
Preheat an oven to 350 F with the oven racks as close to the center of the oven as possible. 

 
In the bowl of a stand mixer fit with a paddle attachment, or in a large bowl with a hand mixer, beat together the butter and both sugars on medium high speed until the butter is light and airy, 2 to 3 minutes. If needed, stop and scrape the sides and bottom of the bowl with a silicone spatula halfway through. Add in the egg and vanilla and again mix on medium high speed until both are fully incorporated. Stop and scrape the bowl down with the spatula once more.  
In a medium mixing bowl whisk together the flour, cocoa powder, milk powder, baking soda, baking powder and salt until thoroughly combined.  
Add the dry ingredients into the butter and sugar mixture and mix on a low speed until fully combined, taking care not to overmix as that will result in tougher cookies.  
Portion the cookie dough into 1 ½ tablespoon balls. In a small bowl roll them lightly in the extra sugar, then transfer them to a GreenPan Premiere Ovenware Sheet Pan. Leave about 2 inches of space between each ball of dough. Working in batches if needed, bake the cookies for 9 to 11 minutes, or until the edges are just set but the centers are still slightly soft. Let the cookies cool on the sheet pan for a few minutes, then transfer them to a wire rack and allow them to cool to room temperature.  
Place the marshmallows in a microwave safe bowl and microwave them in 15 to 20 second intervals, stirring in between, until fully melted and soft. (You'll have to redo this occasionally while decorating the cookies, as the temperature is key. You need the melted marshmallows cool enough to safely handle with your fingers, but hot enough that they will pull and stretch into thin web-like strands.). 
Take about a tablespoon of melted marshmallow in your fingertips and gently pull it apart into strands that resemble spiderwebs. Quickly drape the marshmallow strands over a cookie and pull your hands away to break the strands. Repeat as needed until your desired look is achieved. (Don't worry, this is supposed to be messy and random!) Repeat until all the cookies are decorated, melting and remelting the marshmallows throughout the decorating process as needed to keep them at the right temperature.  
TIPS:
For an extra gooey chocolate cookie, mix ½ a cup of roughly chopped chocolate or chocolate chips into the dough before forming them into balls!  
While we love the look of the melted marshmallows on top, for a quick, easy (and slightly less messy) decoration, store bought writing icing makes for great spiderwebs on the cookies too!