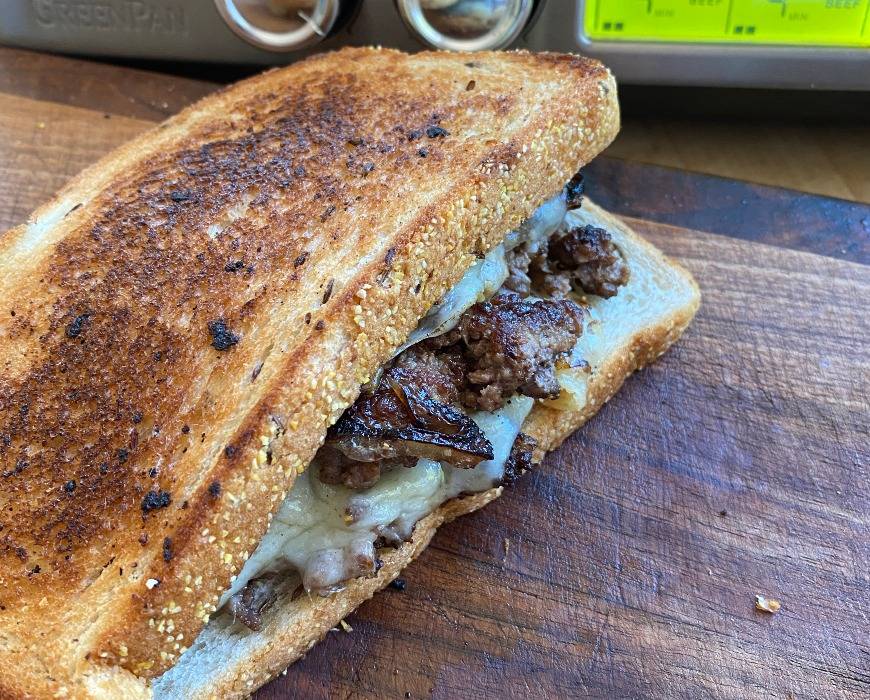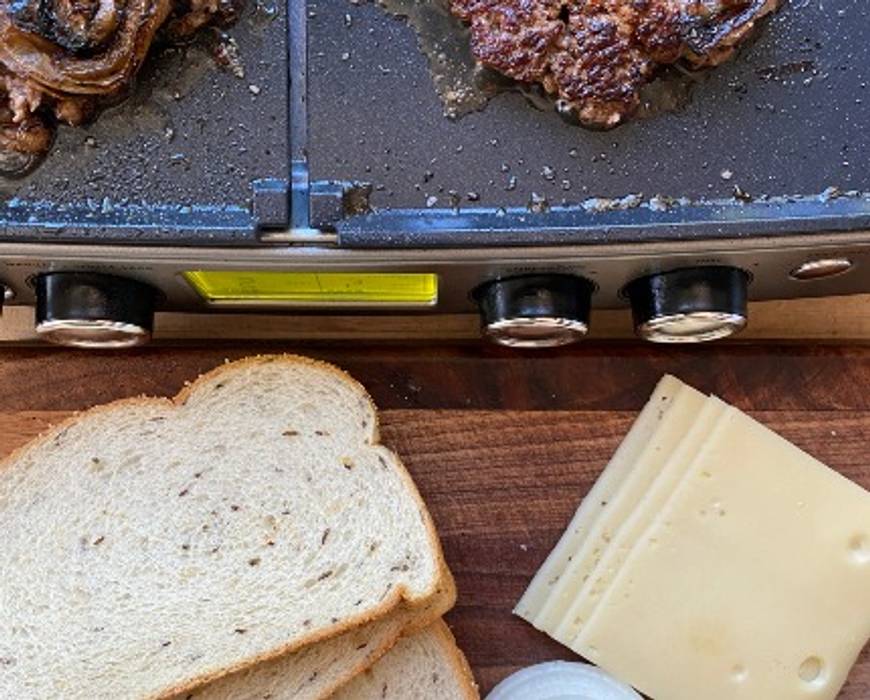 Smashed Double Patty Melt
Yields: 2 servings
Time: 10 minutes prep, 15 minutes cooking, 25 minutes total
INGREDIENTS:
4 tablespoons unsalted butter, cut into 1 tablespoon pieces 
1 small onion, peeled and thinly sliced in ¼" rounds, keeping the layers together in a disc  
4 dashes of Worcestershire sauce 
Kosher salt, to taste
Freshly ground black pepper, to taste
1 pound 80/20 ground beef, divided into four 4-ounce balls  
4 slices light or marbled rye bread
4 slices Swiss cheese, approximately 4 ounces pound
1 tablespoon Dijon mustard, or mustard of your choice 
PREPARATION INSTRUCTIONS:
Preheat the Premiere XL Smoke-less Grill & Griddle on the BEEF setting on both sides, with two griddle plates. 
  Place the four pieces of butter into four separate places on the griddle, two on each side, giving plenty of room between to be able to eventually cook the hamburger patties.  Put one disc of onion on top of each piece of butter and cook for 3-4 minutes until that side is well browned and caramelized.  
Flip the onion discs and separate the layers, spreading them out into a thin pile.  Season each pile of onions with a bit of salt and pepper and a dash of Worcestershire sauce.  Immediately place a ball of ground beef on top of each onion pile and use a large spatula to flatten and smash them into a thin patty, roughly the size of a slice of the bread.  Season the patties with another pinch of salt and pepper. 
Cook the patties for 2 to 3 minutes, then flip onion side up and place a slice of cheese on top.  Cook them for another 2 to 3 minutes until the cheese is melted and the beef is just cooked through.  Transfer them to a plate and set aside while you toast the bread.  
Lightly wipe clean the griddle, leaving just enough of the beef fat and butter to toast the bread.  Place all four slices of bread on the griddle and toast on just one side until golden brown, 3 to 4 minutes.   
To assemble the sandwiches, place two slices of bread on a serving platter or individual plates, toasted side down.  Put two patties on each piece of bread.  Evenly spread half the mustard on the non-toasted side of each remaining piece of bread and place mustard side down on top of the patties.  Serve warm immediately.   
TIPS:
This recipe could easily be turned into four smaller patty melts by cutting the slices of bread in half and using one beef patty per sandwich.  Enjoy alongside your favorite salad for a lighter but still delicious lunch!  
To make sure the hamburger cooks fully without having to burn the onions, make sure to take the beef out of the refrigerator 15 to 20 minutes before cooking.