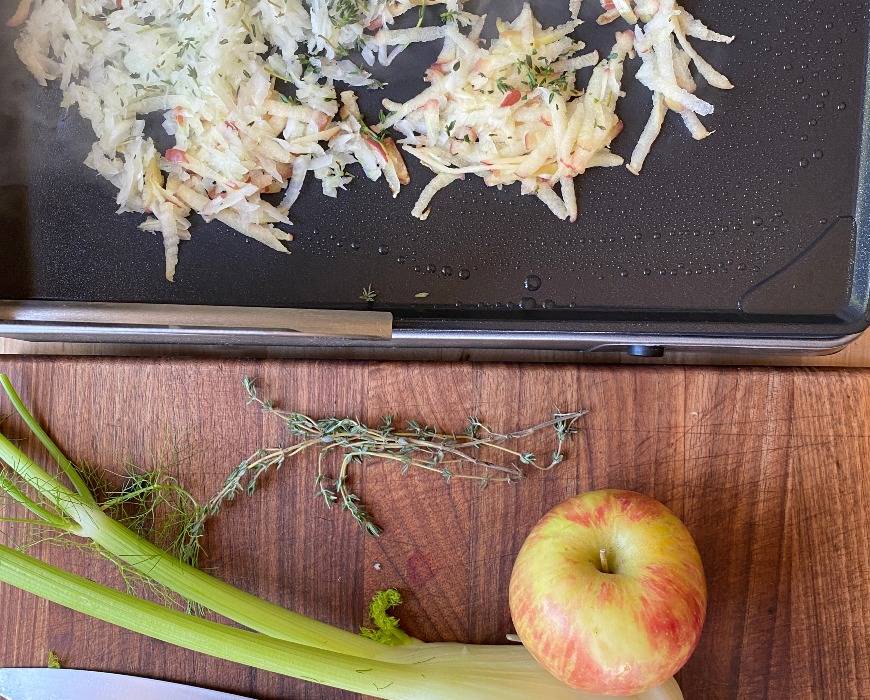 Fennel Apple Breakfast Sausage
Yields: 8 servings
Time: 10 minutes prep, 15 minutes cooking 
INGREDIENTS:
3 tablespoons extra virgin olive oil, divided
1/2 cup grated fennel bulb, using the large side of a box grater  
1/2 cup grated firm apple (such as honeycrisp), using the large side of a box grater  
1 tablespoon fresh thyme, destemmed and finely chopped
2 tablespoons light brown sugar
2 teaspoon kosher salt 
1 teaspoon freshly ground black pepper
1/2 teaspoon fresh ground nutmeg
1/2 teaspoon crushed red pepper flakes 
2 teaspoon apple cider vinegar
2 pounds ground pork 
PREPARATION INSTRUCTIONS:
Preheat the Premiere XL Smoke-less Grill & Griddle to 350 F on both sides, with two griddle plates.  In a large mixing bowl stir together half of the olive oil along with the fennel, apple and thyme until evenly combined.   Divide the mixture evenly in a thin layer on each of the griddle plates.  Cook, stirring and turning occasionally, until lightly browned all over, 5 to 6 minutes.  Transfer the cooked apple and fennel mix back to the same mixing bowl and allow to cool to room temperature.  
Once cooled, add the remaining ingredients into the bowl and mix until very well combined – this is best done with your hands to ensure you have nicely mixed and textured sausage patties.  On a large plate or baking sheet, divide the sausage into sixteen even portions and lightly press them down into patties, slightly indenting the center more than the edges to ensure they are flat once fully cooked.    
To cook the patties, use a paper towel or pastry brush to apply a thin layer of the remaining olive oil to each griddle.   Divide the patties between the plates and cook for 2 to 3 minutes per side or until fully cooked through.  
TIPS:
The brown sugar in these sausages gives a delicious depth of flavor and smokey sweetness but can burn easily - which is why we made smaller patties with shorter cook times.  Feel free to make larger patties if you'd like, but cook them at a lower temperature (325 F) so the outside doesn't burn before the inside is cooked through.  
These sausages would be delicious with a bit of fresh sage or rosemary as well!  Feel free to add a teaspoon of either one finely chopped.