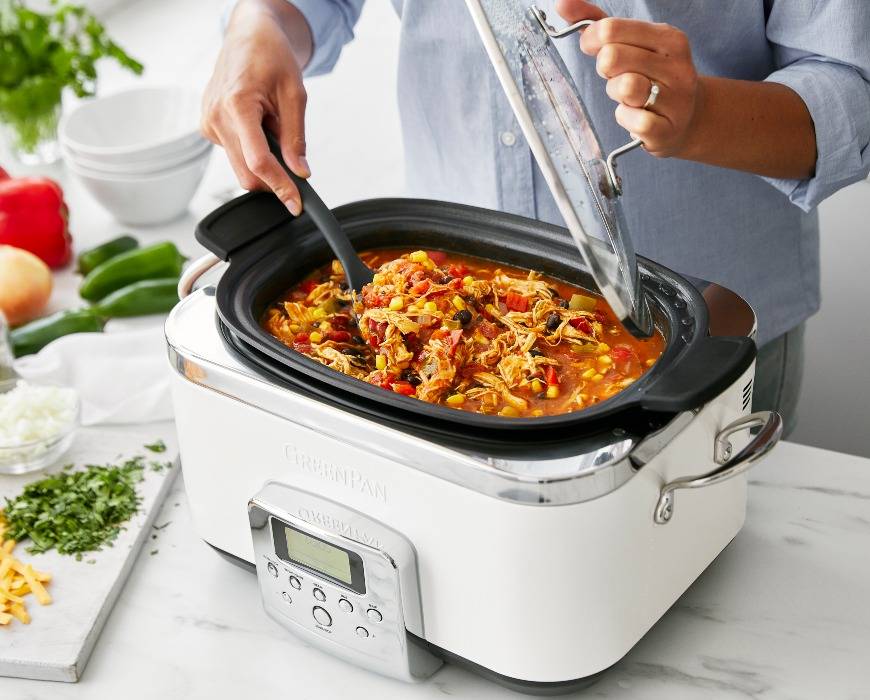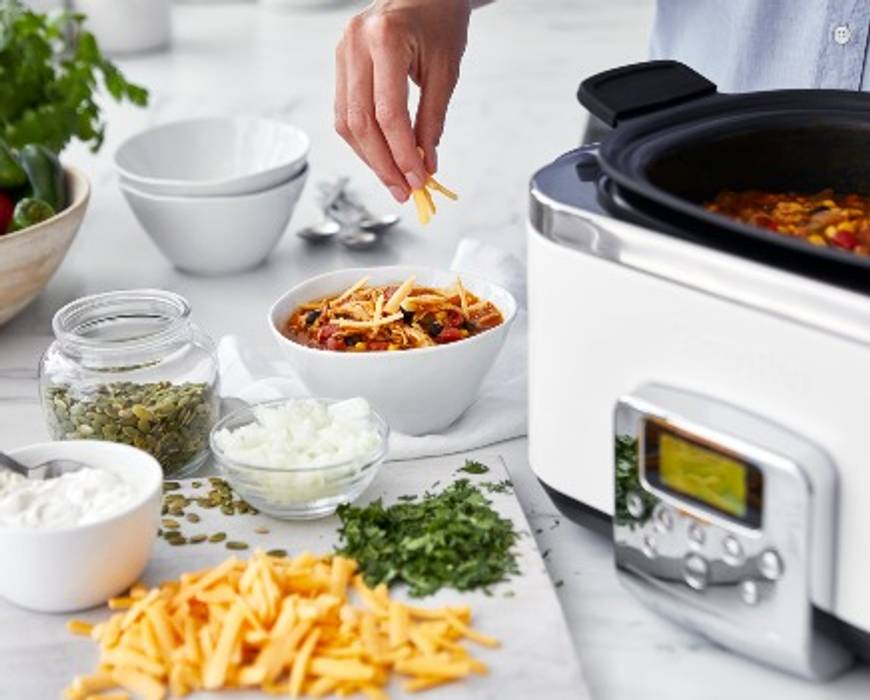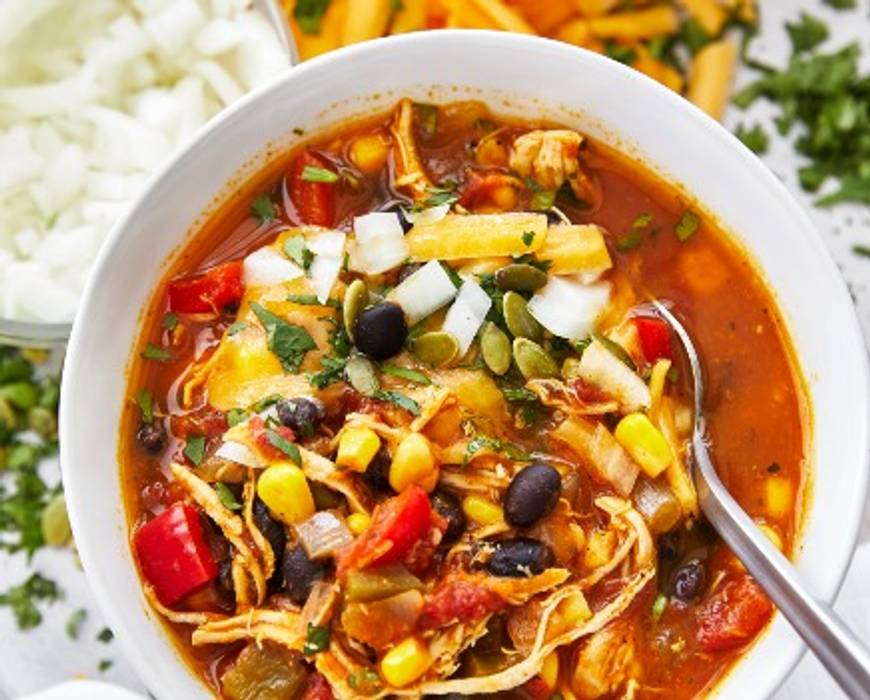 Southwestern Pumpkin Chicken Chili
Yields: 8 to 10 servings
Time: 30 minutes prep, 7 hours cooking
INGREDIENTS:
1 tablespoon avocado oil, or high heat oil of your choice 
3 large skinless boneless chicken breasts (about 2 and 1/4 pounds)
1 1/2 teaspoon kosher salt, more to taste 
1 large yellow onion, cut in 1/4" dice
3 garlic gloves, peeled and minced
1 tablespoon dried oregano 
1 tablespoon ground cumin
2 teaspoons chili powder 
2 (28 ounce) cans fire roasted tomatoes  
2 (15 ounce) cans pumpkin puree 
3 cups low sodium chicken broth 
1 tablespoon red wine vinegar
1 large green bell pepper, seeds removed, cut in 1/2" dice 
1 large red bell pepper, seeds removed, cut in 1/2" dice
1 jalapeño, seeds removed, minced 
1 (12 ounce) package of frozen corn
2 (15 ounce) cans black beans or kidney beans, drained and rinsed
Toppings: 
Sour cream, shredded cheese, cilantro, diced onion and toasted pepitas for serving 
PREPARATION INSTRUCTIONS:
Select the Brown/Sauté mode on the Slow Cooker, set the temperature to 350°F and the timer to 15 minutes. Pour the oil into the slow cooker and allow it to come to temperature. Season the chicken lightly with salt on both sides and sauté for 8 to 10 minutes, flipping halfway through, or until nicely golden brown on both sides. Transfer the chicken to a large plate and set aside.  


Add the onions and garlic to the slow cooker and cook for 3 to 4 minutes, stirring regularly, until the onions are softened and the garlic is fragrant. Stir in the oregano, cumin and chili powder and cook for another minute more.  


Select the Low Temperature Slow Cook Mode on the Slow Cooker and set the timer for 7 hours. (The chili can also be cooked on high heat for 3 hours.) Add in all the remaining ingredients, besides the toppings, and stir until everything is evenly combined. Taste and adjust with salt and vinegar as desired.  Add the chicken back to the slow cooker along with any accumulated liquid and press down to fully submerge. Cover and cook until the chicken breasts can be easily shredded.  


Remove the chicken and shred into bite size pieces using two forks, or your hands once cool enough to handle.  Stir the shredded chicken back into the chili. Taste, and adjust as desired with salt, vinegar and spices. If you prefer a thicker chili, allow it to cook another 30 minutes to an hour uncovered to reduce. For a thinner chili, add more chicken broth to reach the desired consistency.  


Serve the chili warm, with any or all the toppings as desired.  
TIPS:
Cilantro stems are amazingly delicious!  For an extra punch of flavor, finely chop the cilantro stems and stir them into the finished chili just before serving.  
For a vegetarian version of this chili, replace the chicken with peeled butternut squash cut into large 1" dice.  Simply sauté the onions, garlic and spices, then add in the squash with the rest of the ingredients and slow cook! 
Featured Product
Elite 6-Quart Slow Cooker | Cloud Cream
With our advanced slow cooker, you can sear meat and veggies in the pot, then go low and slow to finish the job. Take your time while cooking, then clean up quickly with Thermolon™ Volt, a healthy, PFAS-free ceramic nonstick...