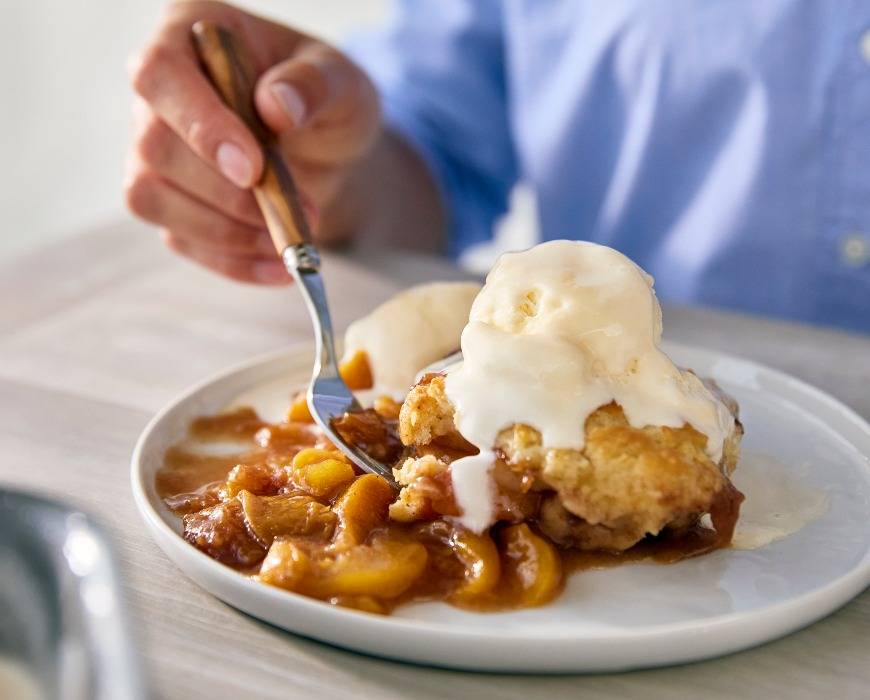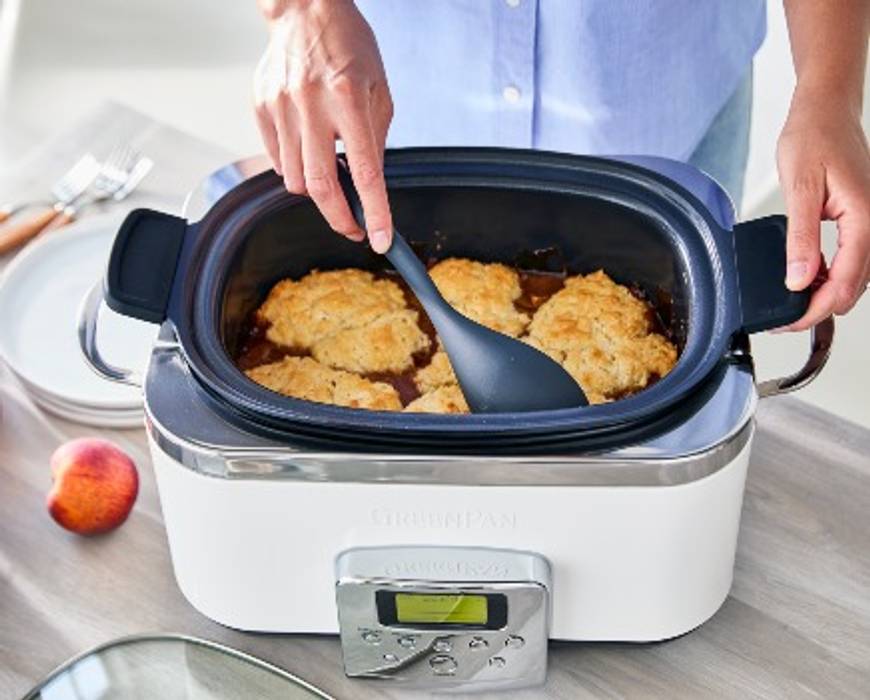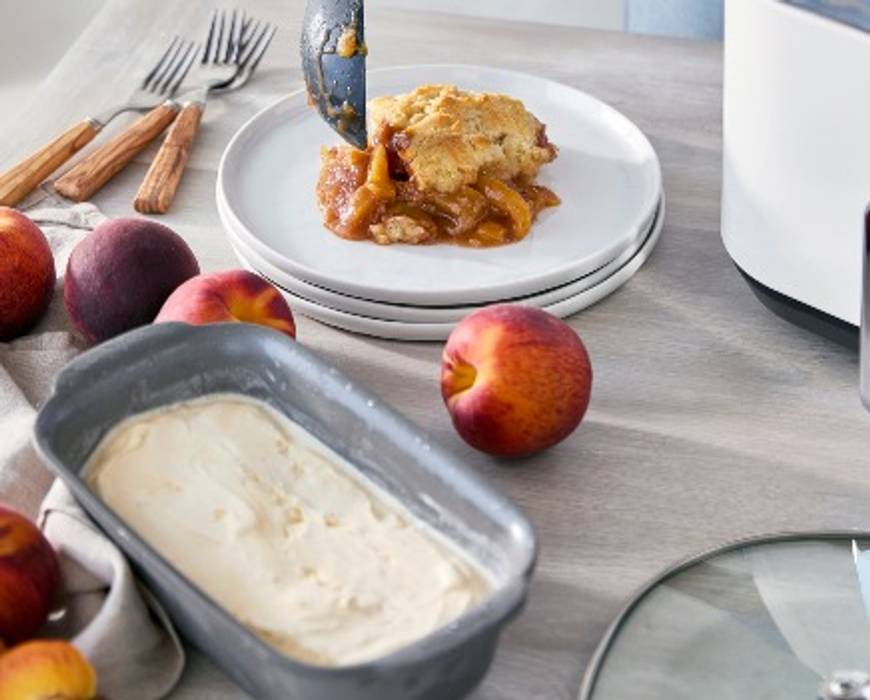 Yields: 8 to 10 servings 
Time: 20 minutes prep, 3 hours cooking
INGREDIENTS:
For the cobbler topping:
2 1/4 cups all-purpose flour
1/2 cup granulated sugar
1 tablespoon baking powder
1/4 teaspoon kosher salt
12 tablespoons unsalted butter, cold
1 1/4 cup buttermilk

For the cobbler:
2 tablespoons unsalted butter
10-12 fresh peaches, peeled and pitted, cut in 1" slices
1/4 cup granulated sugar
2 tablespoons cornstarch 
2 tablespoons honey
1 tablespoon fresh lemon juice
1 teaspoon cinnamon
1/4 teaspoon ground nutmeg 
1/4 teaspoon kosher salt
PREPARATION INSTRUCTIONS:
To prepare the topping, in a medium mixing bowl whisk together the flour, sugar, baking powder and salt until evenly combined. Using your hands or a pastry cutter, cut the cold butter into the dry ingredients until the butter is the size is the size is in pea and lentil sized pieces. Stir in the buttermilk until just combined, taking care not to over mix or else the topping will be tough when cooked.    


Select the Low Temperature Slow Cook Mode on the Slow Cooker and set the timer for 4 hours. (The cobbler can also be cooked in closer to 2 hours on high temperature, keeping an eye on it to ensure the peaches don't get too dark and burn.)  


Melt the butter in the slow cooker. In a large mixing bowl stir the remaining ingredients until very evenly combined, then pour into the slow cooker.  Evenly spread the topping over the filling. Cover and cook on low for 3 hours or until the filling is cooked and has thickened nicely, with the topping fully cooked through. Uncover and shut off the slow cooker, allowing the cobbler to lest for 20 minutes, then serve warm.  
TIPS:
Frozen peaches work great in this cobbler as well if 1 extra tablespoon of cornstarch is added to the recipe.  It will create a much more jam-like, but equally delicious, peach filling.  
To make this recipe extra special, serve with a bit of caramel sauce, whipped cream or vanilla ice cream! 
Featured Product
Elite 6-Quart Slow Cooker | Cloud Cream
With our advanced slow cooker, you can sear meat and veggies in the pot, then go low and slow to finish the job. Take your time while cooking, then clean up quickly with Thermolon™ Volt, a healthy, PFAS-free ceramic nonstick...