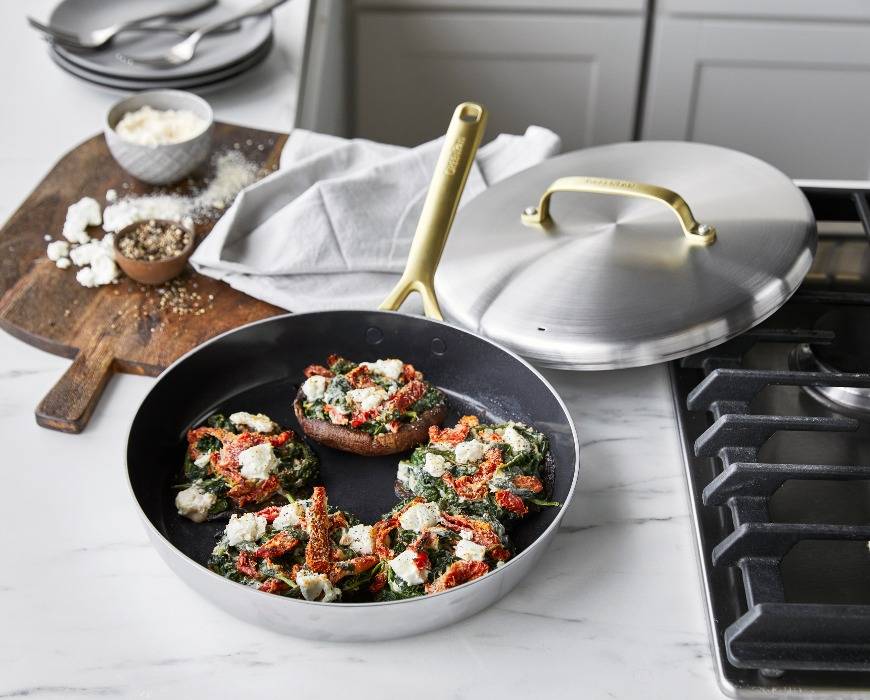 Stuffed Portobello Mushrooms
Yields: 4 servings
Time: 15 minutes prep, 25 minutes cooking, 40 minutes total
INGREDIENTS:
For the mushrooms
4 large portobello mushrooms
2 tablespoons olive oil
1/2 teaspoon salt
1/4 teaspoon freshly ground black pepper
For the filling
1 tablespoon olive oil
1 medium shallot, diced
5 ounces fresh baby spinach
4 ounces goat cheese, at room temperature
1 (7-ounce) jar sun-dried tomatoes packed in oil, drained well and thinly sliced
1/4 cup finely grated Parmesan cheese
PREPARATION INSTRUCTIONS:
Prepare to bake—Preheat oven to 400°F.
Prep the portobellos—Remove and discard stems. Make room for more filling (yes!) by gently scraping out the gills with a spoon. Remove any dirt with a soft brush, then brush both sides of mushrooms with olive oil. Season on both sides with salt and pepper.
Roast the portobellos—Place mushrooms stem side down in a large, nonstick oven-safe skillet. Transfer to preheated oven and cook for 10 minutes or until mushrooms start to soften a bit. Remove from oven, but leave it on.
Meanwhile, make the filling—Add olive oil to a large skillet over medium heat. When oil is shimmering, add shallot and sauté, stirring frequently until softened and translucent—about a minute or two. Add spinach and toss to coat with oil until spinach wilts—about a minute. Remove skillet from heat, crumble in the goat cheese and stir till it melts and coats spinach. Stir in the sun dried tomatoes and set filling aside.
Fill the portobellos—Remove skillet from oven and flip mushrooms over with a spatula. Carefully fill each mushroom cap with equal portions of the goat cheese mixture. Sprinkle Parmesan evenly over the top of filling.
Roast the portobellos (again)—Transfer skillet to oven and roast mushrooms till Parmesan begins to melt—about 10 minutes. Switch oven to broil and continue cooking till cheese browns, another 2 to 3 minutes.
TIPS:
Dry Wit— Tempted to rinse mushrooms because,,,dirt? Don't do it! Waterlogged mushrooms can  easily turn slimy or mushy. Simply wipe away any dirt or debris with a dry cloth or pastry brush.
Say Cheese—If you're serving our stuffed mushrooms to vegetarians, check to ensure that your Parmesan isn't made with animal rennet. Look for ingredients like "vegetarian rennet" or "microbial enzymes."
Featured Product
GP5 Stainless Steel 12" Frypan with Lid | Champagne Handles
Featuring our groundbreaking Infinite8 ceramic nonstick and an ultra-tough 5-ply stainless steel body, this spacious frypan will be a constant kitchen companion.