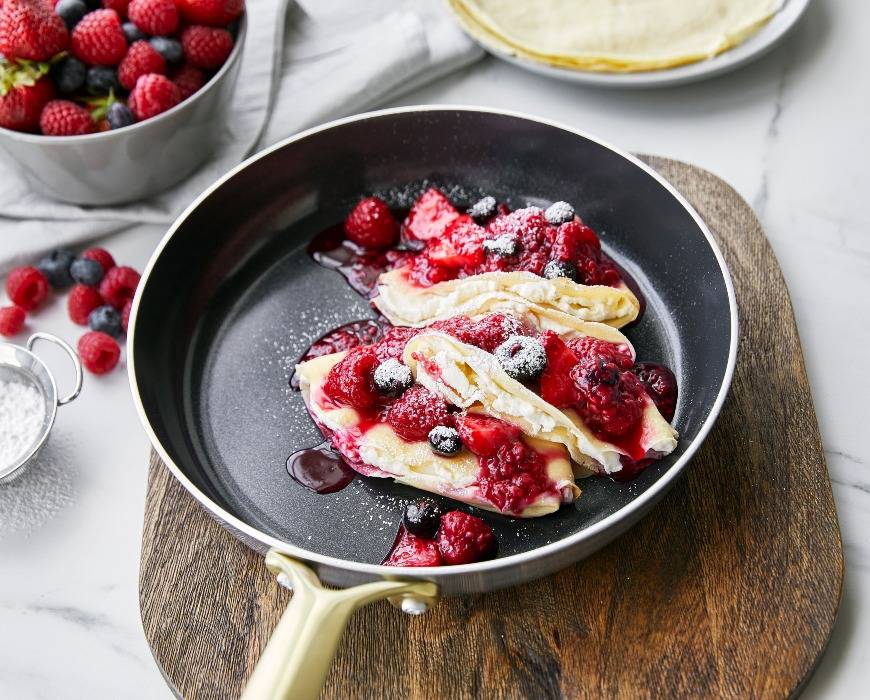 Crepes with Berry Compote
Yields: 4 crepes
Time: 10 minutes prep, 5 minutes cooking, 15 minutes total
INGREDIENTS:
For the crepes
2 large eggs
3/4 cup milk
1/2 cup water
1 cup all purpose flour
3 tablespoons butter, melted and cooled
2 tablespoons granulated sugar
1 teaspoon vanilla extract
1/4 teaspoon kosher salt
For the berry compote
1 1/2 cups frozen berries (blueberry, blackberry, raspberry, strawberry, or a mix)
1 tablespoon lemon juice, more or less to taste
1 to 2 tablespoons granulated sugar, more or less to taste
For serving
PREPARATION INSTRUCTIONS:
Mix the crepe batter—Place all crepe ingredients in a medium bowl and whisk vigorously to create a smooth batter with no lumps. Place batter in refrigerator.
Make the berry compote—Add berries to a medium nonstick saucepan over medium-high heat. Stir in lemon juice and sugar and cook, stirring occasionally, for 3 to 4 minutes. Bring to a boil, pressing berries to release some of the juices. Reduce heat to medium-low and simmer for another 3 to 4 minutes. Taste and adjust lemon juice and sugar as needed. Remove from heat and set aside.
Make the crepes—Preheat oven to 200 degrees F. Melt a little butter in a 10-inch nonstick pan over medium heat until it starts to sizzle. Remove skillet from heat, pour about 1/4 cup of crepe batter in pan in center of pan, then swirl pan to spread batter evenly. Return pan to heat and cook until edges of crepe start to brown and turn up, about 2 minutes. Flip with a spatula and cook for another minute. Transfer crepe to baking sheet and place in oven to keep warm. Repeat with rest of batter.
Assemble and serve—Fold crepes into quarters and top with berry compote. Serve warm with a dollop of whipped cream on the side.
TIPS:
Prefer Savory Fillings? Just leave out the sugar and vanilla and our crepes will be ready to fill with everything from scrambled eggs to sautéed mushrooms.
Try, Try Again—Your first couple of crepes may look a bit wonky, but they'll still taste delicious. Once you get the hang of swirling the skillet and knowing when to flip, you'll feel like a pro.
Featured Product
GP5 Stainless Steel 8" Frypan | Champagne Handle
Whether you're tackling a quick fried egg, sautéed asparagus, or just heating up leftovers, this pan's remarkable 5-ply stainless steel body and Infinite8 will deliver outstanding performance for each and every meal.