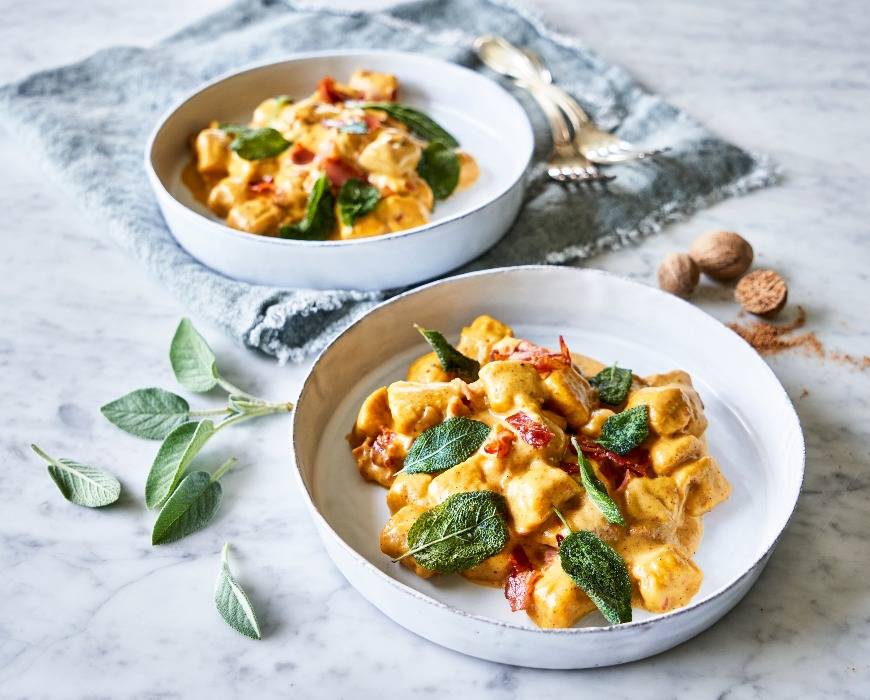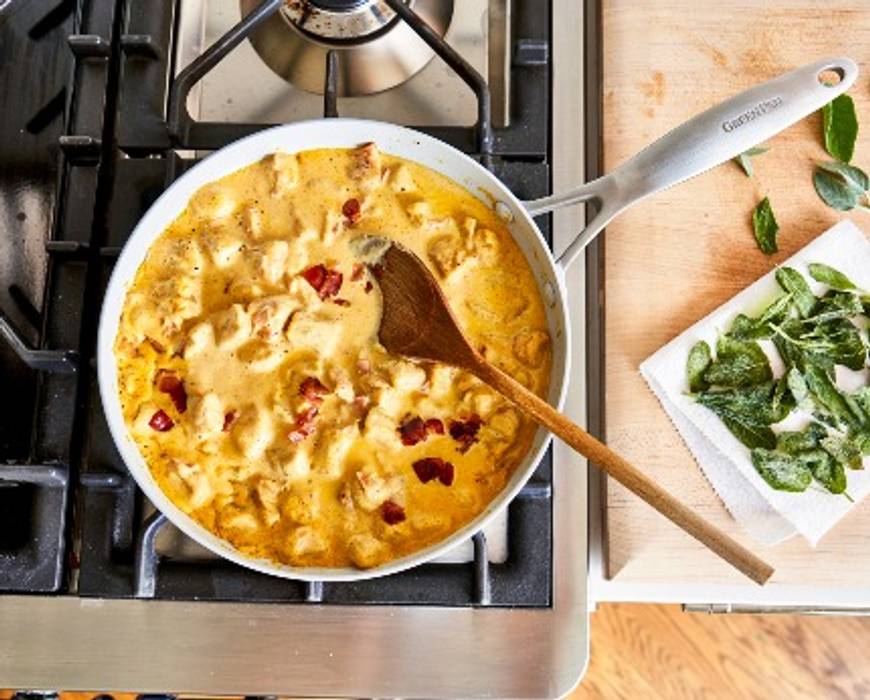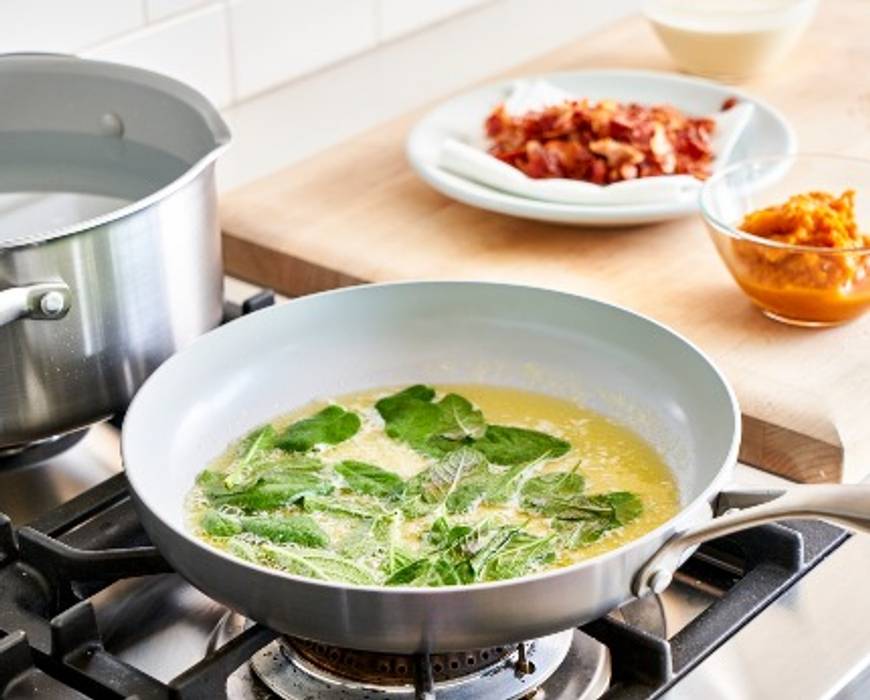 Sweet Potato Gnocchi with Pumpkin Sauce, Pancetta, & Fried Sage
Yields: 4 Servings
Time: 10 minutes prep, 20 minutes cooking, 30 minutes total
INGREDIENTS:
2 packages Cappello's Sweet Potato Gnocchi
4 ounces diced pancetta
6 tablespoons butter
20 or so fresh sage leaves (about 1 small package)
1 cup pumpkin purée
1 1/4 cup whole milk or cream
1/4 teaspoon ground cinnamon
1/4 teaspoon fresh-ground nutmeg
Salt and freshly ground black pepper to taste
PREPARATION INSTRUCTIONS:
Make the gnocchi— Bring a large pot of well-salted water to boil over high heat. Drop gnocchi into boiling water and cook until it floats. Drain and set aside, reserving a cup of cooking liquid.
Brown the pancetta—In a small skillet over medium-high heat, cook pancetta until browned and crispy. Transfer to a paper-towel lined plate to drain.
Fry the sage—In a large skillet or sauté pan, melt butter over medium heat until bubbly. Add sage leaves and fry for 2 to 3 minutes. Remove from pan and place on paper towels to drain.
Make the sauce—When butter smells nutty and begins to brown, add pumpkin purée, milk, cinnamon, and nutmeg. Stir to combine and simmer until sauce thickens slightly, about 5 minutes.
Finish the pasta—Add gnocchi and pancetta to sauce and stir to coat gnocchi. Add a bit of reserved cooking liquid to thin sauce, if needed. Season with salt and freshly ground black pepper to taste. Divide gnocchi between individual serving bowls and top with fried sage.
TIPS:
Whole nutmeg: the ultimate pumpkin spice. The seeds pack a more potent punch than their ground cousin—plus, they stay fresh indefinitely.
No pancetta? No problem! Our gnocchi tastes great with a few strips of crumbled bacon or crisped prosciutto.
Featured Product
Venice Pro Ceramic Nonstick 12" Frypan
Designed to stay shiny for years, this 12" frypan is a stunning and spacious addition to any kitchen. Finished with our signature healthy ceramic nonstick coating, it's safe for all cooking surfaces (ovens, too).