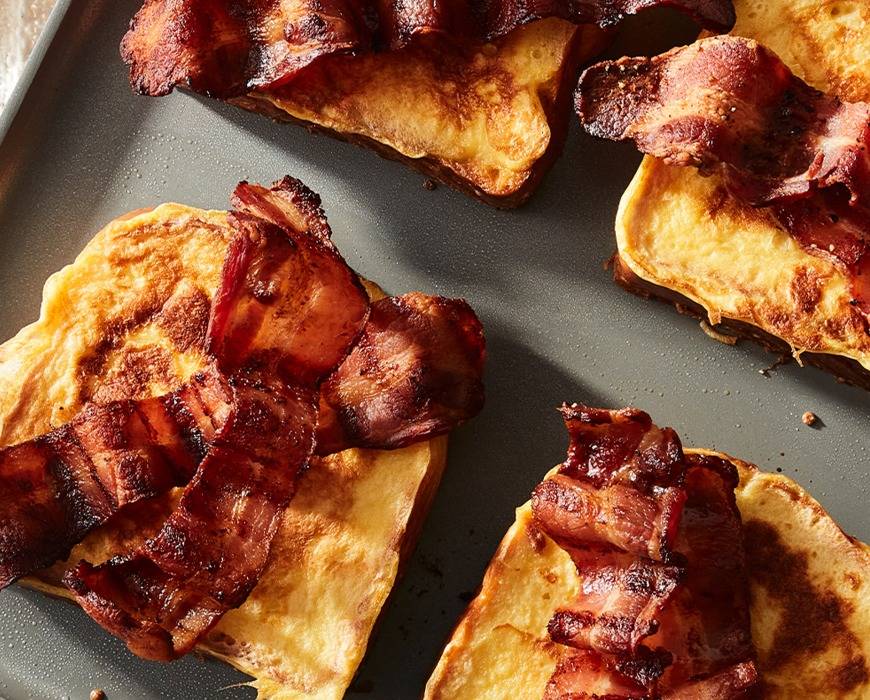 Vanilla Bean Bourbon French Toast with Bacon
Yields: 4 servings
Time: 10 minutes prep, 10 minutes cooking, 20 minutes total

Ingredients:
 
Bread
8 slices challah bread (brioche, potato, or any other dense bread will also do)

Batter
8 eggs
1/2 cup buttermilk
1 tbsp plus 1 1/2 tsp bourbon
1/2 tsp ground cinnamon
1 tbsp vanilla bean paste
Bourbon Syrup -
1/2 cup maple syrup
1 tbsp bourbon

Bacon
Steps:
In a large baking dish (around 2QT), whisk 8 eggs, buttermilk, bourbon, cinnamon, and vanilla bean paste. Once everything is properly blended, place 8 slices of bread in the batter, turning often until the bread is soaked all the way through, around 3 minutes.
In a griddle or large skillet, melt 1 tablespoon of butter over medium heat.- Add soaked bread slices to the pan and cook until golden brown, 2 to 3 minutes per side. Repeat with another tablespoon of butter and the remaining slices of bread.
Lay out your strips of bacon on a cold pan. Cook on low heat. When your bacon starts to curl, flip it to the other side. Turn frequently to brown evenly on both sides. If your bacon is fatty and your pan fills with grease, spoon off the excess. Once done to preference and evenly browned, remove the bacon to a paper towel.
Mix 1/2 cup of maple syrup with 1 tbsp bourbon and pour over the French toast. Top with cooked bacon.
Featured Product
Premiere Ovenware Ceramic Nonstick 13" x 9" Rectangular Baker
Our kitchen team has fallen in love with this pan. They've been making classic casseroles, family-sized lasagna, slow roasted meats, and more. And those built-in handles won't break off the way ceramic ones can.