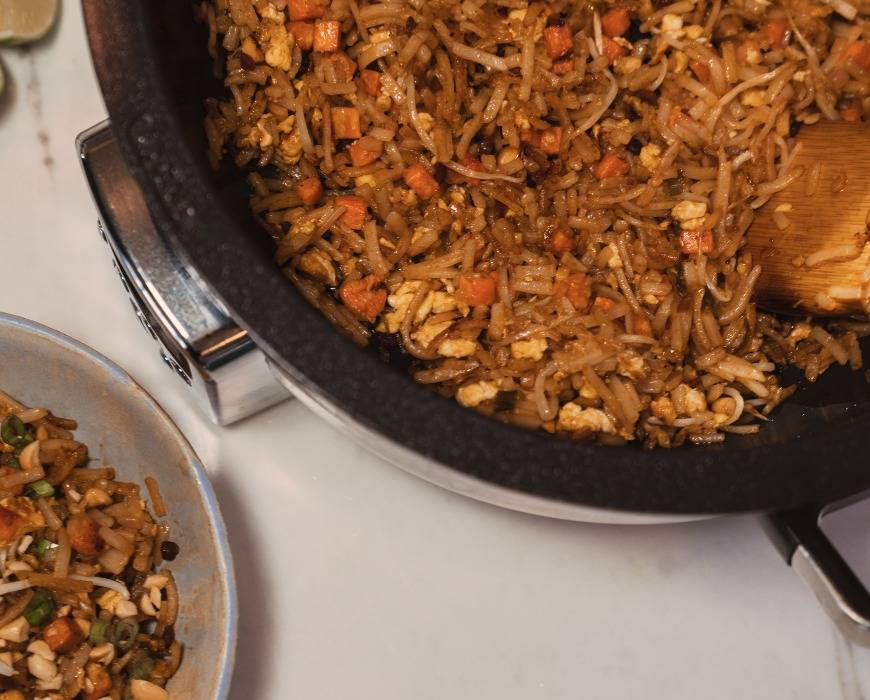 Yields: 2 to 4 servings
Time: 15 minutes prep, 15 minutes cooking, 30 minutes total
INGREDIENTS:
2 teaspoons canola or vegetable oil
8 ounces sweet potato, 1/4-inch dice
1 shallot, finely diced
3 cloves garlic, minced
1/2-inch piece ginger, peeled and minced
2 eggs, whisked with a splash of soy sauce
4 ounces dry pad thai noodles (rice noodles), prepared to package instructions
1 cup fresh bean sprouts
juice of half a lime
salt and pepper to taste

For the pad thai sauce:
1/4 cup water
1 tablespoon soy sauce
3 tablespoons fish sauce
1/2 to 1 teaspoon sambal, to taste
3 tablespoons brown sugar or palm sugar
1 1/2 tablespoons tamarind paste

For garnish:
chopped roasted peanuts
fresh bean sprouts
chopped scallions
lime wedges
sambal
PREPARATION INSTRUCTIONS:
To make the pad thai sauce, whisk together the water, soy sauce, fish sauce, samba, sugar, and tamarind paste in a medium bowl. Make sure to whisk long enough for the sugar to dissolve.


Select the Stir Fry mode on the Essential Smart Skillet, set the temperature to 400°F and the timer to 15 minutes. Pour in the oil and allow it to get very hot, until it shimmers and maybe lightly smokes. Add in the sweet potato, stirring regularly, 4 to 5 minutes. The sweet potato should start turning brown on the outside and be fully softened. Then add in the shallots, garlic, and ginger, again stirring regularly, until very aromatic and slightly browned, about 2 to 3 minutes.


Slide the sweet potato, shallot, garlic, and ginger to the edges of the pan and add in the eggs, using a wooden spoon to quickly scramble them, 1 to 2 minutes. If the eggs are in larger pieces, use the spoon to break them into bite-size pieces.


Add to the pan the prepared rice noodles, tossing everything to fully incorporate. Continue cooking, while stirring and tossing regularly, for another 3 to 4 minutes.


Pour in the prepared pad thai sauce and the bean sprouts, stirring through, and cook for 1 minute. If the noodles are sticking together and the dish looks dry, add up to 1/4 cup of water to loosen.


Mix in the lime juice, taste, and adjust with salt and pepper as desired.


Divide the pad thai among serving bowls and top with roasted peanuts, bean sprouts and scallions. Serve the lime wedges and extra sambal on the side.
TIPS:
Sambal 101 – If you've never used this sauce made from chiles, herbs, spices, and aromatics, prepare to be amazed by the complex flavor.
Noodling Around – Avoid mushy noodles by soaking until they're bendy but not soft.
Featured Product
Premiere 6-Quart Essential Smart Skillet
Whether you're searing a steak, perfecting a complex stew, or simply making rice, this family-sized 6-quart skillet gives you room for any meal. The high sides eliminate splatter and make it easy to toss your ingredients without worry.