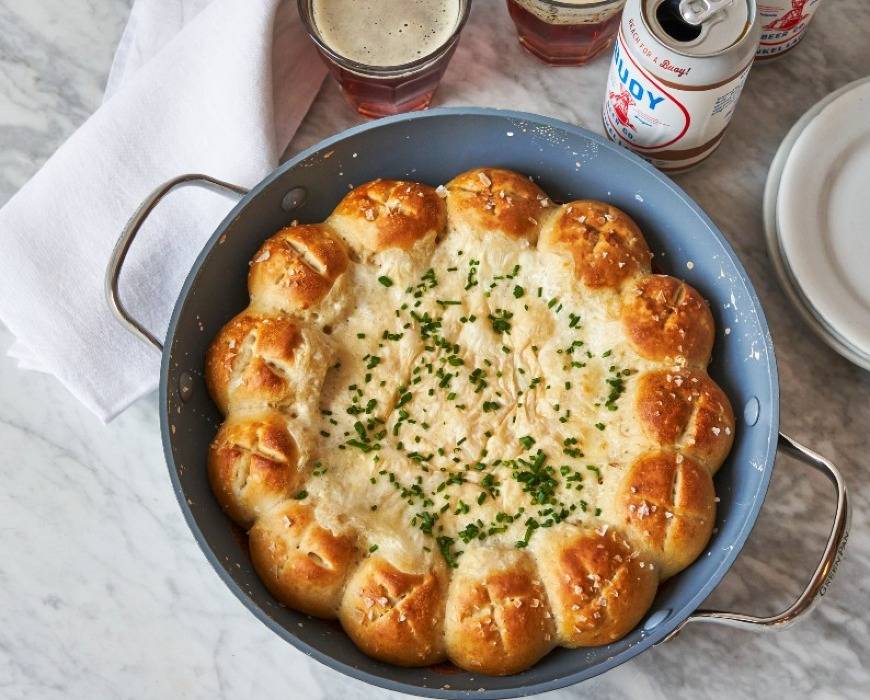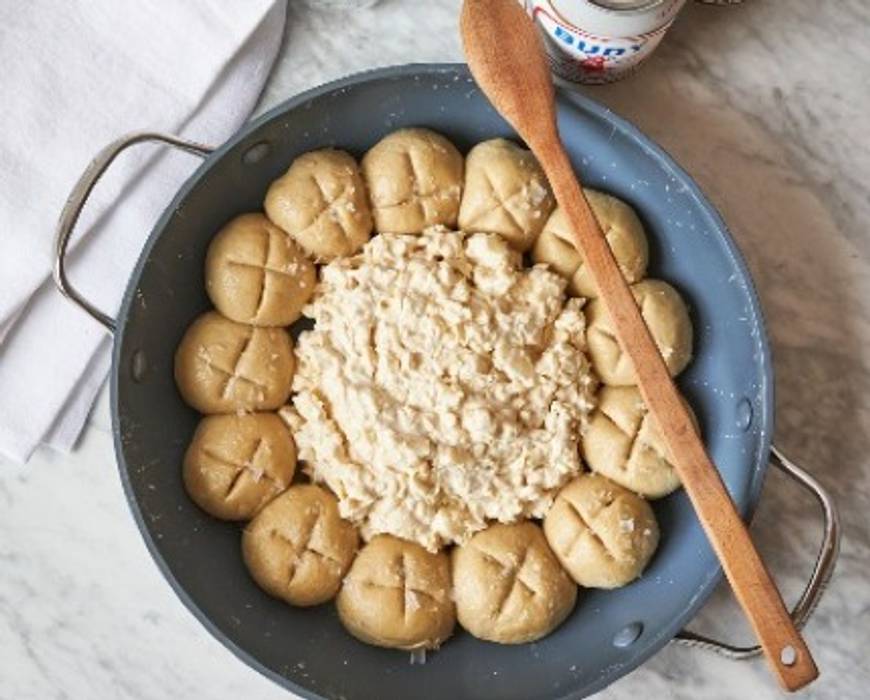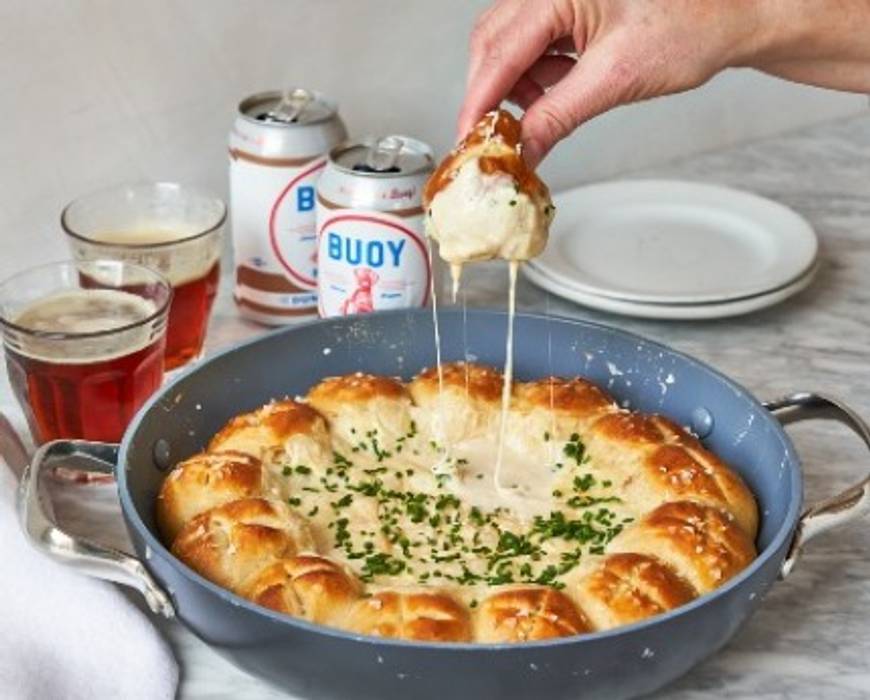 Pretzel Bites with Cheese Dip
Yields: 16 pretzel bites
Time: 35 minutes prep, 1 hour rising, 20 minutes baking, 1 hours 55 minutes total
INGREDIENTS:
For the pretzels
1 package active dry yeast (2 1/4 teaspoons)
1/2 teaspoon sugar
3/4 cup warm water (about 110°F)
1 1/2 cups all-purpose flour
1 cup whole wheat flour (or all-purpose flour)
1 teaspoon salt
3 tablespoons honey
2 teaspoons vegetable oil
2 cups hot water
1/4 cup baking soda
Pretzel salt or other coarse salt
For the cheese dip
8 ounces cream cheese, at room temperature
1 cup lager or wheat beer
8 ounces mild cheddar cheese (preferably freshly grated)
8 ounces mozzarella cheese (preferably freshly grated)
1 teaspoon garlic powder
1/4 teaspoon salt
PREPARATION INSTRUCTIONS:
Proof the yeast—In a small bowl or measuring cup, stir together yeast, sugar, and warm water. Set aside until mixture is foamy, about 5 to 10 minutes.
Mix the dough—In the bowl of a stand mixer, stir together both flours and salt. Attach to mixer and fit with dough hook. Add honey, oil, and yeast mixture and knead on medium-low speed until smooth, about 8 to 10 minutes. Dough will be stiff, but if it seems too dry add more water—about 1/2 teaspoon at a time.
Proof the dough—Lightly coat a large bowl with oil. Form dough into a ball, transfer to bowl, and turn to coat with oil. Cover and let rise in a warm place for 1 hour or until dough is doubled in size.
Prep the pretzels—Preheat oven to 400°F. In a medium bowl, stir together 2 cups hot water and 3/4 cup baking soda. Divide dough into 16 pieces, rolling each into a ball. Dip pretzel balls in the water/soda mix and place around the edge of a 12-inch, oven-safe skillet. Leave the center open for the cheese dip—yum! With a sharp knife, score the top of each pretzel ball with an X. Top dough balls with a generous sprinkling of pretzel salt.
Make the cheese dip—Place cream cheese in a medium bowl and beat with an electric mixer on medium-high speed until smooth, about 1 minute. Add lager and beat until combined—don't worry if it's not smooth. Add cheddar cheese, mozzarella cheese, garlic powder, and 1/4 teaspoon salt and stir with a spoon or spatula until everything's evenly combined.
Bake the pretzels—Scoop the cheese mixture into the middle of the skillet. Bake in preheated oven until pretzels are beautifully browned and cheese is melted and bubbly—about 20 minutes. Serve piping hot—as if anybody could wait!
TIPS:
Don't Kill the Yeast! Water that's too hot will lead to a yeast massacre (and dough that won't rise). If the water from the tap feels too hot on your finger, dial down the temp.
Know the Score—When pretzels hit the hot oven, the yeast produce a sudden burst of gas (AKA "oven spring"). Scoring dough gives the gas an easy way to escape without destroying the shape.
Featured Product
Valencia Pro Ceramic Nonstick 11" Everyday Pan with Lid
Crafted from hard anodized aluminum for maximum strength and scratch resistance, this 11" everyday pan is your go-to for one-pan meals, searing steaks, or sautéing veggies. The two side handles make stovetop-to-oven transfers effortless.