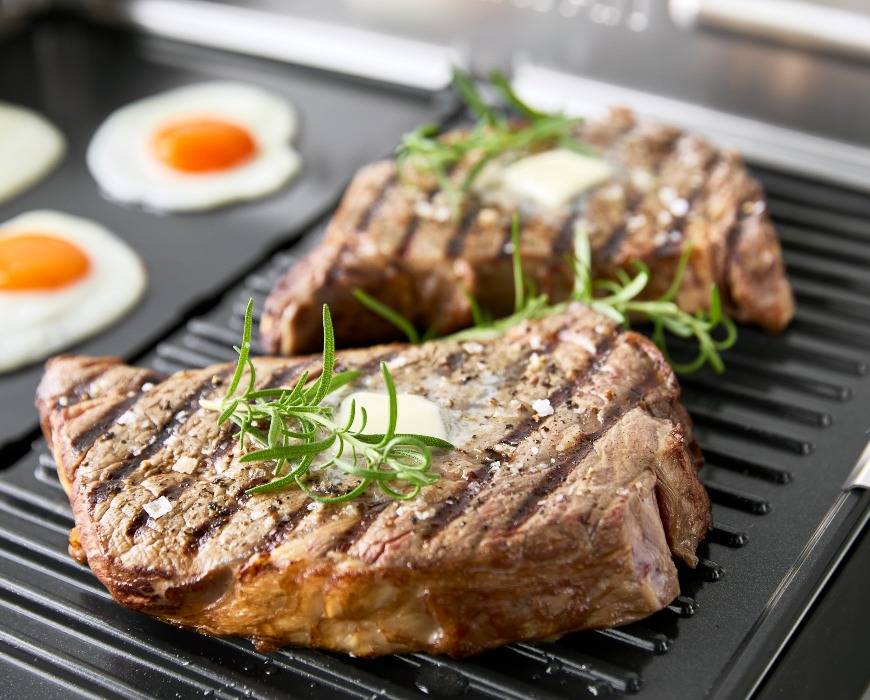 Yields: 4 servings
Time: 15 minutes prep, 15 minutes cooking 
INGREDIENTS:
2 12-ounce New York strip steaks 
1/4 cup extra virgin olive oil, divided 
Kosher salt, to taste
Freshly ground black pepper, to taste
1/2 teaspoon fresh oregano, destemmed and finely chopped  
4 sprigs fresh thyme, destemmed and finely chopped 
6 cups baby arugula, washed and dried
4 teaspoons high quality aged balsamic vinegar 
3/4 cup Parmigiano Reggiano, thinly shaved using a vegetable peeler 
Flaky sea salt, for serving 
4 to 8 lemon wedges, for serving 
For the grilled mushrooms: 
1 pound king trumpet mushrooms, halved lengthwise 
2 tablespoons olive oil 
1 1/2 teaspoon rosemary, finely chopped 
1 1/2 teaspoon red wine vinegar 
1/2 teaspoon kosher salt 
PREPARATION INSTRUCTIONS:
Place both steaks on a large plate and allow them to come to room temperature for 15 to 20 minutes.  Pat both sides dry with paper and rub the steaks all over with 1 tablespoon of olive oil.  Season them liberally on both sides with salt and pepper as well as the oregano and thyme, pressing down lightly to ensure the herbs stick well to the steaks.    
In a large mixing bowl, toss the mushrooms with the olive oil, rosemary, vinegar and salt.  
Preheat the Premiere XL Smoke-less Grill & Griddle on the BEEF setting on one side with a grill plate, and 375 F on the other side with a griddle plate.  
Place the steaks on the grill plate and cook, 4 to 5 minutes, until well seared with nicely charred grill marks.  Flip the steaks and cook on the other side, another 4 to 5 minutes or until they reach the desired doneness.  (Remove the steaks from the grill 5 degrees under the desired temperature, as carryover cooking will occur as they rest).  Place the steaks on a cutting board and cover them with aluminum foil to rest for 5 minutes before slicing.  
While the steaks are cooking, place the mushrooms on the griddle plate with the cut sides down.  Cook until deeply golden-brown, about 5 to 6 minutes.  Flip the mushrooms and cook another 5 to 6 minutes on the other side, or until all the mushrooms are softened, cooked through and well seared on all sides.  (The most delicious mushrooms are cooked until well caramelized with a deep golden-brown color.)  
To serve, divide the mushrooms and arugula between 4 dinner plates.  Drizzle each with the remaining olive oil and the balsamic vinegar, then top with the parmesan.  Slice the steaks and place on the plates beside the arugula salad and finish with a pinch of the flaky sea salt.   Serve immediately with the lemon wedges on the side. 
TIPS:
King Trumpet mushrooms can come in a variety of sizes; if needed quarter the largest ones so that they are all as close to the same size as possible to ensure even cooking!  
Tagliata can be made with almost any variety of leaner and quick cooking steak.  For other options, try flank steak or even a chefs favorite – hanger steak!
To get a perfectly tender slice of steak, always slice against the grain of whatever cut of beef you've cooked!  
Featured Product
Premiere XL Smoke-Less Grill & Griddle
Designed to reduce smoke during indoor grilling sessions, our XL Smoke-Less Grill & Griddle's 3-in-1 design lets you switch between a full griddle, a full grill, or a versatile mix— whatever your meal demands. The expansive surface offers space to...