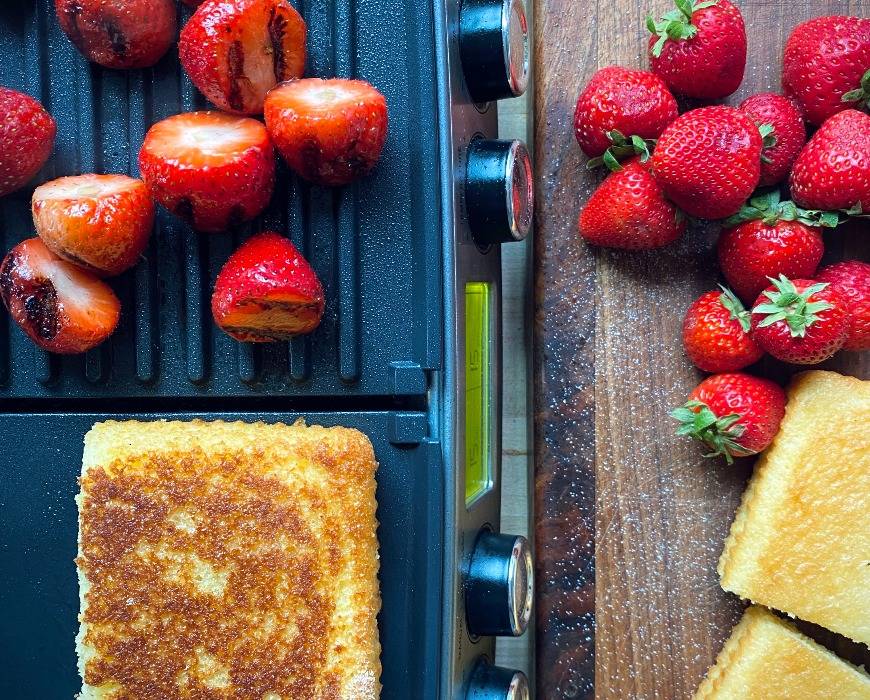 Grilled Cornbread and Strawberry Shortcakes
Yields: 4 servings
Time: 10 minutes prep, 15 minutes cooking, 25 minutes total
INGREDIENTS:
For the grilled strawberries:
1 pound fresh strawberries, whole, stems removed
1 tablespoon avocado oil 
2 tablespoons granulated sugar
2 teaspoons honey 
2 teaspoons lemon zest 
1 teaspoon lemon juice 
1/2 teaspoon vanilla extract 
Kosher salt, to taste
For the grilled cornbread: 
4 large squares (3" by 3") of your favorite cornbread, homemade or store bought 
2 tablespoons avocado oil 
1 1/2 tablespoons granulated sugar 
For the sour whipped cream: 
2/3 cup heavy whipping cream, cold 
1 tablespoon granulated sugar 
3 tablespoons sour cream 
Small pinch of kosher salt 
PREPARATION INSTRUCTIONS:
Preheat the Premiere XL Smoke-less Grill & Griddle to 350 F on one side with a griddle plate, and 450 F on the other side with a grill plate.
In a medium mixing bowl toss the strawberries and oil until the strawberries are evenly coated. 
Using a pastry brush or your hands, carefully apply a thin layer of oil to both sides of all the pieces of cornbread, taking care not to create too many loose crumbs.  Evenly sprinkle each piece of cornbread very finely with sugar on both sides.  
Place all four pieces of cornbread on the griddle plate and cook for 3 to 4 minutes until golden brown and crisped nicely from the sugar.  Flip each piece and cook another 3 to four minutes on the other side.  Transfer to a cutting board and cut each piece horizontally through the middle to create a top and bottom for the shortcakes.  
At the same time as the cornbread is cooking, place the strawberries evenly across the grill plate.  Grill, turning every few minutes with a pair of kitchen tongs, for 8 to 10 minutes or until each strawberry has grill marks on multiples sides and have softened slightly.  Transfer the strawberries to a cutting board.  Cut the smaller ones in half and the larger into quarters, then transfer them along with any juices back into the mixing bowl they were tossed in.  Stir in the granulated sugar, honey, lemon zest, lemon juice, vanilla and salt.  Let sit for ten minutes to allow the sugar to pull more juices from the strawberries.   
In a large mixing bowl using a balloon whisk, or a stand mixer with whip attachment, whip the heavy cream and sugar until the cream holds medium peaks.  Add in the sour cream and salt and whip to stiff peaks.  (If desired, add in a splash of vanilla.)  
To build the shortcakes place the four bottoms of the cornbread onto a serving platter or individual plates, with the cut side facing up.  Divide the strawberries evenly on top of each piece, making sure to spoon any juices from the bowl over the top.  Spoon one nice dollop of the sour whipped cream on top of the strawberries, followed by the other half of cornbread.  If desired spoon a bit more cream on top and serve.   
TIPS:
For extra texture and caramelization, carefully split the cornbread before cooking and griddle both sides of the tops and bottoms! 
This recipe is delicious with strawberries, but would also be great with peaches, plums or any other stone fruits.  
Featured Product
Premiere XL Smoke-Less Grill & Griddle
Designed to reduce smoke during indoor grilling sessions, our XL Smoke-Less Grill & Griddle's 3-in-1 design lets you switch between a full griddle, a full grill, or a versatile mix— whatever your meal demands. The expansive surface offers space to...