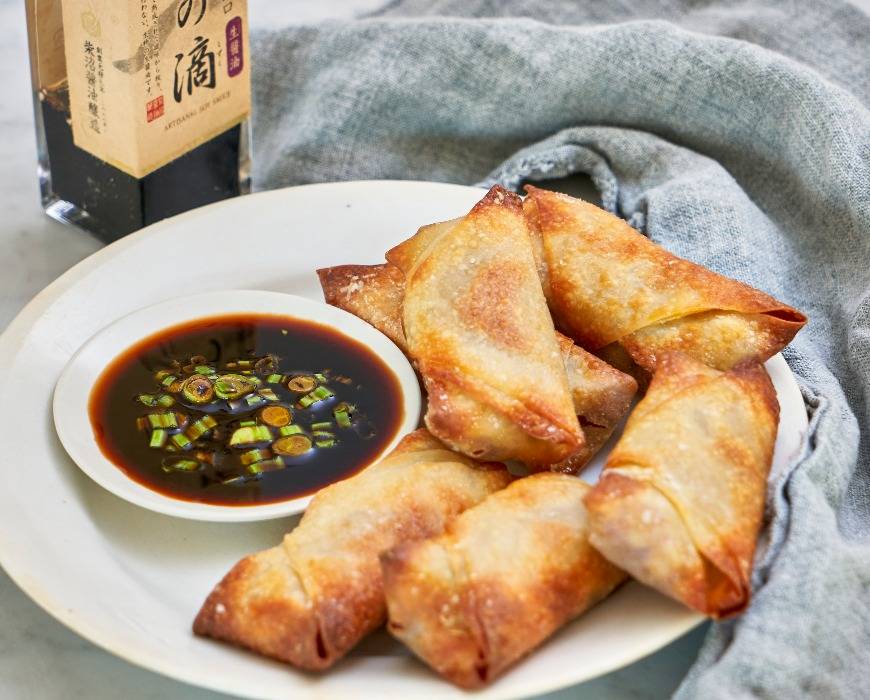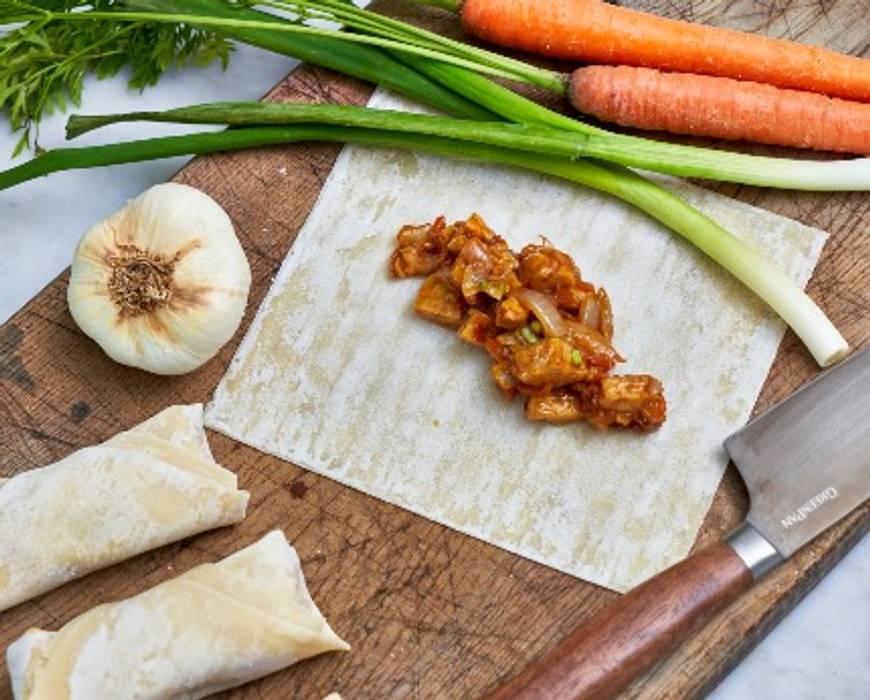 Tempeh Air Fryer Hoisin Egg Rolls
Yields: 6 egg rolls
Time: 20 minutes prep, 10 minutes cooking
INGREDIENTS:
1 tablespoon high heat cooking oil, such as avocado, plus more for brushing
1 eight-ounce package Lightlife Original Tempeh, cut into 1/4" dice
1/2 small yellow onion, peeled and cut into 1/4" dice
1 carrot, peeled and grated on the large side of a box grater
1 garlic clove, peeled and finely minced 
1/2" piece of fresh ginger, peeled and finely minced
Pinch of kosher salt
2 scallions, green and white parts, thinly sliced
1/4 cup of green cabbage, shredded
1 tablespoon cornstarch
2 tablespoons hoisin sauce
2 teaspoons rice wine vinegar
2 teaspoons soy sauce or tamari 
1 teaspoon honey
1 teaspoon sriracha or crushed red chili flakes
6 egg roll wrappers
For the dipping sauce:
1/2 cup soy sauce or tamari
2 teaspoons rice wine vinegar
1 teaspoon sriracha, more to taste
1 teaspoon agave
2 scallions, green parts only, thinly sliced
 PREPARATION INSTRUCTIONS:
Preheat the GreenPan Bistro 13-in-1 Multi Cooker and Air Fryer Grill on the sear/saute setting at 375 F, set the timer for 10 minutes, and pour in the oil. Add in the Lightlife Original Tempeh, onion, carrot, garlic and ginger along with a pinch of salt. Cook, stirring occasionally, for 8-10 minutes until the vegetables are softened and the mixture has become slightly golden brown in places. 
While the tempeh and vegetables are cooking, combine the scallions, cornstarch, hoisin, vinegar, soy sauce, honey and sriracha in a medium mixing bowl and whisk to combine and ensure there are no lumps of cornstarch remaining. Once cooked, transfer the tempeh and vegetables mixture to the mixing bowl and stir everything to evenly coated.
Place 3 egg roll wrappers on a dry work surface (with one of the corners facing you) and lightly moisten all four edges of each wrapper with water using your finger or a pastry brush. Place 3 to 4 tablespoons of filling in a line across each wrapper, a little closer to the bottom third of the wrapper than the middle.  Bring the corner of the wrapper facing you up and over the filling, and pull it back slightly to ensure a tight roll.  Fold the left and right points in, and then roll everything towards the point furthest from you to form a tight cylinder.  Gently press all the edges to make sure of a tight seal.   Repeat until all 6 rolls are completed. 
Lightly brush all the rolls on every side with a thin coat of oil and place them on the air fryer basket. Preheat the GreenPan Bistro 13-in-1 Multi Cooker and Air Fryer Grill on the bake setting at 375 F and set the timer for 10 minutes. Place the filled basket in the air fryer and place on the air fry lid, securing it in place.  Fry the egg rolls for 8-10 minutes until lightly golden brown and crisp, flipping them halfway through so the tops and bottoms cook evenly. 
For the sauce, combine all the ingredients in a small mixing bowl and whisk until evenly combined and the honey is dissolved. Serve along side the warm egg rolls immediately. 
TIPS:
To save extra time when prepping for the party, feel free buy a bag of shredded cole slaw mix and replace the measurements of shredded cabbage and carrot in the recipe with that! 
 This recipe freezes amazingly well to cook later!  Whether it's making them in advance of serving to save time, or simply making a double or triple batch to have some for later – wrap unfried rolls in plastic wrap and freeze for up to a month in an airtight container.  Air fry from frozen following the same directions, but add an extra two minutes or so of cooking time!
Featured Product
Bistro 13-in-1 Multi Cooker Air Fryer Grill
Designed for maximum versatility, this unit includes multiple lids that make it possible to cook everything. Grill, steam, slow cook, air fry, and so much more with the easy-to-use presets, versatile pot, and multipurpose baskets.