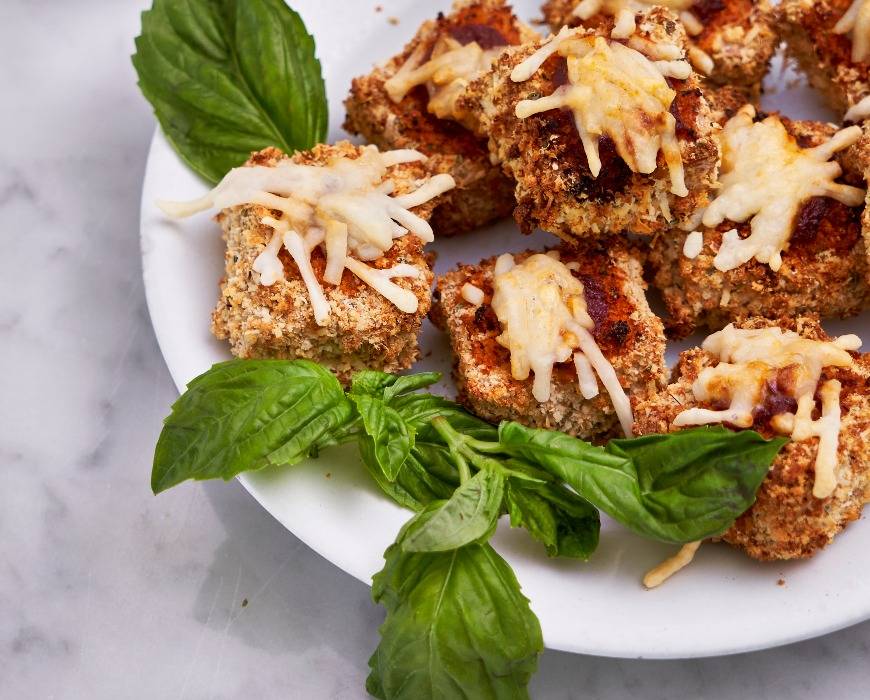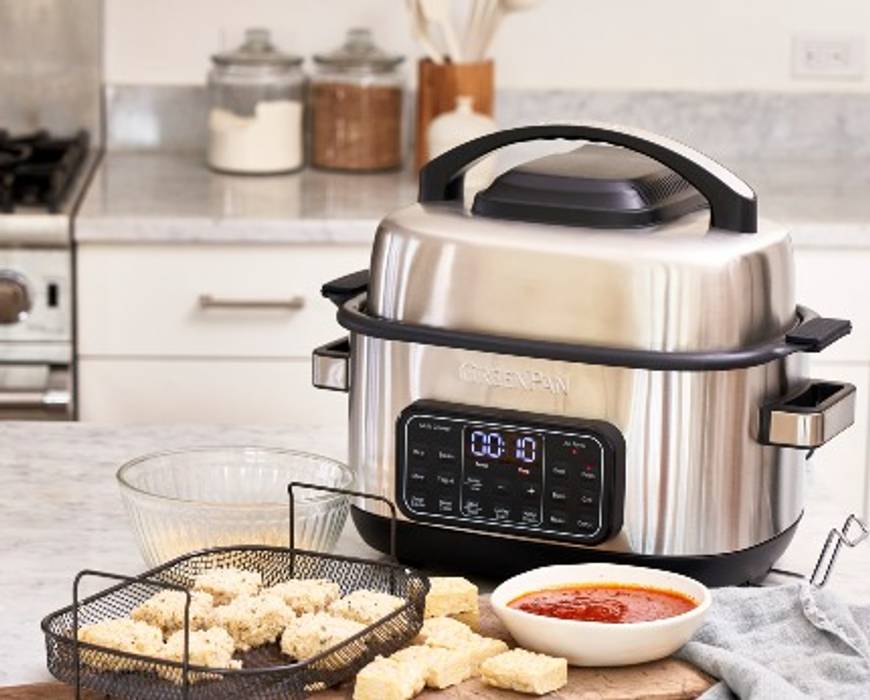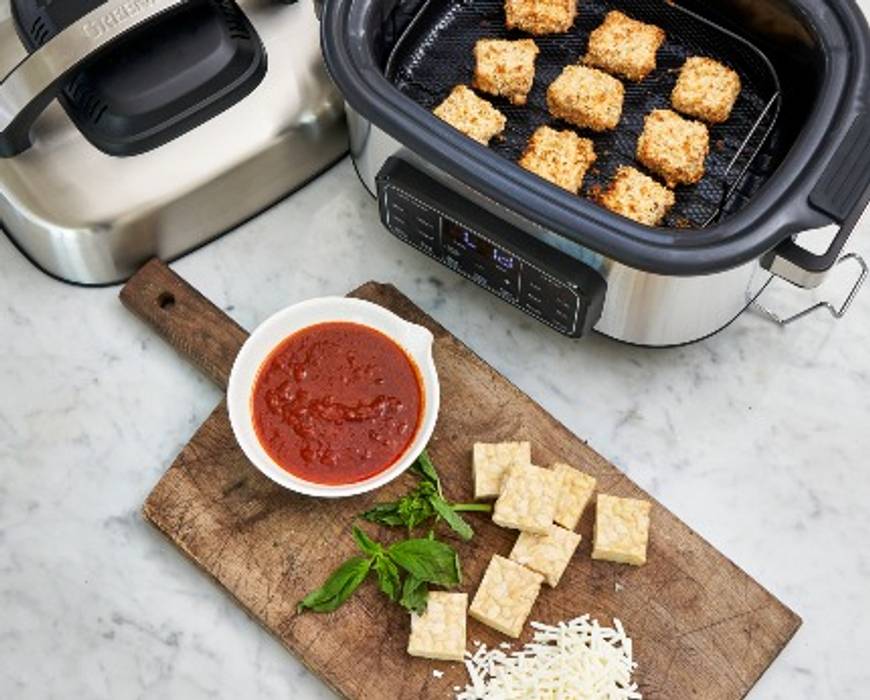 Yields: 16 bites
Time: 10 minutes prep, 25 minutes cooking
INGREDIENTS:
For the batter:
1/3 cup all purpose flour
1/2 teaspoon garlic powder
1/2 teaspoon onion powder
1 teaspoon agave
Pinch of kosher salt
1/3 cup water
For the breading:
1/3 cup plain breadcrumbs
1/3 cup panko breadcrumbs
1/3 cup finely grated vegan Parmesan
2 teaspoons fresh thyme, destemmed and finely chopped
1 teaspoon dried oregano
Pinch of kosher salt
2 eight-ounce packages of Lightlife Original Tempeh, cut into 8 equal squares (making 16 total square bites) 
1/3 cup marinara sauce, plus more for serving
1/3 cup shredded vegan mozzarella, or more to taste
2 tablespoons finely sliced torn fresh basil, for garnish
PREPARATION INSTRUCTIONS:
In a small bowl or shallow baking dish combine all the batter ingredients and whisk well until completely smooth with no lumps.
In a separate medium bowl or shallow baking dish combine all the breading ingredients and stir well until it's a very even mixture.
Preheat the GreenPan Bistro 13-in-1 Multi Cooker and Air Fryer Grill on the fries setting at 390 F.
Working with a few pieces at a time, dip the Lightlife Original Tempeh bites into the batter and evenly coat each on all sides. Lightly shake the bites to allow any excess batter to drip off, then transfer to the breadcrumbs and evenly coat on all sides.  Place the breaded bites on the air fry basket and repeat until they are all breaded and in the basket, ensuring there is a bit of air space between each one. 
Place the filled basket in the GreenPan Bistro 13-in-1 Multi Cooker and Air Fryer Grill and place on the air fry lid, securing it in place. Air fry the bites on the Fries setting at 390 F for 15-20 minutes until lightly golden browned and well crisped.   (For deeper golden brown color and crisping, see the tips below.)
Remove the lid and place a spoonful of marinara on the top of each bite, followed by a small pile of vegan mozzarella. Place the lid back on and air fry on the Fries setting another 5 minutes until the cheese is melted and beginning to slightly color. 
Serve the bites warm immediately, garnished with fresh basil, and more marinara sauce on the side.
TIPS:
For additional browning and crispness when using the air fryer, lightly spray or brush the bites with olive oil (or oil of your choice) before air frying! 
These are equally delicious spicy!  Add in a teaspoon or two of crushed red pepper flakes to the breading or the marinara sauce for a gameday kick!
Featured Product
Bistro 13-in-1 Multi Cooker Air Fryer Grill
Designed for maximum versatility, this unit includes multiple lids that make it possible to cook everything. Grill, steam, slow cook, air fry, and so much more with the easy-to-use presets, versatile pot, and multipurpose baskets.