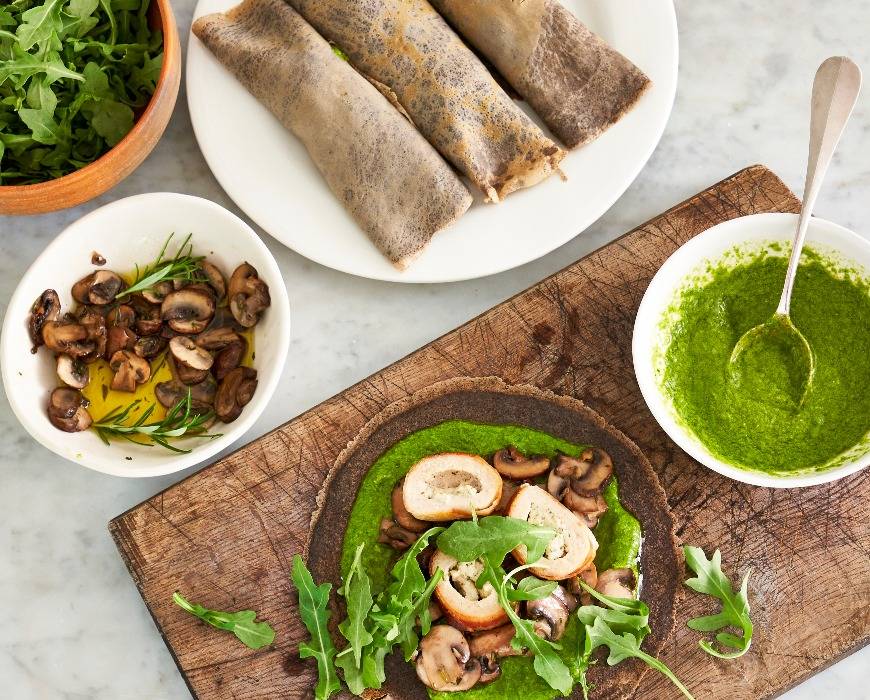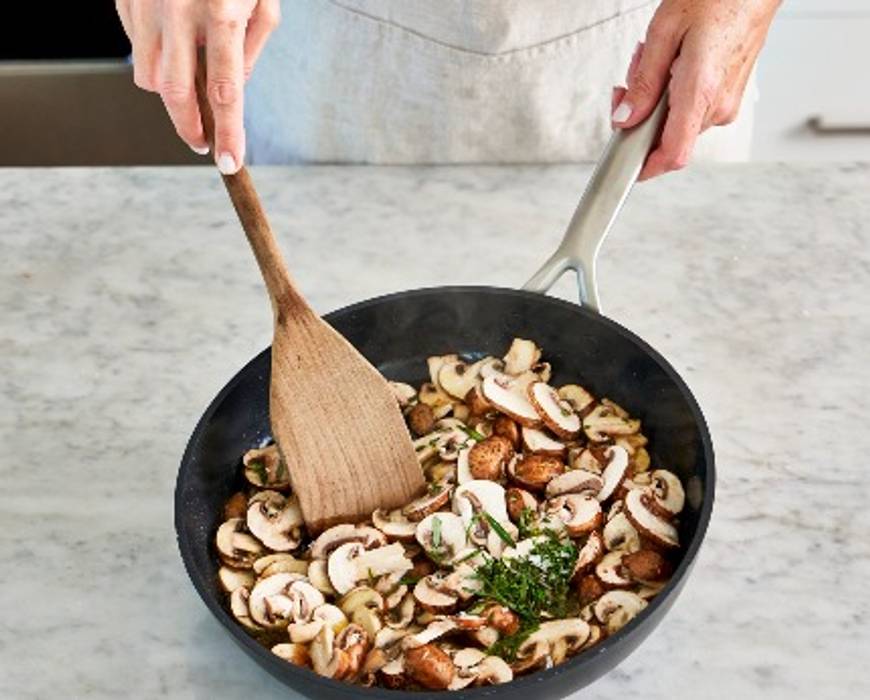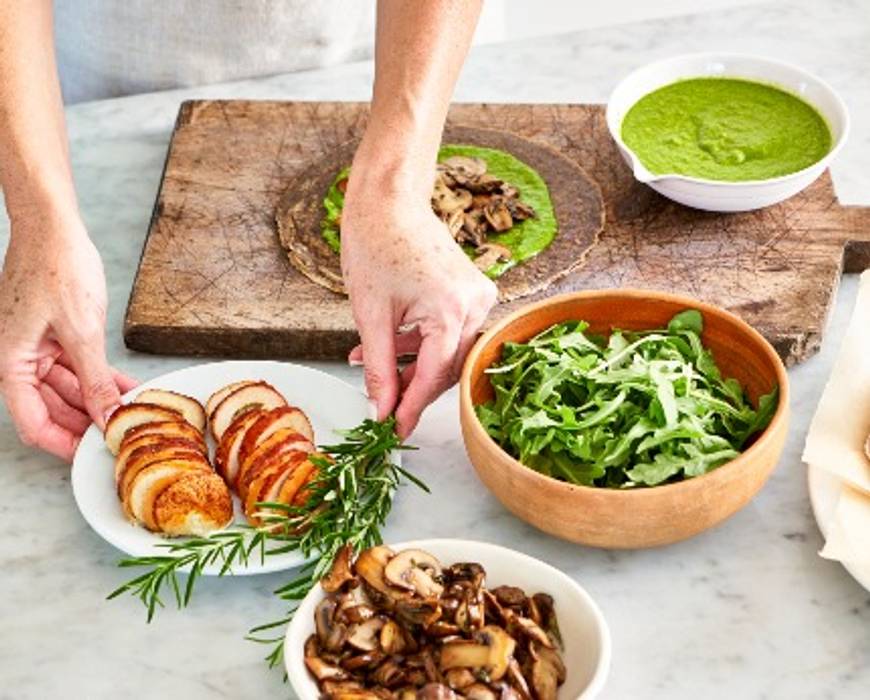 Three Cheese Stuffed Bacon Wrapped Chicken Buckwheat Crepes
Yields: 10-12 crêpes
Time: 15 minutes prep, 45 minutes cooking
INGREDIENTS:
For the Crêpes:
1 cup buckwheat flour
2 large eggs
1 cup 1% or 2% milk
1 tablespoon unsalted butter, melted (plus more for cooking)
3/4 teaspoon kosher salt
1/4 teaspoon freshly ground black pepper 
1/4 teaspoon freshly grated nutmeg
1/4 to 1/2 cup water, as needed for thinning rested crêpe batter
For the Crepe Fillings:
1 package Real Good Foods Co. Bacon Wrapped Stuffed Chicken - Three Cheese
1 tablespoon extra-virgin olive oil
1 pound cremini mushrooms, cleaned and thinly sliced
2 teaspoons freshly chopped rosemary
2 teaspoons red wine vinegar
1 teaspoon kosher salt, more to taste
1/2 teaspoon freshly ground black pepper, more to taste
For the Arugula Pesto (makes about 1 1/2 cups):
3 garlic cloves, roughly chopped
1/4 cup walnut halves, toasted
3 cups arugula, tightly packed
2/3 cup extra virgin olive oil, more as needed
1 teaspoon kosher salt
1 teaspoon honey
2 teaspoons lemon juice
1/2 cup grated Parmesan, more to taste (or up to 4 tablespoons nutritional yeast, to taste)
PREPARATION INSTRUCTIONS:
In a blender, or a large bowl with a whisk, blend the flour, eggs, milk, butter, salt, black pepper and nutmeg. Cover and let the batter rest in the refrigerator for at least 20 to 30 minutes; it may be refrigerated for up to 24 hours.
While the batter is resting, place the chicken breast on a baking sheet and cook per the package instructions, taking care to cook until it reaches an internal temperature of 165 F. Once fully cooked, remove from the oven and allow to cool slightly, then cut into 1/4" slices.
Place a large GreenPan skillet on the stovetop over medium-high heat and pour in the olive oil. Once the oil has come to temperature and is shimmering slightly, add in the sliced mushrooms and cook undisturbed for 3 to 4 minutes until they begin browning slightly.  Add in the rosemary and continue cooking, stirring occasionally, another 3 to 4 minutes until the mushrooms have deep golden-brown color.  Add the vinegar, salt and pepper to the pan and stir to combine.  Cook another minute, taste, and adjust with vinegar, salt and pepper as desired.  Set the mushrooms aside. 
Remove the batter from the refrigerator and check the consistency. It should be that of heavy cream or a bit thinner.  If needed, add a bit of the reserved water and stir to combine until the proper consistency is reached. 
Place a small GreenPan skillet over medium heat. Brush the bottom of the pan with a small amount of unsalted butter.  Use a ladle or a measuring scoop to pour 1/4 cup of batter into the pan and quickly begin tilting the pan in a circular motion to coat the entire bottom as fast as possible with a thin layer of the batter. 
Cook the crêpe for 1 to 2 minutes, until just set and lightly browned on the bottom. Use a thin silicone spatula or an offset spatula to lift up a small edge section of the crêpe – then very carefully grab that edge with your fingers and lift and flip the crêpe.  The key here is to be very careful not to touch the hot pan, but also flip the crêpe quickly and confidently! (If you aren't comfortable using your hand, you can use kitchen tongs, but be careful as you'll be far more likely to tear the crêpe this way.)  Cook on the flipped side for another 30 seconds a minute then transfer to a plate. 
Continue making crêpes, wiping the pan clean and brushing on a bit more butter before cooking each one. Cook until all the batter is used.  Stack the crêpes on a plate with small squares of parchment paper in between each one so they won't stick together. 
To make the arugula pesto, put the garlic, walnuts and arugula in the bowl of a small food processor, blender carafe (or use a mortar and pestle). Process until the ingredients are very finely chopped, stopping to scrap down the sides of the container as needed.  Add in the olive oil, honey, lemon juice and salt and process until it forms a rough paste, with plenty of texture.  Transfer to a mixing bowl and stir in the parmesan cheese (or nutritional yeast if using).  Taste and adjust seasoning as desired.  
To serve, ensure the sliced chicken and mushrooms are warmed. Next, lay a crêpe down on a plate or cutting board.  Spread a tablespoon and a half of pesto in an even layer on the crêpe, leaving about a 1" border bare.  Sprinkle on as many mushrooms as you'd like, followed by a few slices of chicken (not leaving behind any of the cheese or bacon!) in a line down the center.  If you'd like, add a bit of fresh arugula as well.  Roll the crêpe tightly and fold the bottom inch or so up and over itself to keep the filling in.
TIPS:
 These crêpes are a very versatile gluten free recipe.  Feel free to try filling them with any Real Good Food Co. item that you love!  You can even change out the seasoning and spices on them too – try adding a little cayenne for a spicy wrap! 
 If you find you have extra crêpes leftover, freeze them!  Wrapped tightly, and with the parchment still separating them, they'll keep well frozen for weeks.