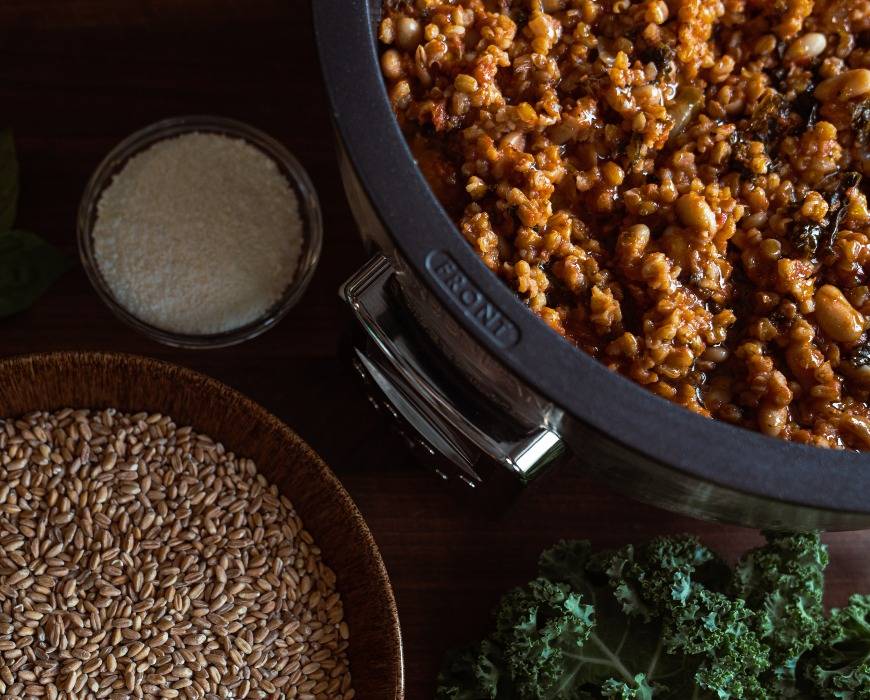 Tomato and Parmesan Farro
Makes: 4 to 6 servings
Time: 10 minutes prep, 1hr 20 minutes cooking, 1hr 30 minutes total
INGREDIENTS:
1/4 cup extra-virgin olive oil
1 small onion, finely chopped
3 garlic cloves, minced
1 1/2 cups farro
1/4 cup dry white wine
4 cups low-sodium chicken stock
1 (14.5 ounce) can crushed tomatoes
2 teaspoons salt
1 teaspoon freshly ground pepper
1 teaspoon dried oregano
2 bunches lacinato kale, stems removed and roughly chopped
1 (14.4 ounce) can cannellini beans, rinsed and drained
1/4 cup freshly grated Parmesan cheese
2 tablespoons sliced basil leaves
PREPARATION INSTRUCTIONS:
Select the Grains mode on the Essential Smart Skillet and set the timer for 1 hour 20 minutes.


Pour 2 tablespoons of the olive oil into the pan and add the onions and garlic. Slowly cook until the onions soften and garlic becomes aromatic, about 10 minutes.


Add the farro, wine, chicken stock, crushed tomatoes salt, pepper, and oregano, stirring to combine. Cover and cook for 50 minutes.


Remove the cover and stir in the kale and cannellini beans. Cover again and finish cooking for the remainder of the timer.


The farro will be done when it has a toothsome bite and slight chew. If you prefer it a bit more well done, add a cup of water to the pan and cook another 10-15 minutes.


Once the farro is cooked, stir in the remaining olive oil along with the Parmesan cheese. Adjust to taste with salt and pepper, then transfer to a serving bowl and garnish with the basil. Top with more Parmesan if desired.
TIPS:
Farro: Deliciously Healthy – Packed with protein, fiber, nutrients, and antioxidants, this ancient grain makes a great addition to modern meals.
Cut Onions Without Crying – Using a super-sharp knife does less damage to the onion, reducing the amount of tear-inducing gases.
Featured Product
Elite 6-Quart Essential Smart Skillet | Premiere Stainless Steel
Whether you're searing a steak, perfecting a complex stew, or simply making rice, this family-sized 6-quart skillet gives you room for any meal. The high sides eliminate splatter and make it easy to toss your ingredients without worry.