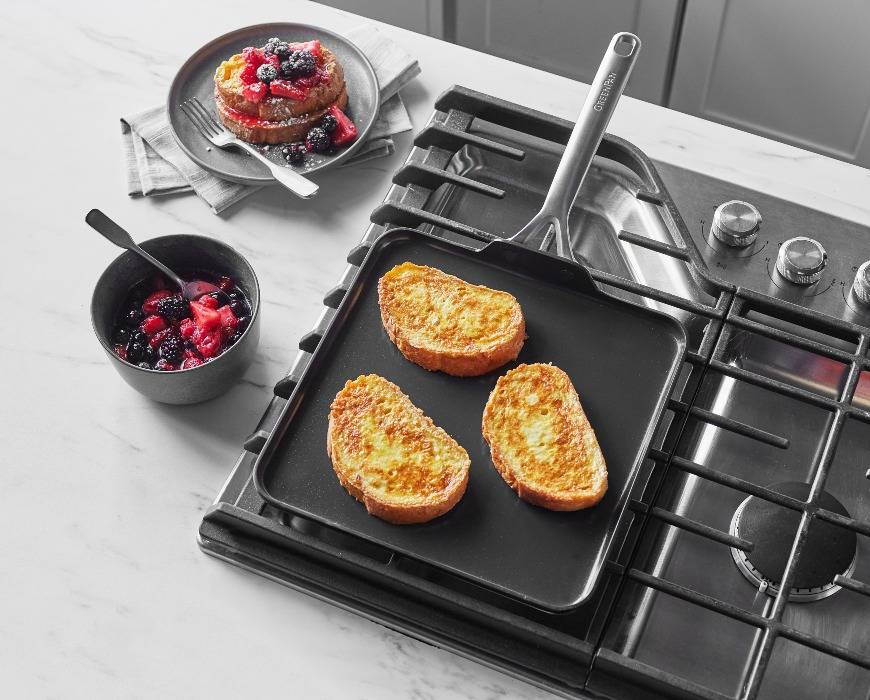 Triple-Berry Brioche French Toast
Yields: 4 servings
Time: 20 prep, 20 minutes cooking, 40 minutes total
INGREDIENTS:
For the berries
1 cup quartered strawberries
1 cup blackberries
1 cup blueberries
2 tablespoons granulated sugar
For the French toast
4 large eggs
1/4 cup whole milk
2 tablespoons granulated sugar
1 teaspoon vanilla extract
1 teaspoon ground cinnamon
1/4 teaspoon ground nutmeg
Pinch of salt
2 tablespoons butter
8 thick slices brioche
For serving
PREPARATION INSTRUCTIONS:
Prep the berries—Add berries to a small bowl and sprinkle with sugar. Stir to combine and set aside.
Make the custard—Whisk together eggs, milk, sugar, vanilla, cinnamon, nutmeg, and salt in a shallow bowl or baking dish.
Prepare to cook—Melt butter in a large skillet over medium heat until bubbly.
Meanwhile, prep the toast—Dunk a couple of slices of bread in the custard mixture until they're evenly saturated. This should only take a few seconds per side—you don't want the bread to start falling apart.
Cook the toast—Gently shake off excess custard and transfer bread slices to skillet. Repeat until skillet is full. Cook until underside is golden brown, about 2 minutes. Flip and continue cooking till both sides are evenly browned and crisp, another 2 minutes or so. Repeat with remaining bread, adding more butter to pan, if needed.
Garnish and serve—Place toast slices on individual plates, top with mixed berries, sprinkle with powdered sugar, and dig in!
TIPS:
Using Frozen Berries? For a quick and easy compote, add berries to a small saucepan with 1/4 cup granulated sugar and 2 tablespoons water. Cook over medium heat until sugar dissolves and berries are soft, about 8 minutes.
Keep it Toasty—If you're serving everyone at once, keep French toast warm on baking sheet in a 200°F oven. Reheat any leftovers (ha!) in a 350°F oven till crisp.